JB Kind raise £8,500 for Dementia UK
The JB Kind team has raised £8,500 for Dementia UK after three years of charity efforts.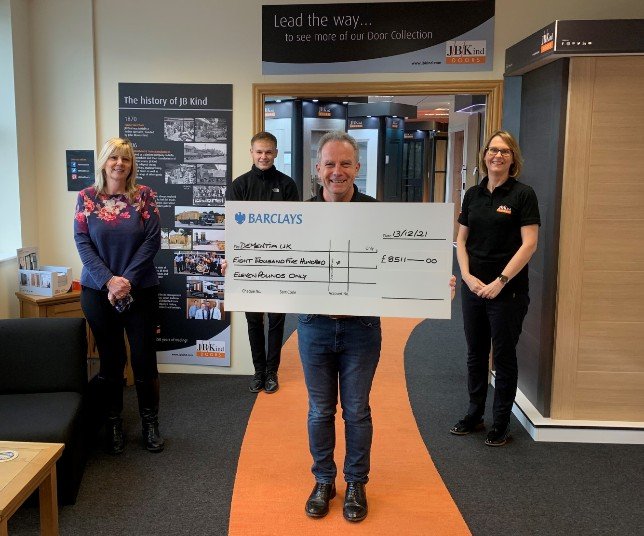 We're committed to charity work and support a different cause every two years, but our efforts for Dementia UK lasted a year longer after some events could not happen as planned due to Covid. 
The money was raised with a series of events including a glittering charity gala dinner held in 2019, plus an 822-mile walk undertaken in 2021!
Managing director James Cadman said: "Here at JB Kind we are delighted to have donated £8,500 to a very worthy cause: Dementia UK. 
"As a company that has been going for more than 150 years, we are committed to the communities we serve and our charity work is very important to us. As some of the events we had planned could not happen due to the Covid pandemic, we have adapted and undertaken different types of charity efforts so we could still raise money for this essential charity. 
"Our last significant charity challenge involved a team of 25 walking the distance from our Derbyshire headquarters to John O'Groats, virtually, via the MyVirtualMission app – and they enjoyed it so much they ended up walking even further around the north coast of Scotland, 265 miles more than they intended! 
"Dementia UK is a cause that is close to many of our hearts at JB Kind and we are very proud to have raised such a large total for them."
The team raised more than £3,000 through their virtual walk to Scotland – dubbed the "OutDOOR Walkathon". Employees who undertook the walk in 2021, along with family and friends, said they enjoyed the way the challenge brought them together, raising a total charitable contribution of £3,320. This year a further £911 was raised through fun smaller initiatives like a Eurovision sweepstakes, a tuck shop, cake bake sales and dress down days.
2019 was also a big year for JB Kind's Dementia UK fundraising efforts with their gala dinner held at Burton Albion Football Club, raising an impressive £4,200!
Rachel Carman, Regional Fundraiser for Central England at Dementia UK, said: "The dedicated team at JB Kind have raised a fantastic amount which will help us to provide the vital, life-changing support of an Admiral Nurse to even more families who need it in Derbyshire. A huge thank you to all involved."
The JB Kind team will be deciding on their next charity in January 2022. Employees are asked to nominate causes that are close to their hearts, and the company's charity committee will decide on the next worthy cause to support.
Certifications & Memberships