Builders Merchant MP Moran Commissions JB Kind Doors
JB Kind have supplied 43 doors, from its River Oak Modern range, for an innovative Head Office development in North West London. JB Kind was asked to source the doors by builders merchants MP Moran, a long term JB Kind customer.
JB Kind Sales Director Simon Johnson said: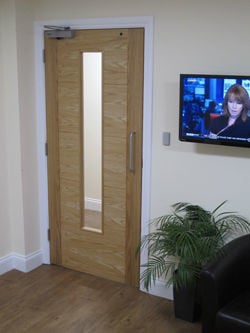 "We've worked with MP Moran for 15 years and built a productive and mutually beneficial relationship during this time, and we were thrilled to be asked to be the sole supplier of doors for a development that's so close to MP Moran's heart.
"Although the project was significant in size, because we hold more than 60,000 doors in stock at any one time, we could easily fulfil most of the requirements of MP Moran's order within seven days. We offered MP Moran specialist advice, delivered a number of bespoke doors and were able to offer stylish doors at a practical price to suit MP Moran's budget."
MP Moran Purchasing Director Martin Moran commented:
"We chose a mix of the Isis and Emral doors from JB Kind's River Oak Modern range, with 33 of them being glazed fire doors (Emral). We wanted good quality doors and a style that added value to and accentuated the contemporary design that we had decided on for our HQ extension.
"From a practical viewpoint JB Kind delivered the doors exceptionally quickly, with a majority (38 of the 43) arriving within one week of placing our order. We also benefitted from sound, knowledgeable advice from JB Kind, which made a difference to how we managed this specific element of our HQ project, and how we briefed in the special requirements we had for five of the doors.
"Overall we have been very pleased with the service we received, as well as the finished project."
JB Kind Sales Director Simon Johnson concluded:
"This project is the perfect illustration of how building strong relationships can benefit all involved, and this positive merchant/JB Kind partnership is one we are pleased to be repeating across the country.
If you need help and advice when sourcing the right doors for your next project, please get in touch with JB Kind.
Certifications & Memberships