Get your glad rags on to help families affected by dementia, says JB Kind!
Everyone loves an excuse to get their posh clothes on – well, we do here at JB Kind – so now we're inviting you to dust down your smart togs before joining us for a slap-up dinner to help us raise vital funds for our latest charity: Dementia UK.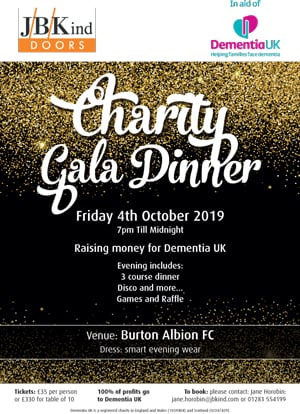 Yes, we're hosting a glittering charity gala dinner this autumn after nominating Dementia UK as our chosen charity for 2019 and 2020.
And, to give you even more inspiration to book your ticket for the big night, we are hoping to raise funds ourselves – and encourage other businesses and individuals to join us – to get one of Dementia UK's specialist "Admiral Nurses" for Derbyshire, which currently doesn't have this highly valued service.
Our charity gala dinner in support of Dementia UK is being held at Burton Albion Football Club on October 4. Your £35 ticket – or £330 for a table for ten – will include a three-course dinner, disco, games and a raffle.
Here are a few words from our managing director, James Cadman: "Here at JB Kind we think it's very important to give back to our local community and we are committed to giving our total support for a new charity every two years.
"We're very proud of our fundraising track record and are looking forward to putting our efforts into supporting Dementia UK this year and next.
"We believe that for Derbyshire to have access to one of Dementia UK's Admiral Nurses would be a fantastic boost for this county. These nurses provide specialist support for families with a member who has dementia. Having heard testimonials for people who have benefited from this incredible service, we would love it if local businesses, individuals and groups would be inspired to join us by booking a table for this great event to support a wonderful cause.
"We're really excited to be hosting a charity gala dinner at Burton Albion Football Club to raise funds for Dementia UK. We promise a really great night with food and dancing – we hope that people will come and enjoy themselves for this worthy cause. All you need to do is get your glad rags on and join us!"
Anyone interested in booking a table for our charity gala dinner is asked to contact Jane Horobin at 01283 554199.
Certifications & Memberships