Freshen up your interiors with JB Kind's new Door Collection 2019/20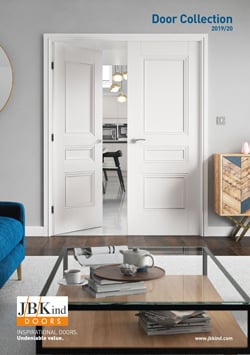 Drum roll please … our new Door Collection for 2019/20 has arrived, featuring a wealth of fresh designs and services, along with tried and tested favourites.
This year's Door Collection features 200+ designs including all of JB Kind's best-loved products, such as the popular and stylish Tigris, Mistral and Axis door designs which all come in oak, walnut and white options.
Highlights of this year's collection include some fresh new designs and services:
The new 'White Classic' range – inspired by Britain's best-loved stately homes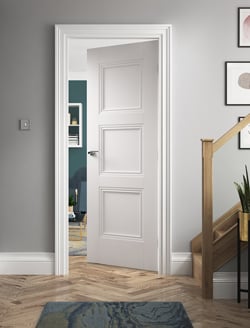 Our new White Classic range takes inspiration from the very best in Regency style with four fresh designs: Osborne, Belton, Catton and Hardwick. Named after stately homes, these designs feature a classic panelled look with attractive flush mouldings that enhance each door, so whichever one you go for will blend perfectly with both traditional and contemporary interiors.
All the new White Classic range doors are white primed ready for a paint finish, but for those who like a splash of colour they are suitable our Colour Options Paint Service, also new for 2019.
All the colours of the spectrum: new Colour Options Paint Service

Many of us want the delight of a colourful door without having to paint it ourselves or forking out for the cost of hiring someone to do it. Our new Colour Options Paint Service takes all the hassle away: all you'll have to do is choose your favourite RAL colour and we will arrange for the door to be professionally spray painted in that exact hue, giving a great, uniform look. Many of our internal white primed doors are perfect for pre-painting along with our External Extreme doors. A handy colour wheel symbol within the brochures and website, lets you know which doors are suitable for painting – now all you need to do is the tricky bit: choosing the perfect shade!
External Extreme Doorsets: convenience and resilience
Fitting front doors just got a whole lot easier thanks to the new Doorset service we are now offering with our External Extreme doors. These hard-wearing front doors can be bought pre-hung as a doorset, complete with a solid white Accoya wood frame, for even more added convenience. This is a significant time-saving on conventional front door purchases, which don't generally come with fixtures and fittings such as the frame, lock and hinges. These exceptionally durable doors made with a top layer of MEDITE®TRICOYA®EXTREME still come with the 10-year guarantee you have come to know and trust, and, even better, the door leaves can also be pre-painted the RAL colour of your choice, thanks to the new Colour Options Paint Service outlined above. Some people are naturally creative and prefer to put their own stamp on their door by doing the paintwork themselves – the good news is that's no problem either as these doorsets are easy to over-paint, once in place.
JB Kind Sales Director Simon Johnson says: "We hope that customers will enjoy leafing through our new Door Collection 2019.
"Here at JB Kind, we are constantly striving to make our door business the very best it can be, and we've worked hard to listen to our customers and try to provide what they need. Our new external Doorsets service should be a godsend to building projects, taking away a huge amount of the hassle of fitting the perfect front door thanks to its already provided frame and fittings. Our Colour Paint service, too, should appeal to those who appreciate a splash of colour in their life!
"As for our new 'White Classic' range, we are very pleased with the sheer elegance and class of this new range of doors. Competitively priced compared to other alternatives, we are sure many of our customers will be thrilled to get a little bit of stately home elegance in their homes at a fraction of a cost!"
The new brochure has also had a re-design and has been produced in a smart new iPad size format for customers' convenience, a handy index has also been included, so you can quickly look up the designs you've come to know and trust.
Certifications & Memberships