New Regional Sales Manager for JB Kind Doors
Emma Underwood joins the JB Kind Sales Team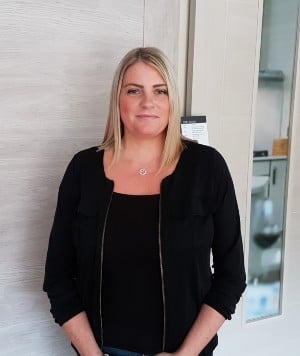 Emma Underwood, a seasoned sales professional with a two decade-strong track record of regional sales has joined our Regional Sales team to look after the Midlands and North Region. 
Emma, whose previous experience includes a decade in the door industry at XL Joinery, as well as many years dedicated to a stationery firm, has been perfecting her personal art of sales since the age of 18, working her way up the corporate ladder, fulfilling roles from sales administration and orders, to merchandiser, sales team leader and area sales manager.  
JB Kind Sales Director Simon Johnson explains:
"Emma has joined the JB Kind family with a real wealth of experience, not just in sales management, but in the grassroots elements of the sales process, knowledge which will be invaluable in Emma's Regional Sales Manager role. Emma's proactive and positive attitude, combined with her hard work ethic and extensive experience, is an excellent fit with our JB Kind ethos and we believe that Emma will ensure all of our merchants, retailers and other customers, will not just have their needs met, but they will be delighted with the service that they receive."
Emma is currently getting to know our customers across the region and notes:
"I have spent twenty years working within a corporate environment and I was keen to have a change. I was excited to have this opportunity at JB Kind as it is the perfect fit for my working style and business outlook. JB Kind's down to earth, sustainable culture combined with its dedication to quality products and services, means that I will be surrounded by like-minded colleagues. 
"I am enjoying speaking  with  JB Kind's existing customers and I am excited at the opportunity to show new customers the benefits of working with my new team. I have worked across the North for many years, particularly the North East, however, the Midlands will be an exciting new geographical area, a new experience which I will relish."
Simon concludes:
"Emma joins a regional sales team who are an essential part of achieving the sale of our ¼ million doors each year. Our regional sales managers are our eyes and ears on the ground, constantly in touch with our customers and able to feedback what's working and what needs improving across our products and services. It's vital for our business to ensure we recruit the right people into these roles to so that we can deliver the platinum service standard that our customers deserve."
Certifications & Memberships