JB Kind announces annual donation to chosen charity
Leading Door Distributor, Swadlincote-based JB Kind has announced the final fundraising total for its chosen charity of 2016, the Burton Stroke Club. After a series of events including a high profile Golf Day involving JB Kind's customers and suppliers, as well as local people, plus smaller fundraising events like raffles, dress down days and cake sales, JB Kind has raised a total of £3,470 for the 43 year old charity.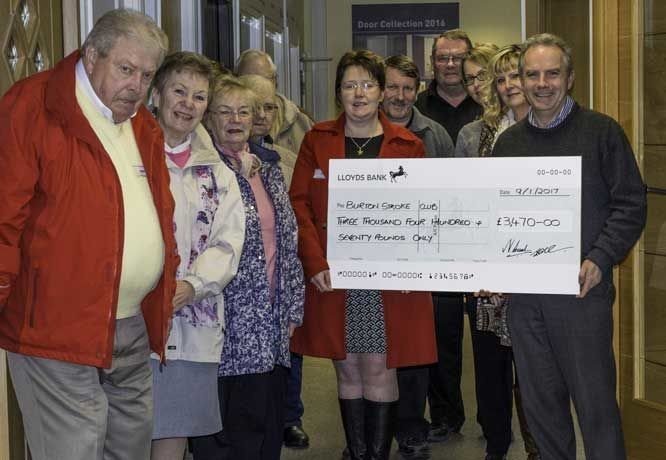 Burton Stroke Club representative Colin Williams, who has held key roles in the Club since its inception in 1973, comments:
"JB Kind has raised a staggering amount of money for our Club, it's the highest amount that has ever been raised for us by one source. No business has ever made us their Charity of the Year and so when JB Kind told us that they had chosen us, we were immensely proud and we would like to thank JB Kind for everything they have done for us. Three and a half thousand pounds is a great deal of money – imagine the amount of good you can do with that?
"But it's not just about the money for us. JB Kind has helped us raise the profile of the impact of strokes on individuals and their family and friends. This year we are very keen to raise awareness of the fact that strokes can, sadly, affect people of all ages. Babies can have strokes in the womb, children and teenagers are at risk of strokes and adults of all ages can have strokes too.
"Often there is a perception that strokes are something that only happens to the older generation, however, this often isn't the case. When you are a young person and a stroke strikes, it is incredibly difficult because you are not only battling the life changing symptoms brought on by the stroke but you are also faced with people's mis-understandings about the condition and the type of people it affects.
"We want everyone to know that whatever their age, whatever walk of life they are from, Burton Stroke Club is here to help them and, thanks to JB Kind, we are in an even stronger position to do that this year."
James Cadman, Managing Director of JB Kind notes:
"A stroke can be devastating and can hit anyone, at any time in their lives. At JB Kind we hope we have played our part in helping the Burton Stroke Club, a charity that has been supporting people for over four decades. It has been an honour to fundraise for such a dedicated group of people and we are pleased that our fundraising efforts will be put to good use locally."
In addition to Burton Stoke Club as its Charity of 2016, JB Kind also raised £470 for Breast Cancer research. The company's Charitable Committee is just in the process of deciding on the charitable beneficiary for the Charity of 2017 title, and this will be announced in a few weeks on www.jbkind.com.
If you would like to find out more about the Burton Stroke Club and its work, or to make a donation, please log on to Burton Stroke Club.
Certifications & Memberships