Star Showroom – One Stop Stair Shop
JB Kind's doors are displayed the length and breadth of the UK at our trusted merchant and door retailer partners.  There truly are some stunning showrooms to discover!
Every quarter, we ask our Regional Sales Managers to nominate their Star Showroom and we're pleased to announce that Liverpool's One Stop Stair Shop has come top of the list for Autumn 2016.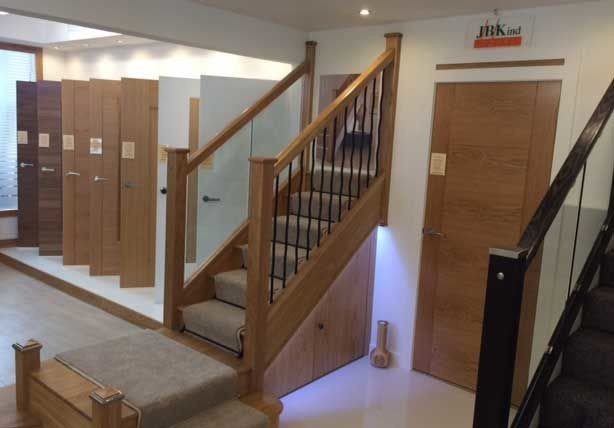 One Stop Stair Shop has been selling and fitting JB Kind doors since May 2015, alongside the exclusive bespoke staircases that they are known for.
The family run business, owned and operated by Stephen Gilston, has been a success for more than 25 years and now involves three generations of Gilstons, including Stephen's two sons. Never one to do anything by halves, when Stephen decided to dedicate sales space to JB Kind doors in Spring of 2015, he decided to build a spectacular door showroom and spent a month working late into the night to get the 12 door display just right.
Thanks to Stephen's (and his team's) hard work, sales of JB Kind doors are now thriving and Stephen admits he wishes he'd "done this ten years ago" – apparently his customers had been asking him if he sold doors for a decade, and it turns out many of them really wanted to put their money where their mouth was!
So next time you're in the market for a stunning staircase, or you'd like to take a look at a lovingly created door display, take a trip to the Gilston family's One Stop Stair Shop in Tuebrook, Liverpool.
If you would like to visit a JB Kind showroom and Liverpool isn't on your door step, pop your postcode into our handy Supplier Locator to find your nearest door display.
Certifications & Memberships