JB Kind launches 2016 Door Collection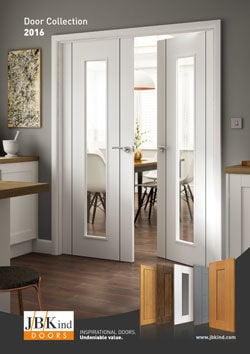 After months of working on new door designs and artwork planning, we are pleased to bring you our brand new brochure for 2016! With more than 200 door designs, informative features and at a glance guides, the 84 page door extravaganza is available to download online or, by request, as a physical copy through the post.
If you're a JB Kind regular, you'll know that there will be a brilliant range of superb value for money door designs, with something to suit every property's style as well as budget. We've listened to our customers, drawn on over 30 years of knowledge from our time in the wooden door market and asked the style experts about what's in store for interior design this year – and we've created a very special selection of doors, many of which are exclusive to us, so you won't find them anywhere else.
Of course, we've kept our customers' favourites but there's also lots that's new for 2016 too.
Our take on textured doors
Everyone's considered textured wallpaper and tiles but how many of us have taken the time to delve into textured doors? Exclusive to JB Kind, our Ripple doors can offer you a new dimension in door design. With a textured finish (a 'rippled' effect) these semi-solid core doors are perfect for painting so you can individualise your colours to each interior design theme. Including a striking glazed option, these trendy textured designs enable you to treat yourself, and your guests, to an innovative home interior.
Pick out our pocket doors
Pocket doors were popular more than a hundred years ago, and now they're back as one of the most distinctive – and practical – door trends of the last decade. A stylish way to save space, pocket doors slide into your wall cavity, instead of opening out into your room, to make the most of a home's floor space.
More than 90% of JB Kind door designs are easily converted into pocket doors – your choice of doors couldn't be wider – so why not take time to peruse pocket doors and watch as a whole new world opens up to you?
Of course there's plenty more inside our brochure – from cottage Oak style doors, luxurious Walnut designs and the white primed doors of our Limelight range – we're pretty sure you will fall in love with at least one of our door ranges!
And, don't forget, if you can't find exactly what you're looking for, then ask about our bespoke options. From different sizes to unusual veneers and painted finishes, believe it or not, we can offer even more door combinations than we have space to show in our brochure or on our website, so if there's a style, colour or size you're keen to see, just give our Sales Team a call on 01283 554 197 and we'll see how we can help!
Certifications & Memberships