JBK Team to trek up Snowdon with a door!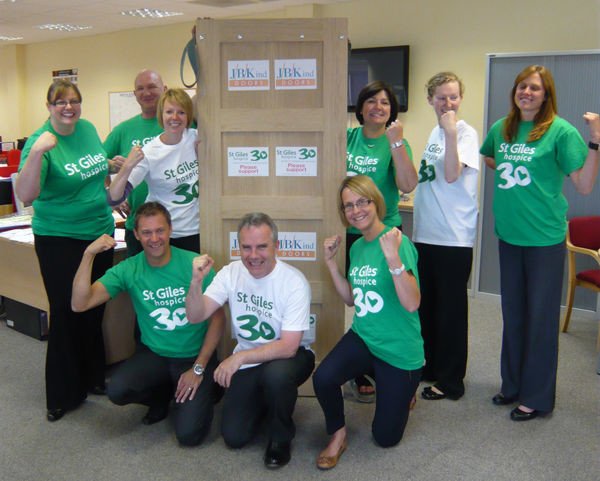 Every year at JB Kind we always raise money for our chosen charities, and we always like to make our fundraising efforts memorable. Last year we raised nearly £6000 for charities by amongst other things, throwing ourselves out of a plane from 13,000ft, (sky diving), and holding our Warehouse Olympic Games.
This year is our 30th year as wooden door specialists, (although we've been in timber for more than 140 years), so we felt we needed to make our charity exploits extra special in 2013! We put our heads together and decided, what better way to celebrate our 30 year anniversary than to carry one of our heaviest doors the 1,056m, 4.5 mile trek, to the top of Snowdon – and back again?
This nine mile / 14.5km round trip, carrying our very own Snowdon door from our Montana range, will be in aid of the extremely deserving Staffordshire-based St Giles Hospice which is, coincidentally, also celebrating its 30 year anniversary. Our team of 12, of which I am one, will be taking it in turns, in teams of four, to carry the 6ft 6in high, 30kg Snowdon door.
When the idea for this charity fundraiser popped into my head I thought it was just loopy enough to be fun and inspire volunteers. Now we're all training hard and walking around the streets of Derbyshire and Staffordshire carrying a door, I'm not quite so sure. Suddenly nine miles seems a rather long way, and my 7.5 kilogram share of a very large wooden door seems rather daunting – but there's no chance of any of us giving up, we're a determined bunch!
D-Day (Door Day) is Saturday 27 July and we'll be kicking off the trek around 7am from Llanberis. There's quite a big JB Kind contingent coming along to support us, and together with our friends and families, I think Snowdonia is in for a bit of a shock!
We've also been trying to think of songs that we can sing along the way to help us focus on something other than the awkward shaped, heavy object we are carrying. So far we've come up with The Door into Summer by The Monkees, Open up your Door by Richard Hawley and I hear you Knockin' by Smiley Lewis, but to be honest, we decided we needed something a bit simple and we've settled on, We'll be coming round the mountain instead! See you at the top…
If you would like to sponsor the JB Kind Team on their Trek up Snowdon with their Snowdon Door, in aid of St Giles Hospice, then you can log on to: https://www.justgiving.com/companyteams/snowdondoorchallenge and make a pledge.
Certifications & Memberships