Urban Industrial doors bring style to modern living
We are pleased to launch our brand new Urban Industrial door range which brings our interpretation of the 'industrial style' interiors trend to the home door buyer.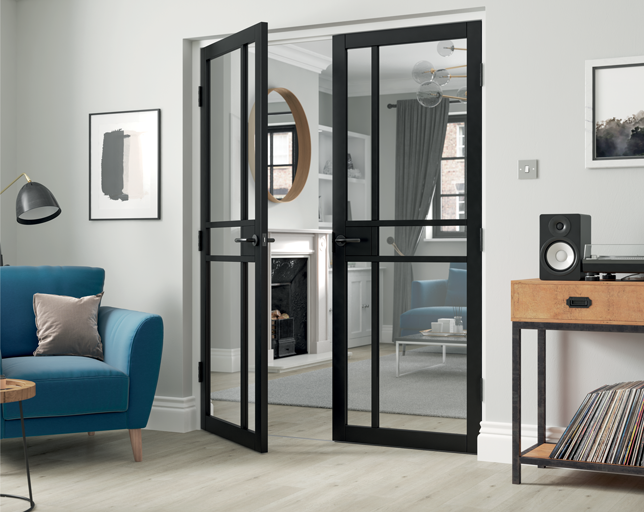 The Urban Industrial range features two new door styles, the "City" and "Metro" which combine the cool appeal of the urban landscape with the stylish lines of city modern living.
A variant on the urban style doors previously only available in metal, the Urban Industrial style is suitable for every home interior, whether it's a new build project, renovation or refurb.
With their clean, visually arresting lines, geometric shapes and angular styling, the City and Metro doors have a high-quality painted finish. They are available in black and white with glazed versions too, which really celebrate the stylish design.
Simon Johnson, sales director of JB Kind, says: "Urban Industrial doors are all about celebrating the appeal of 'industrial style' interiors that have been inspired by the renovation of former factory and warehouse spaces into trendy living abodes. Think spacious interiors, minimalistic yet impactful décor, plenty of light, and smooth, linear sophistication.
"Here at JB Kind we have been working hard to create doors which capture this design aesthetic while offering the benefits that we always provide: affordability, practicality, sustainability and durability. Our City and Metro doors are simply stunning and would be a fabulous design addition to many an interior space."
Going glazed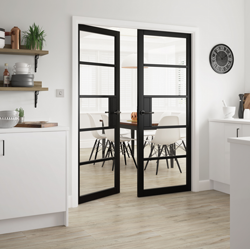 When it comes to open-plan interior spaces which are popular in today's interiors market, the glazed versions of these doors really come into their own, allowing for a space to be kept open or divided off while still allowing the light to flood through.
The City and Metro Urban Industrial glazed doors really do give a space the 'wow' factor, particularly when fitted as a pair, with the glazing accentuating the beautiful, stylish design.
Practicalities are covered
As far as practicalities are concerned, they can easily be fitted with regular handles and hinges, with no need to purchase expensive specialist ironmongery.  They will fit easily into both new and existing door frames, with a 10mm trimming allowance on the bottom of the doors to accommodate different flooring levels.  Solidly constructed, JB Kind's Urban Industrial doors are robust and thicker than similar alternatives on the market.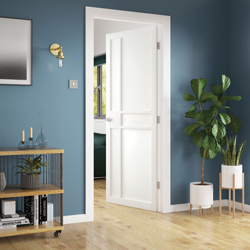 Simon Johnson says: "The glazed versions of our City and Metro doors look wonderful and have lots of advantages. They are structurally robust because they have been made with individual panes of tempered safety glass, unlike a common cost saving construction practice where the profile bars are fixed on to a single pane of glass.  Other practical benefits include the fact that the doors have been constructed with solid lock blocks, giving peace of mind when ironmongery is being fitted, as there is no worry about drilling straight into glass."
"City" doors
The uber-contemporary City door features a fresh Art Deco style line design. In black or white, this is a door which oozes effortless refinement. The City glazed doors look simply stunning and the black version is available in both clear and tinted glass, giving two totally different looks.
"Metro" doors
The Metro door design features a funky, five-recessed panel ladder design, with the middle panel set in a sophisticated and slightly off-centre position to accommodate the handle. Whether it's chosen in black or white, glazed or unglazed versions, this is a confident door design with a striking contrast.
Certifications & Memberships