JB Kind sponsors the start of a new national tree collection at the National Memorial Arboretum
We are very proud to announce that we have sponsored the planting of 15 new Witch Hazel trees at the National Memorial Arboretum in Staffordshire.
Each of the new Hamamelis (Witch Hazel) represents one decade since our founder, John Blower Kind, started out as a joiner back in 1870. 
The donation of the 15 Hamamelis comprises the start of what the National Memorial Arboretum aim to develop as a new national Collection of the variety in the future.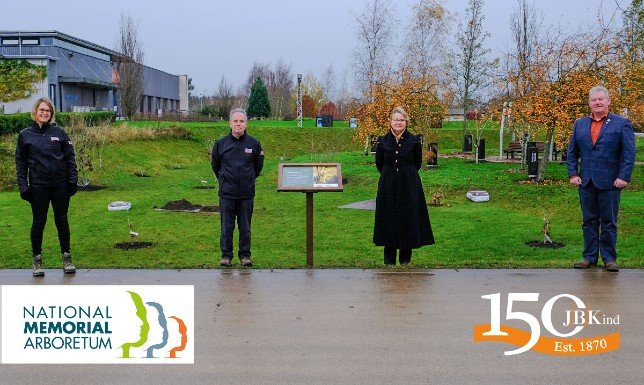 JB Kind managing director James Cadman says: "We are very proud to be celebrating our 150th, or Sesquicentennial, anniversary here at JB Kind. We can think of no more appropriate way to mark such a significant achievement than by donating 15 trees to the National Memorial Arboretum. 
"We owe our success and longevity to the beauty, strength and practicality of wood. Over the years JB Kind has made many products from timber, from wooden crates to the doors that have been our business since the 1980s. We have huge commitments to sourcing sustainable wood so that we replenish what we use. 
"What better way to celebrate 150 years of JB Kind than by helping our planet by growing more trees for the future. The National Memorial Arboretum is a charity that is close to all our hearts and it is with profound pleasure that we have donated these trees. May they grow and flourish for many years to come."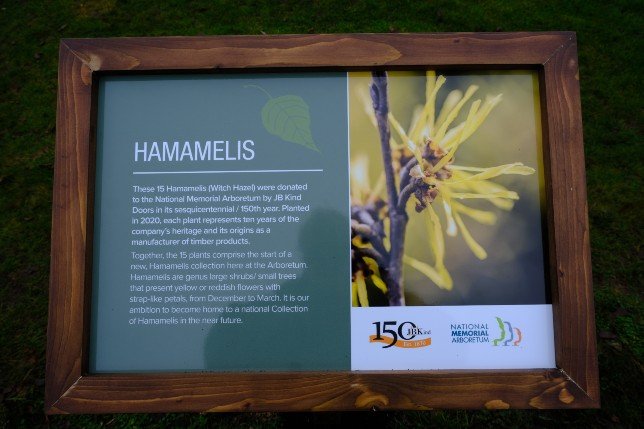 The National Memorial Arboretum is the nation's year-round centre of Remembrance and a registered charity. Freely open to all and with hundreds of thousands of visitors each year, the 150-acre garden and woodland site is home to over 26,000 trees. There are more than 390 memorials remembering those who have lost their lives in service to their country, in the Armed Forces and civilian services. 
The Hamamelis produces beautiful winter flowers, with the 15 having been selected for the vibrant flowers of red, yellow and orange they will produce between December and February. Next to JB Kind's copse of trees will be an interpretation panel enabling visitors to find out a bit more about the Witch Hazel variety. 
The National Memorial Arboretum is aiming to create a new National Collection of Witch Hazel trees, started off by JB Kind's donation. A National Plant Collection, of which there are more than 650 in the UK, is a registered and documented collection of a group of plants, which are part of a registered conservation scheme.
Andy Ansell head of estates at the National Memorial Arboretum, said: "As part of the Arboretum's strategy we are striving to further develop the arboreal interest within our grounds. We are delighted to be able to start a Hamamelis (Witch Hazel) collection that will add additional colour and interest to the Arboretum from December to March.  We are grateful to JB Kind for sponsoring the first 15 of these plants to celebrate 150 years since it was founded in nearby Burton upon Trent. It is our ambition to soon become home to a national Collection of Hamamelis, for all our visitors to enjoy when visiting our inspirational, living landscape."
Certifications & Memberships