Fundraising target of £2000 for Charity Golf Day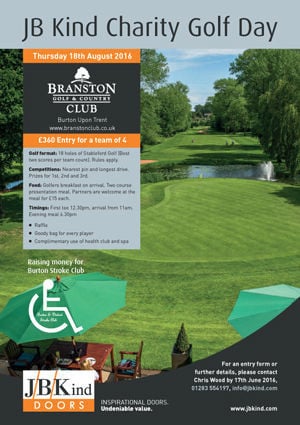 We are pleased to announce that bookings are now being taken for our Charity Golf Day on 18th August 2016.
Raising money for our charity of the year the Burton Stroke Club, the event will take place at the prestigious Branston Golf & Country Club in Burton Upon Trent,
£360 entry for a team of 4 or £90 for individual players.
Read on to find out more about the Golf Day and why we've chosen the Burton Stroke Club as our Charity of the Year. James Cadman, JB Kind's Managing Director explains:
"The Burton Stroke Club is an incredibly well-established charity, it was founded on 10 June 1975 and has been a positive part of so many people's lives ever since. The support, events and camaraderie that the group offers its members from across East Staffordshire, South Derbyshire and sometimes from even further afield, is a real lifeline to many people.
"The charity is close to a number of JB Kind people's hearts and our Charity Committee was keen to make them our top priority for fundraising this year – we have a target of raising £2000 through this event.
"We know that the Burton Stroke Club is an integral element of our local community and there are many people that may want to support this exceptional local cause, which is why we are organising a Golf Day that is open to anyone with a team of four that would like to participate.
"The day itself is being primarily organised by our Transport Manager Chris Wood and he would welcome entrants from outside of the JB Kind staff, friends and family network. All interested parties have to do is have a team of four and pay the entry fee and the rest of the wonderful day – that includes 18 holes of golf, a goody bag, a two course meal and use of the onsite spa – is included.
"The more money we can raise for the Burton Stroke Club, the more support they can give to local people affected by this, often, life-changing medical event."
The JB Kind Charity Golf Day, from which all proceeds will go to the Burton Stroke Club, will take place on Thursday 18 August 2016 and, as well as the benefits of attending listed above, there are also prizes for competitions including Nearest Pin and Longest Drive, as well as a Raffle. Teams of four need to have registered with Chris Wood at JB Kind, and paid the monies due, by 17 June 2016. Chris can be contacted by telephone on 01283 554 197.
James Cadman continues:
"If people are keen to support the Burton Stroke Club but golf is not a game they play, then we are also looking for a wide range of prizes from businesses and individuals for the raffle we are undertaking on the day for the charity and we are also looking for businesses to sponsor a hole too. If anyone feels they have some prizes to donate or they could spare some cash to sponsor a hole, please get in contact with Chris Wood, we would be very grateful for a contribution."
Burton Stroke Club retiring Chairman Colin Williams comments:
"We feel thrilled and humbled that JB Kind has chosen our charity – the difference that £2000 will make to a small charity like ours is considerable, it's around a fifth of our annual running costs. I've been involved with the Club since its inception 41 years ago, I was there at the second meeting they held on 24 June 1975, and I am proud to say that we have never turned anyone away from our Club, we always find a way to help them.
"The Club is about supporting each other as well as about the practicalities of helping people, like for example, having drivers to drive people that can no longer drive to get to and from events and meetings. If there is anyone out there that feels that they could give up their time to volunteer to help us out in a variety of modest ways, like driving people, setting up rooms before meetings or making tea and coffee at meetings, then all help is always very much welcome.
"And of course we are always on the lookout for new members to join us. You don't have to have had a stroke to join, you can have been affected by a loved one experiencing this life changing event. You also don't have to live in Burton – we will arrange transport from the wider district if you would like us to.
"I also would like to say that we are a very friendly group and we would welcome all new members, there is nothing to feel worried about, come along with a friend the first time if it would make you feel more comfortable and we'll prove we're a pretty inviting bunch!
"Lastly I would really like to thank the whole of JB Kind for their efforts to support us, we will be able to use the money to subsidise member's trips to events and to provide guest speakers for our meetings – we are very grateful."
New members and volunteers can find out more about how to get involved with the Burton Stroke Club by calling Chairman Colin Williams on 07944 282 126. Current Chairman Colin Williams will be retiring soon and will be succeeded by Janet Sholot, who has already been a committee member for the last two years at the Burton Stroke Club.
Certifications & Memberships