It's a Hole new level of fundraising for JB Kind Doors
JB Kind's charity Golf Day fundraiser for Burton Stroke Club was nearly as polished as its real wood veneered doors when the nine teams, consisting of 36 players from businesses across the Midlands, turned up for tee off at Branston Golf and Country Club on Thursday 18 August.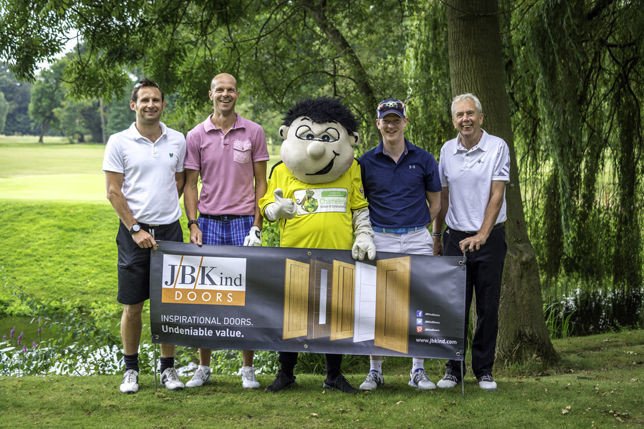 Golf Day Organiser, JB Kind Transport Manager Chris Wood, explains:
"At the beginning of 2016, our Charity Committee selected the very worthy Burton Stroke Club to be our main charitable cause for the year, thanks to the amazing work that it has been undertaking over the last 40 years. At JB Kind we discussed our options and decided that a Golf Day would be an ideal event to raise a substantial amount of money and we launched the day that was open to all, in March.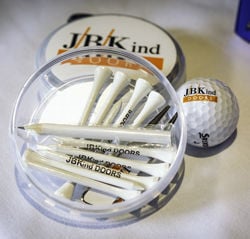 "After the launch the number of individuals and businesses that wanted to get involved for this great cause was really heartening. Companies from afar afield as Banbury and Leamington Spa stepped up to sponsor holes, enter teams and donate raffle prizes – the local fundraising spirit was fantastic – and competition was high!
"The Burton Albion official Mascot, Billy Brewer, even took a trip up to Branston to take part and show the Football Club's support for the Charity. Billy Brewer didn't enter a team himself, but he certainly helped all of the players warm up before we teed off – and he kindly left us a signed Burton Albion shirt to raffle off too!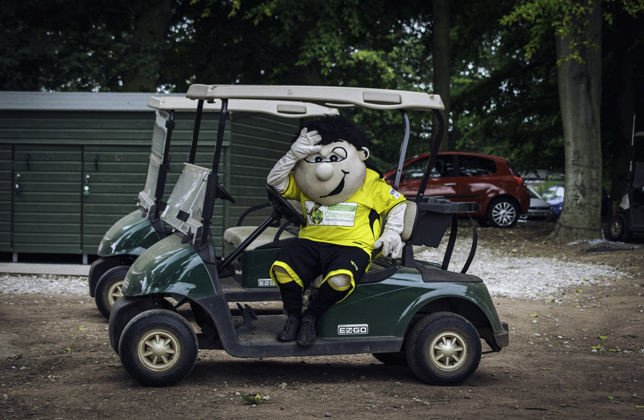 "In the end Team Six made up of MCV Mobile Car Valeting and Twisted Frog Golf Accessories secured the top spot and we smashed our fundraising target of £2,000 and raised £2,600."
Burton Stroke Club outgoing Chairman, Colin Williams who has been involved with the Club since its inception 42 years ago said:
"Raising more than two and a half thousand pounds is an absolutely fantastic total and will be put to very good use by the Club. It will help us to provide ongoing support to those individuals and their families that have been affected by this often devastating medical condition – we may also use part of the money to take our members to a West End Show later in the year.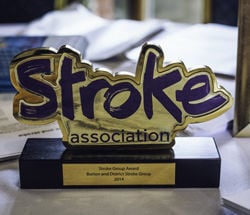 "As part of organising the Golf Day I have met many members of the JB Kind team and I have never met such a lovely group of business people. It really humbles us that after more than four decades individuals and businesses are still supporting our work.
I'd like to say a big thank you to everyone who has donated money, time or merchandise to the Golf Day and to all those that gave up their time to attend and raise money for the Burton Stroke Club."
JB Kind's Chris Wood concludes:
"We are thrilled to have exceeded our fundraising target but the best news for Burton Stroke Club is that we haven't finished yet! JB Kind nominated the Club as its main charity for all of 2016 so we will be raising money through smaller charitable intitatives throughout the rest of the year."
Our thanks go to the following for their support and donations:
Golf Day Teams: BSO Building Supplies, Cain Brothers Timber Merchants, MT Services computer systems, Harlow Brothers Timber Merchants, MCV mobile car valeting, Twisted Frog golf accessories, Hevey Building Supplies and Lloyds Bank.
Hole Sponsors: H, Young Transport, Cotton Transport, The Door Store, Building & Plumbing Supplies, Musk Engineering, Whirlowdale Pallets, Fakro Roof Windows, Springboard Corporate Finance, Viking Transport, Driver Hire, Mertrux
Raffle prizes: Tippers Builders Merchants, BSO Building Supplies, Sherpa Shaw Golf, Burton Albion Football Club, Branston Golf and Country Club
Certifications & Memberships