Certifications & Memberships
Our dedication to meeting the highest standards for our customers is illustrated by our continuous achievement of the UK quality standard to the ISO9001 accreditation. We also hold our own FSC® chain of custody certification for all products conforming to the required standards set by the Forest Stewardship Council® and are fully compliant with EUTR regulations.
In addition, we are a member of the British Woodworking Federation (BWF) which promotes high industry standards for the supply of wood products into the UK.

FSC® chain of custody supplier
JB Kind has strong sustainability principles and only provides timber doors sourced through responsible forestry management. We hold our own FSC® chain of custody certification and many of our doors are FSC® certified.
The good news is that our FSC® certified products are not cost prohibitive and you are still guaranteed JB Kind's balance of product quality and value for money. For bespoke requirements, please contact us and we will advise on a suitable FSC® certified door solution.
On our website, FSC® certified door ranges and products can be identified by the following product description reference – FSC® chain of custody certified.
The Forest Stewardship Council® is an independent, international organisation which promotes and protects the responsible management of forests across the globe. Chain of custody certification is a way of tracing timber from its original forest through every stage of the production process, ensuring that it complies with stringent FSC® standards.
To learn more visit www.fsc-uk.org

British Woodworking Federation
The British Woodworking Federation (BWF) is a leading voice in the UK timber industry and promotes the very best in joinery excellence.
All members sign up to the BWF Code of Conduct which gives customers an assurance that their products conform to the highest standards in workmanship, sustainability, insurance and health and safety legislation compliance.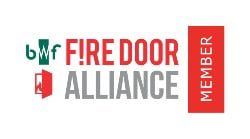 The BWF also runs The Fire Door Alliance – Fire Door and Doorset Scheme which promotes best practice in the manufacture of fire doors and fire doorsets. It is open to manufacturers who are third-party certificated and to distributors of fire doors.

At JB Kind, many of our fire doors are CERTIFIRE accredited. This certification independently authenticates that the doors as suitable for use as fire doors.

The BWF provides its members with a host of benefits, giving them a competitive edge by signing them up to high quality standards and helping with technical advice.
The BWF also acts as a voice for the industry by giving members the opportunity to help shape building regulations and other international standards in joinery.

ISO 9001 Quality Management System
The International Standards Organisation (ISO) is a global body which develops and promotes high quality standards in just about every industry, from food to health to agriculture.
With membership from 162 national standards' bodies, the ISO shares knowledge of the latest innovative techniques. Its work is very important in boosting world trade through consumer assurance that goods bearing ISO standards are efficiently, reliably, well and safely made.
The ISO Standard 9001 is a quality management standard which makes sure certified companies consistently meet customer requirements and that quality is continually improved. More than a million organisations around the world are certified to ISO 9001.

ISO do not award certification themselves, this being done from external organisations. At JB Kind we hold ISO 9001 certification, having been awarded accreditation by the British Assessment Bureau.
Here at JB Kind our continued achievement of the ISO standard 9001 certification assures our customers that all of our operations are fully compliant with this highly respected global standard.
---
Certifications & Memberships