New team member joins JB Kind's national sales team
We're pleased to welcome Tim Carey to the team, as he takes on responsibility for sales in the South-East and London.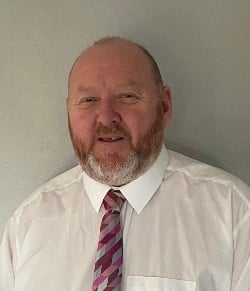 Tim will continue to build on the existing strong relationships with builders' merchants, developers and retail partners across the south, as well as forging new partnerships, thanks to his extensive contacts base developed over three decades. 
Before joining JB Kind, Tim spent 10 years at windows giant Velux, where he was area sales manager in the South-East. Tim has also worked for clay roof tile specialists Koramic as well as for Tudor Roof Tiles.
Tim said: "Having spent the majority of my career working with builders' merchants, contractors and developers in the South-East, moving to a highly respected firm such as JB Kind seemed a natural next step for me. As a committed family man myself, and having worked in the past for another family firm, Brett Concrete, I felt that the family values of JB Kind with its 150 year history were very much aligned with my own."
Joining JB Kind as sales manager during the Covid pandemic presents challenges of its own, but Tim believes he is ideally matched to the challenge. 
"I feel that my skills are traditional, some might say 'old school', however, they are a perfect fit for current times," comments Tim. "I believe in picking up the phone and making great relationships with the people that I am working with, a skillset that is unaffected by the need for social distancing. Getting to know my customers, and what is important to them, is a vital part of relationship building. I think it helps that I have an understanding of the construction industry that customers can respect. 
"From my first job as a concrete technician, through to being a supervisor and then manager, it's provided a solid basis from which I can now operate and understand the needs of my customers. Now, more than ever when it is harder to meet face to face, good, old-fashioned communication skills are paramount and I look forward to developing great relationships on behalf of this widely respected door firm. Working for JB Kind is a new chapter in my life that I am very much looking forward to."
JB Kind Sales Director Simon Johnson said: "We are very pleased that Tim is able to join us as regional sales manager for the South-East. JB Kind already has great relationships in this part of Britain and we are looking forward to seeing those become even stronger through Tim, as well as reaching new areas too. His long experience in different aspects of the construction industry are an invaluable asset and we are pleased that he has decided to join our JB Kind family."
When he's not busy representing JB Kind, Tim enjoys Formula 1 racing as well as fine food and ale. Above all, he is a committed family man and a proud grandfather of three.
Certifications & Memberships