New Regional Sales Manager Paul Moss joins JB Kind team
We're very pleased to welcome Paul Moss to our regional sales team, as he takes on responsibility for sales in the Northern Home Counties, East Anglia and Lincolnshire region. 
Paul's decade-long career as a sales specialist, within the same geographical area as his new patch, means that he already benefits from an excellent portfolio of client relationships; and his experience with industry household names, such as Howdens and G & C Timber & Joinery, means that he also has the trade experience to support his contacts.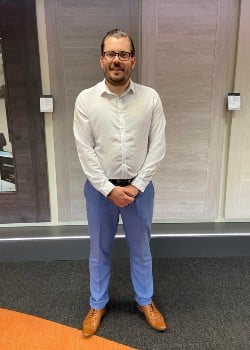 Paul explains:
"Deciding to make the move to JB Kind was an easy one. The draw of JB Kind's 150-year heritage and its family-feel culture, combined with the opportunity to cover a geographical patch that I have worked within for more than a decade, was far too much to pass up! 
"My immediate focus is to get out there and re-kindle relationships with our customers that, due to Covid-19, have been difficult to maintain face-to-face. I want to ensure that we develop mutually beneficial relationships, trusted partnerships which will be fruitful far into the future and which, to me, means meeting with people in person – even if we can't currently shake hands!
"'Off the shelf' approaches don't work for everyone so by getting to know each client, and taking a flexible approach, means that we can work together to tailor solutions that suit each client specifically. This new career chapter is an exciting challenge, with the perfect balance of autonomy and support, from a company with a superb industry reputation.   
JB Kind Sales Director Simon Johnson said:
"Paul has joined us after an impressive decade within sales, and a solid seven years of trade experience. Paul is notable because, despite being our youngest Regional Sales Manager his vibrant approach, unwavering professionalism and dedication to delivering a remarkable service for his clients, illustrated that he was the right fit for our JB Kind family. 
"With Paul's ability to develop relationships, I am looking forward to seeing our customers in this region thrive, with the support of his expertise and guidance."  
A few weeks into the new role and Paul is still pleased he made the move, Paul notes:
"In this role, I am really able make a positive difference to our clients and, personally, I feel I have the opportunity to make the most of my career and support JB Kind in its ongoing success story."
When Paul Moss is not at work, you will likely find him at a Colchester United match. A season ticket holder since he was 16, family man and father of two, Paul concludes:
"I may be making a career change now, however, I can always count on Colchester United to be a consistent force in my life – whatever they might be doing in the league table! Throughout new schools, new jobs and even new children(!), I can always take time out to cheer Colchester on!"
Certifications & Memberships