Chris Roullier joins the JB Kind team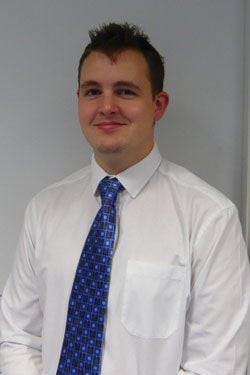 Leading door distributor JB Kind has appointed a new Area Sales Representative to cover the region which includes the Home Counties, North London, Essex and East Anglia. Chris Roullier, who has more than seven years experience in the door industry, and who has partnered with JB Kind in previous positions, has been appointed to support the requirements of merchants and help to expand the company's reach throughout this important geographical area.
JB Kind Sales Director Simon Johnson comments:
"We believe that Chris' appointment will benefit hundreds of existing merchant customers as well as offer an improved incentive for new merchants to join our increasingly large network. Chris has always been a high achiever, becoming a Sales Manager at just 21, and with experience in estimating, CAD design and, of course, Sales, we believe that Chris will be an excellent asset to our already strong team."
Since leaving school and training as an apprentice with a kitchen design company, Chris has taken on a range of challenging roles within the industry and has previously worked for the well regarded Humphrey and Stretton.
New JB Kind team member Chris Roullier says:
"I am really pleased to have secured this position at JB Kind. The patch I am covering has a range of well-established customers which I am looking forward to getting to know, however, the region also has a lot of potential and I am hoping to show a significant amount of new customers the benefits of working with JB Kind too.
"Luckily I already have good industry knowledge across different market sectors, detailed knowledge of certifications and doors sets and the desire to learn as much as I can in my new role. If there are any merchants that have been considering building a relationship with JB Kind within my geographical area but haven't been quite sure who to approach in the past, I would encourage them to get in contact with me to find out what JB Kind can offer them. I do not subscribe to a 'hard sales' approach, preferring to develop long term, mutually beneficial relationships, a method that generally works well for both parties."
Chris Roullier began his new role during November 2015. Outside of work Chris is a family man and, together with his wife, is currently raising two young daughters.
Certifications & Memberships