Common mistakes made when installing internal doors
Whether you're self-building, restoring an old property or just giving your home a refreshing facelift, there are lots of reasons why you might be embarking on hanging an internal door – or several doors!
You'll have spent time choosing the best designs for the exact look you're after, but now comes the tricky bit: hanging the doors properly. 
Here at JB Kind we're passionate about all things door-related and want to make sure that your doors fit properly and look as great as they do in our catalogues. 
From poor trimming decisions to not positioning the door "furniture" correctly, we've compiled this handy guide to common errors when installing doors, so as to help you avoid the same mistakes.
An open and shut case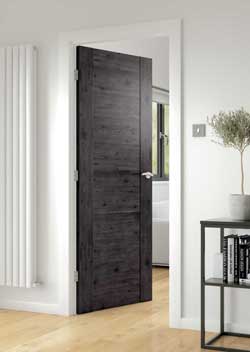 It may seem obvious, but before ordering a door you'll need to consider how it will open and that there is enough space. Before ordering, check how, and in which direction, your new door will open. Top tips: 
Doors normally open into a room, but cupboards often have to open out. Look which options maximise your space. 
If there is a problem affecting the opening of your door, often something as simple as whether you hang it on the left or right will resolve the issue. 
Does it measure up? 
Getting the tape measure out is a key part of the process towards correctly fitting new doors.  Here are a couple of pointers to ensure correct measurement: 
When ordering a new door to replace an existing door, make sure you measure the frame and not the door which is going to be replaced. 
Check the rebate in the door frame. If the rebate in your door frame is 35 mm, for example, you need to order the corresponding thickness of door.
For more advice on proper measuring up, see here: Measuring for internal doors 
All the trimmings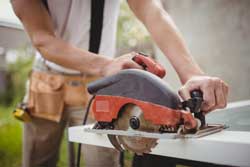 You may have to trim your door very slightly so as to ensure the best fit.  But caution should be your watchword here, as there are several risks associated with trying to trim down a door. Some pointers to bear in mind: 
Take great care not to trim too much, as you'll risk exposing the core material of the door if you do. Check the trimming tolerances on your design before proceeding with care. 
Always trim the door to suit the frame. When a door looks not quite right after it is hung, a very common mistake is to assume the problem relates to the door, whereas it may well be the frame that is uneven. Unless you trim the door to suit the frame, the gaps around the door will be unequal. 
For our advice on how to trim a door accurately, including which tools to use, see How to fit an internal door. 
Right way up? 
It may sound crazy, but doors can be accidentally fitted upside-down more often than you'd think! Yes, some doors are the same both ways up so you can get away with this, but panelled style doors do have a top and a bottom incorporated into the design.
For a good example of what we're talking about, check our Royale Oak Traditional door design (adjacent) and you'll see that the larger panels are at the top of the door.  We have seen this style of door fitted the other way round by mistake!
Fixtures and fittings
When you buy a door, it usually comes as just that: the fittings are not included. Handles, hinges, latches – will need to be purchased separately. The reason for this is that doors get used in all sorts of ways. In many renovation projects people will want to use existing fittings or perhaps customise a door in different ways. Make sure you research your door "furniture" as much as the door itself. For more, see How to choose internal door handles
Here are a few dos and don'ts to help you out with this fiddly stage in proceedings: 
Do make sure you install both handle and lock – if there is one – on the correct side of the door. As a guide, if the door has a "lock block" then you must use this side, otherwise you could be drilling into the door's hollow core. NB: this is not an issue if you have a solid core door. 
Don't skimp on hinges. Our advice is to use three per door, as there is quite a bit of weight to be held up. 
Do position handles at the same height for each door. It could look a bit out of sequence otherwise. The general rule of thumb is to put the handle half way up each door.
Finishing school
The door is up, it looks great in the frame but if your door is unfinished the job isn't over yet. Don't spoil things by not finishing off properly. Some guidelines: 
Make sure you finish your door off with the correct product. If the door is unfinished or primed, check that the varnish or paint you're using is suitable for internal doors. Not using the correct product on a veneered door, for example, could result in a reaction with the glue that is holding the veneer on, which will cause it to delaminate. Similar problems can also occur with MDF faced doors. 
Make sure any exposed or planed edges are properly sealed and finished after you've installed the door. Not doing so could allow moisture to enter the door which could result in twisting or warping. 
While at JB Kind we do recommend getting a professional in to do the job if you possibly can, we recognise that sometimes you will need to do things yourself.  We've tried to make our website a mine of useful information – here are some handy articles:
Trouble with sizing? Standard door sizes
Considering saving space with bi-fold or pocket doors? See Installing sliding or folding doors 
Do you need a non-standard door size? You will need Made to measure doors 
Last but not least – not every door is a fire door …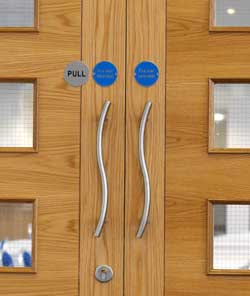 Installing fire doors is very important as there are legal requirements which have been put in place to make house occupants safe from flames.
Be aware when choosing internal doors that not all doors are fire doors – in order to comply with regulations they must be accredited through a recognised scheme, for example BWF-CERTIFIRE.