Tips on how to choose your internal door handles
When will you find yourself in need of choosing internal door handles? Well, you could be a self-builder creating a home from scratch and wanting to source the doors and their handles; you could be developer who is working on multiple projects and needs a standard high quality look throughout all of your commercial or residential developments; or you could be a home renovator that already has the doors, but who is looking for the perfect handles to fit with your redevelopment and design.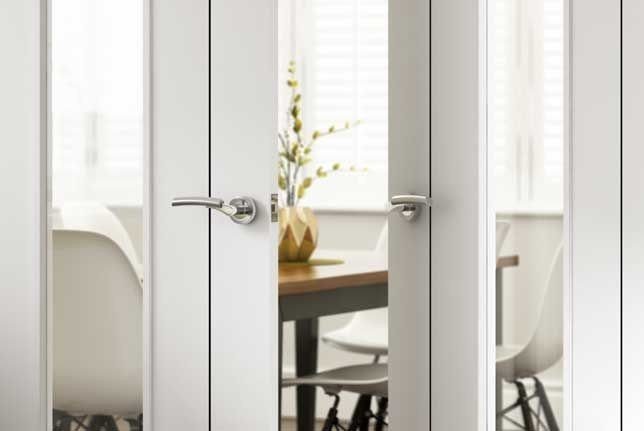 Whatever the reason, door handles are not items that most of us shop for on a regular basis so it's worth taking the time to consider some tips from the professionals so that you can choose the right design and fit for your doors.
At JB Kind we've been wooden door specialists for over 30 years (and have worked with timber for more than 140 years) so we're pretty sure we know a thing or two about doors. At the moment we have more than 200 door designs on offer, some contemporary, some innovative, others traditional – and we need to ensure that our customers have exactly the right door handles to match these door designs. So, where do you start your search?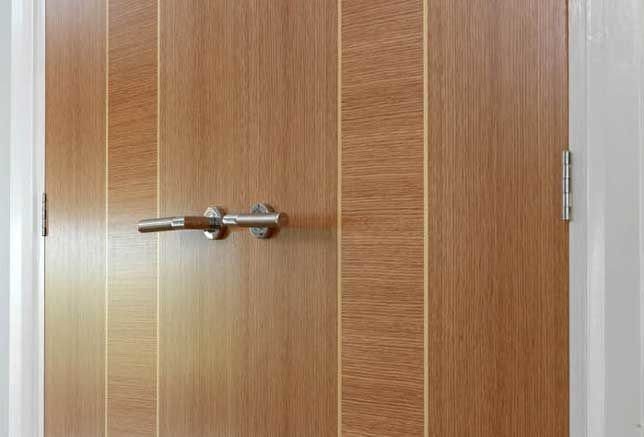 Deciding on your door furniture
One of the most common misconceptions is that doors, when purchased, come with predefined handles, hinges and latches. This is not the case. When you buy a door you also need to buy all of these items, collectively known as door furniture.
You'll also find that handles and latches aren't always supplied together and you will need to buy handles, latches and hinges separately. If you're a renovator and already have locks or latches on your door, it's likely that you'll be able to use the existing locks with your new handles, however, if you are buying new internal doors, you are able to choose all three door furniture elements. What is often the simplest when needing handles, hinges and latches is to buy a Latch Pack.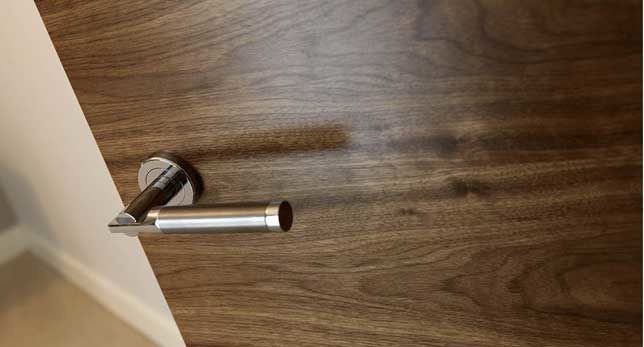 Save time with a Door Latch Pack
At JB Kind our Latch Packs will contain a pair of door handles, three hinges and a latch, and because of the type of latch we use – an innovative product called Smartlatch – the latch can be installed in five minutes, not 25 minutes so as well as being cost effective, it's time effective too.
Of course the Latch Pack route, won't necessarily be right for you if the door handles you are searching for are for wardrobe doors, as with a latch pack you'll get two door handles in a pack and with a wardrobe door you will only need one so you're likely to have some part of the pack left over. In this instance, or if you don't find exactly the right design fit for you in any of the designs in a latch pack, you can purchase all of your door furniture separately too from angular to straight designs and crystal and contemporary handles, you'll find a whole range of handles out there that could suit your residential or commercial property.
If you want to explore handles outside of the JB Kind Collection then there's an even wider variety of choice, most of which will be a perfect fit for our door designs. But how do you know which door handles to choose?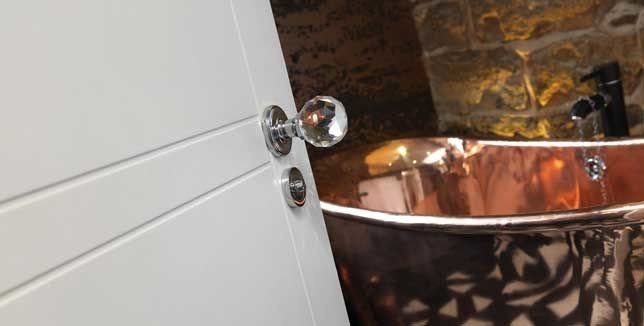 Choosing your design of internal door handle
Approach door handle design in the same way that you would approach any other interior design task. Consider what your overall theme is in the building you are choosing the handles for, then consider the design of the room it will be used in and, finally, the type of door design that your handles will be used with. If you've taken a traditional design approach throughout your home, then choosing innovative angular handles is unlikely to work aesthetically, and if you're committed to contemporary curves then a straight chrome door handle may not act as a contrast, it may just look out of place.
You'll also need to consider the types of door design you have used. Some people use different door designs on different floors of their homes, some prefer the same door design throughout and a few enjoy being completely individual and will have a range of door designs throughout their property.
When you consider your door handles, you need to take your door decisions into account. For example, if you have all of the same door designs throughout, do you want matching chrome door handles for consistency or do you want to differentiate your floors or rooms with different handle designs to add that design edge? Do you want your door handles to have the same colour and finish but with different designs or the same design with different colours and finishes?
If you've decided to be daring in your door design, do you want a handle that mirrors that bravery or do you want a more classic handle to highlight the difference and individuality of your door designs?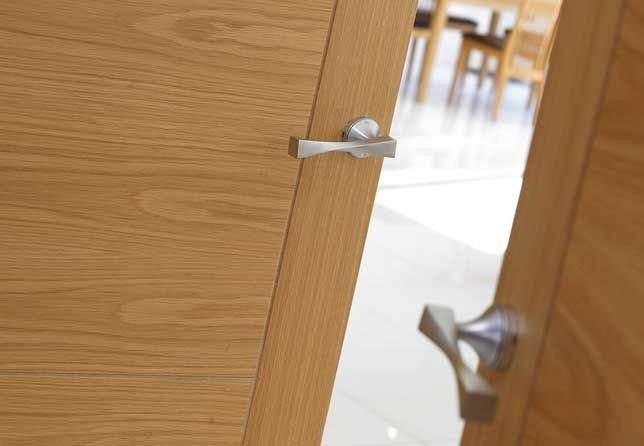 Do I need a door knob or a door handle?
Many people will use the phrases door knob and door handle interchangeably, however, in the world of door specialists, like us at JB Kind, we know that really it's a matter of individual taste. All door handles will move up and down and open a door, whilst door knob can vary – some are static pieces of door furniture that are used to pull doors open and others have the same functionality as a door handle, turning and opening doors.
Whether you choose a door knob or door handle we would just suggest that you ensure that all your doors are operationally effective and have the ability to be closed firmly for energy efficiency – a choice that will not curtail your design urges.
Budgeting for your door furniture
If you're a self-builder or developer, you'll already have had to budget early on for your doors and, hopefully, your door furniture too. However, if you're at the stage where you now need to consider a budget for your door handles, then do consider how often you use them. Door handles need to be hard waring.
For most rooms of your home, you're going to use them hundreds of times every month, and therefore selecting cheaper options because it saves you money now is unlikely to do so in the long term. It might sound unusual, but you're also going to want to consider comfort and feel of your door handle (or knob) too. If everytime you use your door handle it feels uncomfortable and not a fit for your hand, that's going to wear on you over time. If you, or any of the people living in your property, has arthritis or similar condition for example, then it's worth taking a little more time to consider which handles are most suitable.
It's also important to consider that if you've spent a lot of money on buying designer doors, you don't want to fit door handles that aren't of the same quality as it will de-value the look and feel of your door.
Fitting your door handles
If you're using a Latch Pack, then fitting the door furniture to your door should be easy for an experienced DIY enthusiast, however, if you are in any doubt, then commission a professional door fitter. You've spent hundreds, possibly thousands, of pounds on your new doors and its accompanying furniture and it would be a travesty to ruin one of more of your doors because you've not got the fitting of your furniture quite right!  Read our How to fit an internal door guide