Want to save space? Installing sliding or folding doors might be the answer
When the average person thinks of saving space, they think of storage solutions, and that's perfectly reasonable. However, as door specialists, at JB Kind, we know better. One of a home's most effective space savers can be the doors that are fitted throughout – but how is this possible?
Well, it's because a door doesn't have to be what is considered to be a traditional door, it can be a pocket door or a bi-fold door. And the uses of these types of doors are becoming increasingly popular. For example, both styles of space-saving door are well known as an alternative to traditional internal doors, however, they are also perfectly suited to cupboard, wardrobe and ensuite doors too – and have the added bonus that you can then co-ordinate all of your internal doors, should you wish to.
Pocket doors or sliding doors
Pocket doors are often known as sliding doors and operate on a top hung rolling track. The pocket door slides into the wall cavity (a 'pocket'), obscuring it from view and ensuring that space is saved as the door does not need to open out into a room. Pocket doors can be individual or fitted in pairs when there are larger door openings. However, pocket doors aren't a modern concept – in fact, they were also very popular in the late 1800s and early 1900s, with historic homes often having multiple pairs in each home.
Today the popularity of pocket doors has continued to grow and contemporary pocket door design is now incredibly broad. For example, nearly all of JB Kind's 200 door designs are suitable for conversion into pocket doors! Whether it's the innovative Nuance range, the popular Limelight range or Traditional River Oak range, the choice of both glazed and solid pocket door options are pretty impressive. You're able to have either single or double pocket door systems and, at JB Kind , pocket doors are available in a range of different sizes.
The practicality of pocket doors
Pocket doors are hugely practical too. They can partition a room, creating different individual spaces or one large open space. They can ensure energy efficiency – and warmth – by closing off larger areas when they are not needed, and they do not take up the space that traditional 'open out' doors take up, enabling the property owner to create much needed additional room in their home.
Many prospective pocket door purchasers worry about installation, as the concept sounds more complicated than fitting a standard door, however, this doesn't have to be an issue in the case of JB Kind's pocket door systems. Your builder or joiner will find our pocket systems easy to install, as they are supplied pre-assembled and can be fitted in half the time of other brands. You can also choose from a list of pocket door accessories too, like an automatic door closer, a damper unit (the fixing that makes your door close softly) and sliding door ironmongery.  For more information on everything you need to know when ordering a pocket door system, read out helpful step by step guide.
So there is a wide range of door designs, as well as a simple installation process for pocket doors, however, if you'd prefer bi-fold to pocket doors then, happily, there are many options and simplicity of fitting is also applicable to bi-fold doors.
Bi-fold doors
Internal bi-folding doors do not slide into the wall, however, they do fold in the middle, like a concertina, to minimise the space that they take up. So, one bi-fold door when closed in position (most commonly) is the width of one traditional door, however, as it can fold in two, as well as fold back against a wall, bi-fold doors are much more flexible than your average door. In fact, a bi-fold door takes up only half the space of a normal-sized door when open.
Bi-folds can be fitted as a singleton or in pairs and they are ideal as room dividers that can transform one large living space into cosy separate rooms, making the property flexible and stylish, depending on how you feel as well as on your practical requirements.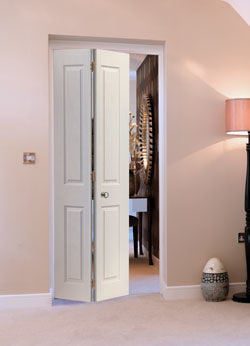 The popularity of bi-fold doors
It's not just the homeowner who has seen the value in pocket and bi-fold doors. Residential developers across the UK have been installing these types of doors in their properties as the demand to maximise space in new homes continues to be a requirement for buyers.
The flexibility of this style of door enables builders and developers to offer larger rooms combined with excellent door designs – as just because the door is a bi-fold door does not mean that style is compromised, many of our most popular designs are available as a bi-fold. We also offer a wide range of glazed bi-fold door options too, a fact that surprises many of our new customers.
Easy to install and with the ability to fit into existing frames, bi-folds from the JB Kind range are supplied ready hinged with pivots, brackets, a sliding track and full instructions so even if a person is new to bi-fold doors, it doesn't have to be a complex exercise to install one or more bi-fold doors.
Pocket or bi-fold doors means that a property will have significantly more space to utilise and it's not an exaggeration to say that this style of door can cater for pretty much any design type, interior design trend or property style – no wonder they're so popular!