Open the style gates – door design trends for 2017
If you're in the market for door-buying this year – whether you're engaged in a self-build or want to give your home a facelift – it's always a good idea to be aware of the current door design trends. House décor trends change just as the fashion industry does and there are always some looks that retain their classic style year on year. With more than 30 years as door experts, we hope we've got the lowdown on what trends to look out for. We're proud of our door collection this year so what follows is a guide for what you can expect to see when you're visiting showrooms and looking through brochures. Happy door hunting!
On-trend laminate internal doors
Something new for this year is the increasing popularity of laminate. Many people are loving the sleek sophistication of this look, and we have responded with our new exclusive Laminated internal doors range – pre-finished wood effect doors which allow customers to choose from the on-trend colours grey or ivory.
We've taken inspiration from the most popular flooring and kitchen colour finishes currently in the market.  So add some style to your home with these stylish, contemporary doors.
Making a first impression with your front door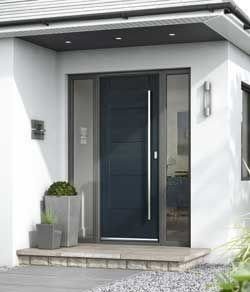 The latest industry research has shown that a front door can really add value to a property, leading to a renewed focus on that all-important kerb appeal. This year we have launched our exclusive External Extreme range, which is constructed with an exceptionally durable top layer of MEDITE®TRICOYA®EXTREME.  Supplied pre-finished in white, the doors can withstand all weathers! We're the first door distributor to use this process and are issuing a ten-year guarantee with every door sold.
The penchant for a coloured front door also continues with many people exercising their creativity by adding a splash of brightness to their home. Our External Extreme doors are ideal for painting your preferred colour (as pictured) and for those who would like more light in their hallway, there are glazed options too.
Open up space with a pocket door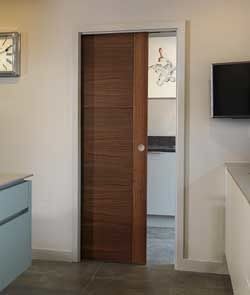 Space-saving has been more popular over the last few years, as many of us look at ways to increase our home's internal space.  Often referred to as "sliding doors", these clever pocket doors work by sliding right into a cavity wall. The vast majority of our door styles can be fitted with a pocket system, so there's no need to compromise on your door's look if this the right option for you.
A similar idea in a slightly different format is the bi-fold doors. As the name suggests, rather than slide completely into a wall cavity or "pocket", these doors fold like a concertina so are also great for saving space.
Contemporary textured doors
Textured doors became popular last year and show no sign of going away.  Customers love the edgy contemporary feel they give to a room, while also attracting the light – which is especially important for smaller properties.
In 2016 we launched our Ripple doors, which come either glazed or solid. They look great painted, allowing householders to add their own personal touch.
Love light with a glazed internal door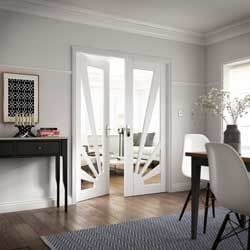 Here comes the sun … there has been an ongoing desire for people to draw in as much natural light as possible into their homes with the use of glazed doors. This has been popular for a while and with the continued emphasis on all things natural in interior design, we don't see it abating.
Most of our door ranges come with a glazed partner, and if a particular design doesn't, that's where our bespoke and individually tailored options come in.
Stylish timber veneer doors – walnut and oak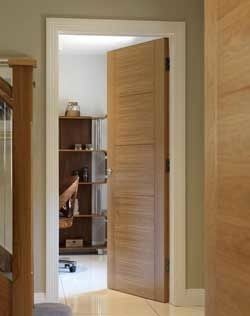 As we mentioned in our intro, there are some looks that are simply stylish, year on year. That's why timber veneer doors will always be popular, as they suit some many interior design themes and 2017 looks no different.
With its wonderful, deep, earthy tones, walnut internal doors will always be a great choice for a room.  While modern oak doors are equally lovely if you want a lighter feel.
Wood is a classic for a good reason, it is simply timeless and makes any space feel rooted in nature.
Painted finish internal doors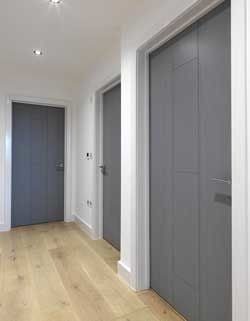 These types of doors are a trend that just keeps on growing, giving customers the option to create their favourite wood veneer in a doors with painted finish.
This range comes in several colour options including dark and  light grey – grey continues to be uber-stylish – plus mocha, light oak and natural.
Refreshingly white internal doors
White is always fashionable and really helps bring a space alive by attracting the light and keeping things fresh. We have all kinds of doors available in nice, bright white, from super-plain to interesting grooved designs that combine clarity with a contemporary feel.