The 10 Best Door Decorations for a Merry Little Christmas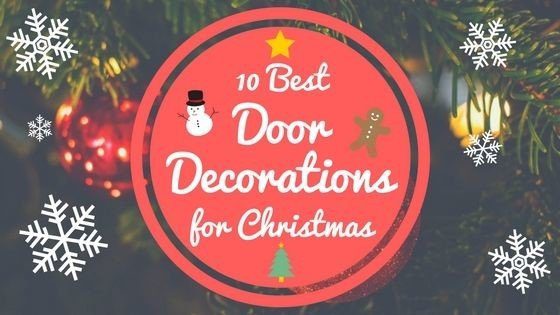 It seems that the Christmas decorations grace our homes earlier and earlier each year. However, no matter your age, you cannot help but raise a smile when the angel is popped on top of the tree. Decorations have evolved over the years and wreaths are high on the agendas for Christmas aficionados worldwide. Beautiful though wreaths are, there are many unique and special products on the market to give your external and internal doors that added Christmas sparkle.
We have scoured the web for our favourite Christmas decorations, fit for any door. Short of inspiration? Set your peepers on the stunning array of products below.
Traditional Wreaths with a Twist
The free-thinking team behind independent homeware retailer Cox & Cox are masters when it comes to putting a spin on tradition. Having launched in 2001, they have a plethora of beautiful products that are practical but also visually stunning.
Their handmade fresh Christmas wreaths are made by luxury artisan florist Flowers by Passion. Each wreath is totally unique, having been crafted from the finest seasonal foliage, frosted pine cones, festive baubles, and miniature copper bells.
Fresh wreaths are often disregarded for a non-perishable option. However, what is Christmas without a treat? After all, your front door is what everybody lays eyes on when visiting your house during the festive season.
Handmade Hessian Stockings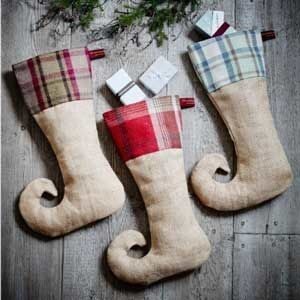 Door decorations are not just confined to your external doors at Christmas. The Handmade Christmas Co. was founded in 2012 after Tom Coleman and Louis Porter noticed a gap in the market for an alternative to the traditional Christmas stocking.
Today, you can get your hands on personalised sacks, handmade decorations, greetings cards, and luxury wrapping paper. However, what we covet most is the handmade hessian Christmas stockings which are available in Spice Red, Ice Blue or Winter Plum.
Each stocking is handmade in the company's London studio using quality woven hessian and topped with a tartan trim. Used as simply decoration or attached to your little one's bedroom door, these special stockings will add a perfect country-feel to any Christmas.
One for the Little Helpers
Talking of smaller family members, every child needs a 'Santa Stop Here' sign and the offering from Postbox Party is undeniably sweet. The little team over at Postbox Party are all celebration aficionados, stocking a multitude of party products, from games and personalised goodies, to complete party themes.
What caught our eye, however, was their Santa Stop Here door sign. Each door sign is a neatly crafted cardboard cut-out, complete with festive pompom for Santa's hat and a festive red and white ribbon to attach it to the bedroom door of a very excited boy or girl. You can't have Santa missing them, can you?
A Star is Born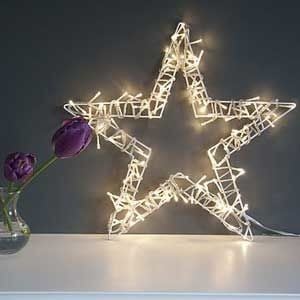 For a handmade treat for inside or outside, pop across to The Lovely Light Company. Started in 2013 by mum of two Victoria, she is the brains and skill behind the twinkling wreaths and lanterns.
What is Christmas without a star? We love the Fairy Light Star Wreath from Victoria's stars and hearts collection. The soft-white multifunction lights are carefully entwined around a white metal frame and would be the perfect addition to any front or internal door for Christmas.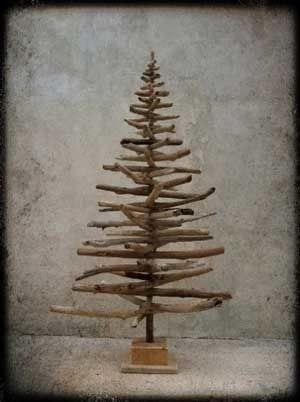 Alternative Christmas Tree
French retailer Atelier bois d'Ame take rusty objects, forlorn driftwood, scrap metal, and odd objects to create beautiful objects for the home. Their products are only available via their Etsy store and our eyes were instantly drawn to their driftwood tree.
The magnificent structure stands 180 centimetres tall and is made from driftwood harvested from the French Riviera, meaning every single tree is unique. Granted, due to its aesthetic it could be used as a work of art all year. However, we think this would look fantastic on a Christmas porch, or used in a minimalist apartment as an alternative to a traditional alpine tree.
DIY Christmas Stickers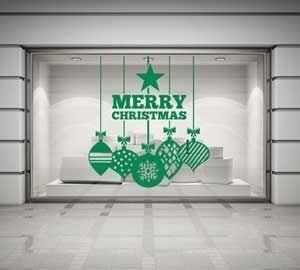 If you want a fuss-free option for the glass in your doors and windows, peruse Pondicherry Vinyl Designs. The quirky self-adhesive designs are designed by the in-house team and made from high quality adhesive vinyl, which is incredibly easy to apply.
Designs from Pondicherry can be as large or as small as you require and we love the Merry Christmas, complete with baubles and star. You can select from seventeen wonderful colours, but our festive favourites are green, red, and gold.
Alternative Bauble Wreath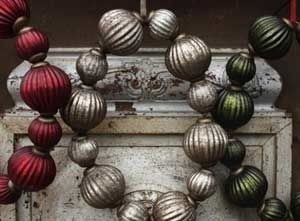 Described as a 'magical store' by their customers, there is no place better for unique door decorations than Feather and Nest. They opened their doors in 2015 and pride themselves on unique and quirky homeware, gifts, trinkets, and seasonal décor.
Their Hani bauble wreath is made from recycled Christmas baubles which are finished in a warm antique smoke colour, echoing decades past. They can be used to decorate your front door or as a centrepiece for Christmas dinner tables. For added twinkle, wrap with miniature fairy lights.
Handmade All the Way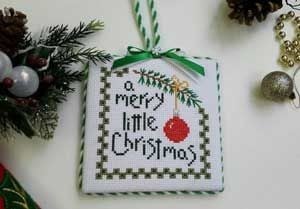 Fairy's Corner is a cosy and quaint corner of Etsy and has been open since 2013. Owner Anna has a passion for crafts and handmade gifts, from miniature boots for babies to cross-stitched ornaments.
Her offerings through Fairy's Corner showcase her talents and we think her cross-stitched Christmas ornaments would be a fantastic addition to any door, tree, or mantel piece. It is rare to find an independent retailer who creates everything from scratch and her festive hangings make us think of traditional Christmases gone by.
It's Cold Outside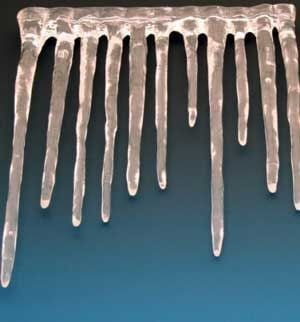 We last saw a White Christmas in the UK back in 2009 but you can create deep wintertime with Snow Supermarket's acrylic icicles.  The Gloucestershire based company is able to offer a realistic Christmas feel and their icicles have been featured in many films and television programmes, as well as events.
All you need to do is attach the icicles to the top of your door or window frame. To really complete the look, they also offer a wide variety of fake snow, snowflakes, and frost sprays.
Contemporary Garland Twist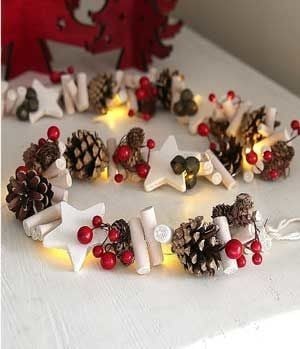 Red Lilly are an online boutique that sell an eclectic mix of stylish gifts, homeware, bags, and jewellery. They sell their own exclusive label, as well as sourcing unique pieces from independent retailers around the world.
Although all the products over at Red Lilly are beautiful, our eyes were drawn to their berries and pinecones light garland. Delicate white stars, rustic pinecones and crimson berries are intertwined with delicate battery-powered LED lights.
They can be used inside or outside and would look fantastic illuminating a door frame, or bequeathing your favourite wreath.