Why the UK loves laminate doors

Durable, practical, stylish and affordable – Laminate internal doors
Widely used in almost all aspects of interior design, laminates really do offer the best of all worlds when it comes to choosing your perfect internal door. Most commonly used to simulate the appearance of wood and other natural materials, the market hunger for laminates is so strong that we have expanded our range.
One of the reasons behind the continuing desire for laminates is that laminate doors are exceptionally on-trend, complementing current home interior fashions. Laminate doors offer a look and a finish that blends seamlessly with the laminate options that many people are now choosing for their flooring and kitchens – laminate flooring finishes are a highly cost-effective and eco-friendly alternative to a hard wood floor for example.
So why choose a laminate internal door? Here we talk you through the many benefits of this remarkable material, along with offering tips on how to get your laminate doors fitted and how to look after them once safely installed in your home – after all, you want to keep those admiring comments coming!
Perfect practicality: Laminate doors are easy to clean and maintain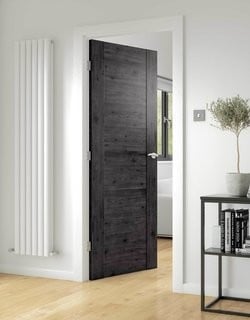 We all have very busy lives and don't want to spend hours painstakingly dusting around the house – the good news is that laminate doors are a very practical option for the modern householder. Easy to clean and maintain, they are also highly durable and wear much better than other types of material. Not only are they super effective at warding off moisture and heat, they withstand scratches better too – good news for those with young children and animals!
Unlike other types of doors, when you buy laminate there is no need to treat or finish – they can just go straight from being ordered to being hung in your home.
One last important point when it comes to practicality, is that many of our laminate doors come with the option of having them as FD30 fire rated doors – this will keep building regulations happy if you're embarking on renovation work and, more importantly, it will give you safety and peace of mind.
Super stylish: Exclusive laminate door designs add a WOW factor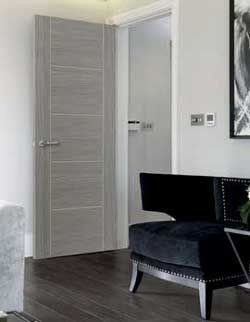 You're no slouch on the style stakes when you go for a laminate door. The sleek modern designs will really add a Wow factor to your internal space, and are certain to attract plenty of admiring remarks from visitors. The 'Alabama' comes in two styles – the Alabama light grey and the Alabama, dark grey internal door and both of those offer glazed versions too. The slightly recessed central panel is a simple yet highly effective stylish touch while the choice of a soft smoky grey colour or a darker walnut grey shade are sure-fire winners.
Horizontal ladder style grooves are a great modern look, and you'll find both on our Ivory and light grey doors, which also come with the option of a glazed panel, while the vertically grooved Colorado and Hudson styles are perfect for those after a cottagey feel.
A word on our finishes: we mentioned above that there is no need to treat or finish our laminate doors. Another stylish benefit of this is that our durable textured finishes mean the colour of your door will always be consistent with no variations in the grain – a common complaint with natural timber doors.
And of course, no style guru wants to be the same as everyone else – our laminate designs are all exclusive to JB Kind so you won't find them elsewhere!
Cost conscious: Buy your internal laminate doors for less
In today's economic climate we all have to look to our spending and laminates score highly here too, being a cost-effective alternative to other types of door you might purchase, while losing nothing on style.
Looking after laminates: How to take care of your laminate doors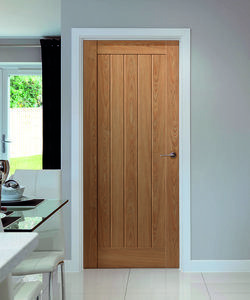 As we said above, your laminate door is very easy to clean and maintain. Just a simple wipe every now and again with a slightly damp cloth followed by the same again with a dry cloth to smooth away the moisture is all that's required. We advise customers not to use any kind of abrasive cleaner or steel wool product to clean the door – there's simply no need!
Fantastic fitting: How to make sure your laminate doors fit perfectly
You've bought your laminate doors, now you need to make sure they are fitted correctly. Our advice is always to use a professional door fitter such as a carpenter / joiner. There's no point in having great doors if they are fitted badly, leaving draughty cracks and poor angles. We've written a blog on this topic which you can read here: How to find the best joiner or carpenter to fit your doors
We hope you enjoy your laminate doors!