Finding the right carpenter / joiner to fit your doors
When you want to fit new wooden doors, you'll need to make sure that they look and fit well once they are in use. To ensure aesthetically pleasing and well-fitted doors, you are likely to need to employ a professional to fit them – unless you are a carpenter yourself. But why is employing a professional so important and how can you ensure you contract the right carpenter for the job?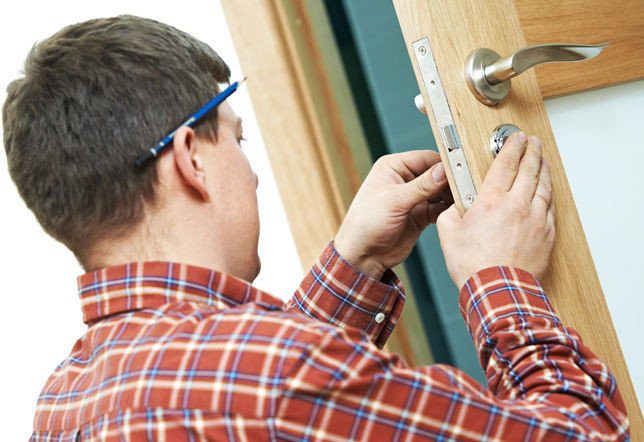 What is a joiner / carpenter?
The woodworking sector is a £3.8 billion industry – that's a lot of joiners and carpenters to choose from! – so in the first instance, it's important to understand exactly what they do, and the differences between a joiner and carpenter.
A joiner is a person who constructs and assembles the wooden components of a building like, for example, doors, stairs, fitted furniture or window frames. A carpenter is the skilled professional who fits the joinery components insitu.
So in reality you need to look for a skilled carpenter to fit your doors but quite often joiners / carpenters are cross skilled, so you may  well end up with a joiner undertaking the work.  A little confusing we know!
Take some time to assess your joiner / carpenter's precise experience, as without an in depth knowledge and experience of fitting doors, there are many permanent problems that can leave you with disastrous doors – from incorrect cutting that leaves gaps underneath doors to cracks in the door if the door furniture (handles, hinges and knobs) are not fitted correctly.  How to fit an internal door
Finding a qualified carpenter to fit your doors
To avoid these problems and to make sure that when you are looking for a carpenter, you can find the one that is best qualified to take on your project, here are the key questions we would recommend asking before you commission them.
1.    What qualifications do you have?
Not all good carpenters will have qualifications, many will have solid experience, often built on years in the industry, however, it's good to look out for some of the basic qualifications and certainly useful when you are dealing with carpenters with less experience in trade.
Look out for Level 1 in Wood Operations, Level 2 (NVQ) Certificate or Diploma in Wood Operations and the Cskills Award Level 1 for Carpentry and Joinery (run by the CITB) – amongst many other qualification options. And remember, if your property is of an historic nature then there are also specialist qualifications for dealing with historic and / or listed premises too.
2.    Are you a member of any professional bodies?
The British Woodworking Foundation is the trade association for the woodworking and joinery manufacturing industry in the UK. It has 700 members from a variety of backgrounds including manufacturers, distributors and installers of timber doors, windows, conservatories, staircases and furniture, as well as all forms of architectural joinery including shop-fitting, timber frame buildings and engineered timber components. Being part of the BWF means that your joiner / carpenter is bound by a professional code of conduct.
However, this is not the only trade association that carpenters / joiners may choose to be a part of. You may also find them as member of the Institute of Carpenters and The Guild of Master Craftsmen, who also have quality standards and conduct that members need to abide by.  If your carpenter / joiner is a sole trader, he/she is unlikely to be a member of more than one of these organisations as it is likely to be cost prohibitive, if they are part of a larger company then this may not be the case.
Your carpenter / joiner may also be part of a more generic tradesman quality scheme, like the nationally-Government endorsed, (although locally run by Councils), Trusted Trader scheme (Derbyshire's Trusted Trader Scheme can be found here for example) This scheme sees a whole range of tradesmen, and a growing number of professional services companies, apply to be part of the quality standard. The applications are vetted, requiring both evidence of customer testimonials and other company information.
3.    What experience do you have?
With this question you are looking for door-specific information and opinion. 10 years working on a construction site will be of limited use to you if they didn't fit any doors during that time! If you're not sure about what door specifics to ask about, why not consider asking for their opinion on a few of the following key door-related questions?
How should I store my doors? The answer to this should include – always store doors flat on three bearers and away from damp areas (even garages and the like) or they will warp.
My doors are going to need to shortening, what do I need to know?  When you fit wooden doors, it's usually possible to adjust their size a little to fit your door frame openings. Different doors have different tolerances, so it's worth checking with your supplier before you shorten any door. Most doors are available in bespoke sizes, so if your door openings are too large or small for it to be possible to alter your door, then don't despair! The chances are you'll still be able to have exactly which doors you want!
My door has a wood veneer, what would you need to do before cutting the door down to size? Here you're looking for answers that include the requirement to score the veneer with a knife before cutting the door. He/she may also add that if you don't score the veneer you are likely to chip the face of and expose the core to moisture.
When you have asked your carpenter / joiner all of these questions, then it's down to the project specifics as well as you and your budget. However, it's important to remember how much you have invested in your doors when you purchased them, as well as how long you will expect them to last when you are looking at how much to spend on fitting them. If you're tempted to fit them yourself or to use a cheaper unqualified tradesman, we would advise against it, because after more than 30 years in the door business, we know exactly how important the professional fitting of doors is.