What does your front door colour say about you?
The colour of your front door can be very revealing. Not only does it welcome you and your friends to your home, it forms a key component of the impression your house gives from the outside.
When giving your home a makeover, whether for your own benefit or because you want to put it on the market, it is far easier to give your front door a new lick of paint than it is to re-do the whole exterior. Here's our advice as to what front door colours are best for your home and what they might say about your personality.
Red
Did you know that in Scotland, painting your front door red signified that you had paid off the mortgage? While you may not want to broadcast this to the world, there is no doubt that red is a strong, powerful colour for a front door, and a very popular one too.
Traditional Feng Shui recommends red as the best colour for a south-facing door. A bright red front door signifies life and strength – strong, positive-minded people will go for this hue.
Blue
Of course, like all colours, there are many shades of blue. A mid to dark blue signifies serenity and calm, telling the visitor that inside is a place of refuge. Many Georgian properties have rich blue doors, which look particularly good when surrounded by white.
A light blue is a more unusual shade for a door, but looks great on seaside and traditional properties. It tells people that you love to bring the outdoors into your home, and that you like things fresh and bright.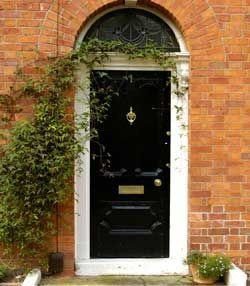 Black
A black front door tells the world that you are quite serious in your outlook on life.
A popular choice of colour, it says sophistication and wealth. While all this sounds a bit solemn, black is often a great choice as it works very well on lots of different types of homes.
As they say, if it's good enough for 10 Downing Street, it's good enough for us all.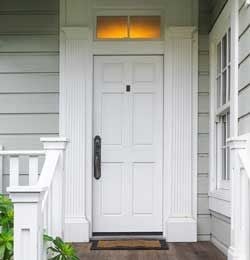 White
White is traditionally associated with purity and calm, and it gives others the impression that you and your home appreciate serenity.
Feng Shui recommends white for west-facing doors, and, as with light blue above, this colour looks great painted on wooden doors.  Also, like other pale colours, it does need to be kept clean.
White internal doors are also a cool, calm option for your interiors too.
Grey
While perhaps not traditionally associated with front doors, grey is having a big surge in popularity and is becoming a more common choice for the front door.
Dark or pale, we think it tells people that you are sophisticated, reserved, and like to keep an eye on current trends. A house with a smart grey front door is probably very stylish and your guests can expect to be entertained very well when they step inside!
Follow the theme through to your interior with gorgeous grey internal doors.
Green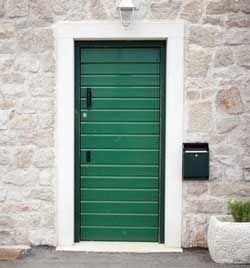 Green is traditionally a harmonious colour that tells people you are eco-conscious and appreciate nature. A calm, organic colour, it shows you prefer to blend in naturally with your surroundings rather than make too much of a statement.
Green can be a very successful paint colour on heritage properties and conservation areas, giving your home a natural class. Unless you choose lime green of course, which sends out a different message that you are quirky and fun. While we love lime green, it doesn't work on every house but it can look wonderful next to a bright white or grey.
Yellow
Yellow is a bright, happy colour that screams welcome. Having a bright yellow front door is not for the faint-hearted but it tells the world that you are definitely an optimist who doesn't like things to be grey (although, interestingly, yellow and grey can look beautiful together).
If you love yellow, go for it and choose a nice bright sunny shade. Mustardy hues are trickier to get right and need careful thought. If you do have a yellow door, it does tend to show the dirt so give it a wipe clean fairly regularly – you don't want dirty yellow to greet visitors.
Orange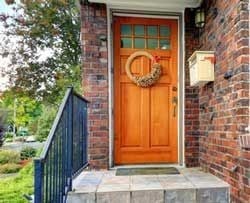 It might seem outlandish to some, but orange is a surprisingly popular choice for a front door colour. It means you are warm, inviting, and not afraid of making a bold statement.
Orange is often used as an interior colour in restaurants as it supposed to encourage people to feel hungry, so you can be sure that if you go into a home with an orange front door, you'll be well fed!