Top internal door trends for 2018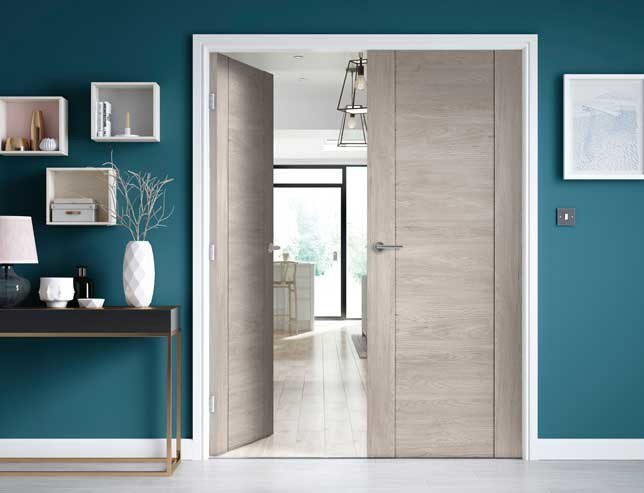 An Englishman's home is his castle, so they say, and our enthusiasm for home design shows no sign of abating. It is important for your wellbeing that where you live is a tranquil, relaxing place that provides a welcome rest from the stresses of daily life. And your home's doors – external and internal – have a key role to play in the flow of your living space, whether they are space-saving pocket designs making the most of your square footage, beautiful glazed options that capture the light or a great front door with real wow factor.
Being aware of current trends doesn't mean that you have to follow them, but they can be a useful way of getting ideas you may not have considered if you want to spruce things up in your house. Here are our top internal door trends for this year:
Practical, stylish and affordable – everyone is loving laminate doors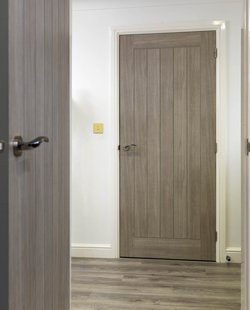 Laminate doors are a massive ongoing trend and we are so confident in what we say that we have produced some fabulously fresh new designs for this year in response to what we can only describe as overwhelming demand by our customers.
So, what is laminate? Put simply, laminate is the top layer of the door that creates a highly practical, timber effect finished product. Our new laminate designs include the very popular cottage styles, Hudson and Colorado, which dove-tail seamlessly with flooring and kitchen styles, creating a lovely cosy feel to your internal space.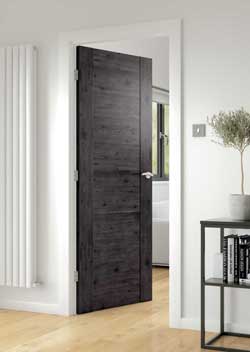 An alternative option is to consider our on-trend stylish American-inspired Alabama doors which currently come in two delicious grey finishes – smoky grey and dark grey walnut. All of our Laminate door designs are exclusive to JB Kind, so you won't find them anywhere else.
Whatever you choose, the method of manufacturing a laminate door has the great benefit of giving a uniform, consistent look – one of our biggest hurdles in the past has been the naturally different grains that timber doors have, with many customers preferring their home's doors to match perfectly. With laminates, now they can!
Maximising your space with pocket doors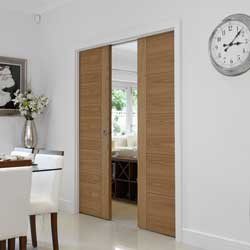 For many of us, making the most of every square inch of space is our top priority when it comes to home improvements. The good news is that your internal doors can really help, and another trend that continues to be very popular in 2018 is the clever pocket-style design which slides into a wall space and therefore takes up no room when it opens and shuts.
Our customers continue to love our Pocket Door Systems and with more and more of us living in snug spaces, it's hard to see that slowing down.
Natural veneers: Oak and Walnut internal doors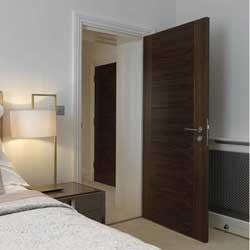 Wood veneers are another trend that still sits at the top of the style pile and there is no denying the beauty of natural timber and the richness of graining it provides.
So, whether it's contemporary oak doors you prefer, like our three panel Mistral Oak, or distinctively dark designs, like our five panel Tigris Walnut door, then you'll be in line with the 2018 trend for the warmth of wood.  The perfect complement for wood effect flooring and accent furniture pieces.
Painted grey internal doors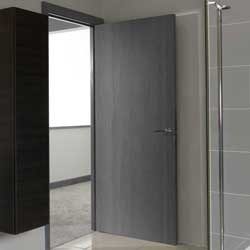 If you're interested in a painted door, our Pintado Grey door, new for 2018, is a cost effective, minimalist, grey flush door with a vertical grain that is both contemporary and practical – you can check it out on our Pinterest account!
Grey has been at the forefront of interior designers' colour schemes for several years and the dedication to the colour shows no signs of abating. Whether we're selling our doors to high end residential developers or home refurbs, grey doors in all shapes and sizes are pretty much as popular as it gets! If you're looking for inspiration, take the divinely deep ash grey internal door Argento, with silver grooves or the superb slate grey Ardosia.
Go bespoke – for your internal doors
Our last top design trend top for this year is that whatever you decide when it comes to your home's doors, bespoke options will also be very popular. This is a particularly key trend when it comes to self-builds, as it means you can get doors tailor made to fit your home design perfectly. Our bespoke sizing options across a range of styles means that you really can shop off the peg.