Wonderful walnut doors: An interior designer's secret weapon!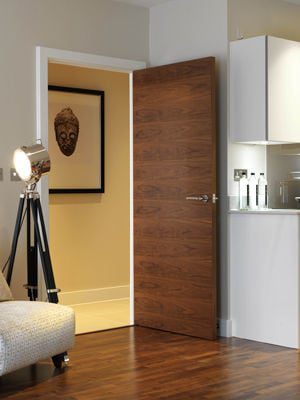 Sleek, stylish, elegant and rich are just some of the ways that professional interior designers describe the wonderful wood of walnut.
Walnut is a tried and tested timber that transcends time, after all it's been popular in homes for hundreds of years. Its uses may have changed and the way that the wood is presented has morphed alongside our ever evolving interior design trends and our favourite fashions, however, the deep colour and flexible nature of walnut that allows the wood to complement contemporary, classic or innovative room designs is what makes walnut a real interiors winner.
Of course just because it's fashionable, isn't a reason to incorporate walnut into your home, however, with our decades of interior design experience at JB Kind, (we have to take into account the latest trends to ensure our doors are both creative and complementary), we can share with you what we know about and why you should have walnut in your home.
Why choose walnut doors for your home?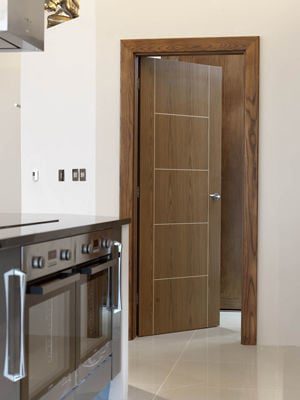 Warmth: There's no arguing that the British weather could be a little warmer, but there's no need to feel the cold when you've got walnut in your home. Deep coloured woods like walnut are perfect to warm up your room, as they naturally exude a cosy feeling of luxury.
Style: Using walnut in your home, whether it's for your internal doors or as an item of furniture, you will be making a serious style statement. Set against a light neutral background, walnut will stand out in your room and its dark colour will certainly draw any visitor's eye.
Flexibility: Walnut is a flexible wood and can fit well into a range of different interior styles. It can create an added edge to a contemporary room, or a classic touch for a more traditional interior.  Whatever you need, the chances are walnut will work for you. If you're worried that walnut is too dark for the space you have in mind, why not consider a glazed walnut door like our Axis Walnut Glazed, or Franquette from our Walnut Flush range? This way you'll get all of the benefits of walnut with a pocket of natural light to highlight your winning choice of wood.
And we're not the only ones that love walnut. Why not see what the Ideal Home Show has to say about walnut.
So we've persuaded you that walnut is the right choice, but how do you integrate walnut into your particular design style? Take a look at the ideas below to see how you can achieve the look you want with walnut whether you are working in a contemporary or traditional space.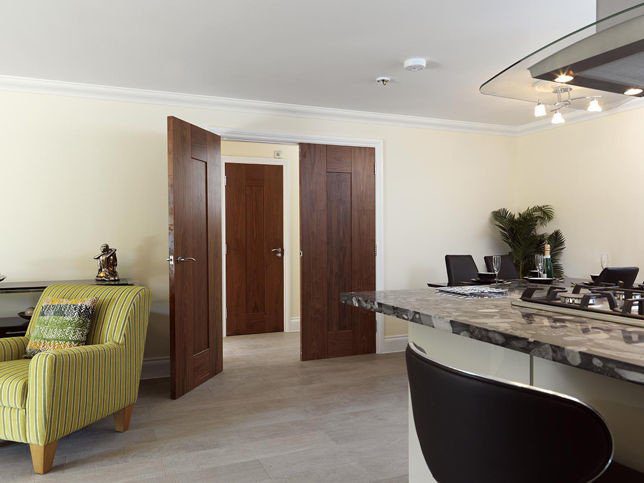 Creating a contemporary room with walnut internal doors
There is an abundant choice of walnut in the world of interiors currently, as after quiet few years, it's most certainly made a comeback to its rightful place at the top of the on-trend tree! Using innovative walnut furniture is a winning way to grab the attention of your guests, as is using the wood in unexpected places – like your bathroom. Why not take some tips from website Dwell with its, Six uses for walnut in your modern home.
Of course we can certainly explain how your interior doors can help. At JB Kind we've got a wonderful range of contemporary walnut doors in our Door Collection. If you are looking for a subtle yet stylish walnut door, then you may want to consider the Mistral from our Walnut Flush range, which is grooved to give a three panel effect and has a beautiful varnish finish.
For a softer painted walnut, you'll find our Mocha door offers a gentle option with ivory grooves and vertical graining.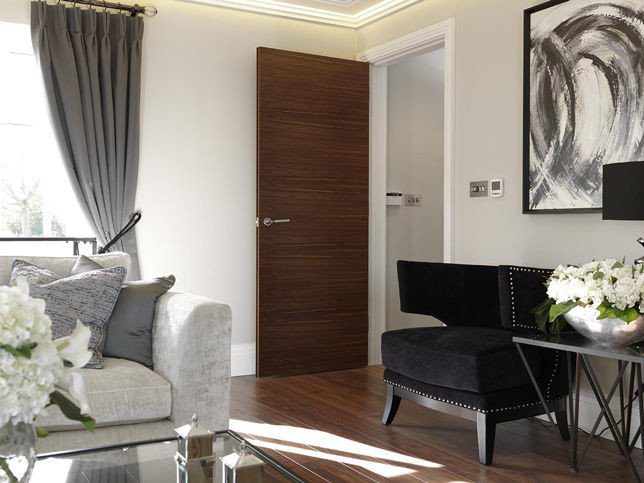 Tempering tradition with walnut doors
If you are an absolute traditionalist then antique walnut furniture is of course an excellent option, however, not all of us have the budget, or the desire, for this purest design choice. Most popular is a range of styles that we identify with on the traditional design spectrum. For example, we may have a building that incorporates sympathetically the original traditional features, but that doesn't mean you want to dress the room exactly as it was hundreds of years ago. In these instances you are able to use walnut as the transition piece to bridge the gap between your historic features and your more contemporary furnishings.
Walnut is wonderful at creating a serious, studious, traditional feel in a room whilst at the same time it can provide a bridge that will support the easy integration of more modern interior components. If you chose a door with a classic style, like our Royale 12M (pictured below and available in walnut as a bespoke order), the design perfectly suits a modern interior with a classic or traditional element to it.
So if you're looking to create a walnut wonder with your internal doors, take a moment to consider all the options available.