Double doors add style to your home
Double doors, which are also known as door pairs, are a familiar concept to all of us, however, what you might not realise is the significant difference that that they can make to our indoor spaces.
Over the last few years, the interior design industry has been willing us to change our thinking when it comes to door pairs and the door industry has given us a wealth of designer doors and styles to ease us into this transition.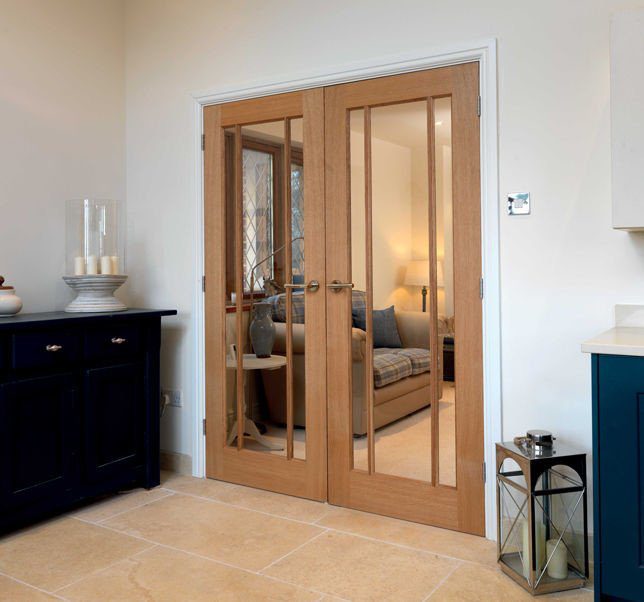 Door pairs will enhance your home's space
As our homes have become more open plan and we have craved larger spaces, we have begun to realise that we also want a choice in how our spaces are used. Of course we want an open feel to our rooms, to stretch out our space so that we can see our children or interact with our guests. We don't want a wall obstructing our social natures, yet when we've had enough of others, we want to revert to our private, closed off spaces to sooth our busy lives and minds. And the way to achieve this balance is to divide the space and one option is to install a pair of doors.
Fantastically functional and adaptable to your lifestyle, a set of double doors brings both socialisation and serenity, with the slide, or opening, of the doors and will enable you to be in charge of your internal spaces, not the architect that decided permanent open areas were for everyone, all of the time. You may be sceptical as to the design potential of a double door gateway given previously frumpy double doors designs that were the rage forty or fifty years ago. However, the phrase 'double doors' is a far cry from any of those door designs and now designer doors are sleek, stylish and superior to any of their predecessors.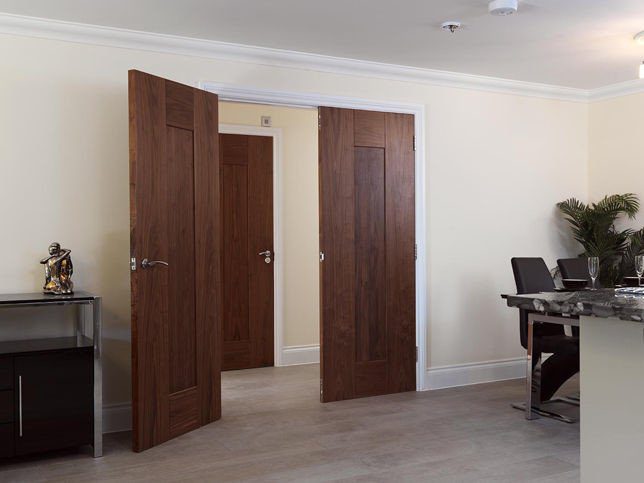 Create a Wow! factor with double doors
Whether they are on-trend textured doors like our Ripple doors, from our perfectly painted finished doors range or any of our 200+ other wooden door designs, almost all of our doors can be converted into your perfect pair.
Of course you could choose classic, subtle double doors that exude style like our sophisticated River Oak ranges to complement your cottage, contemporary or classic home – or you could be a little more brave and bold and create a stylish centre piece, that will keep your visitors talking for weeks!
Take our 'sunshine' Aurora doors for example, if you choose this door pair you would certainly brighten and embolden any space. Known as the 'sunshine' door because of its contemporary twist on the iconic 1950s and 60s sun design, this door – or any from the creative Calypso collection – will the most positive of conversation starters!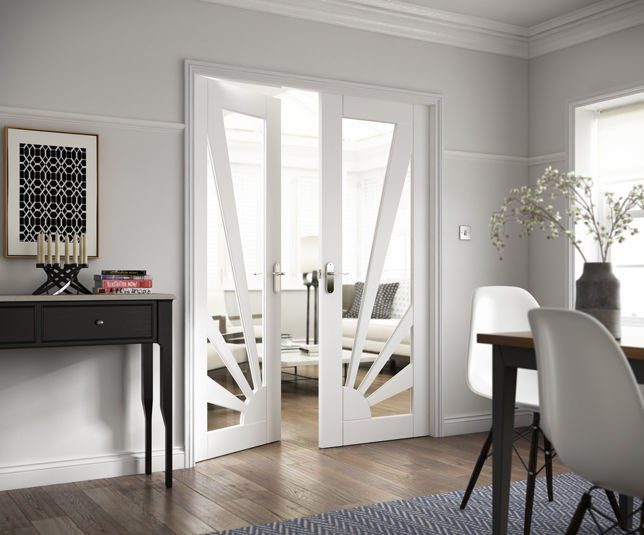 Let light in with glazed double doors
If you don't want to close yourself off completely when you shut your doors, or perhaps it's more practical for your space to let natural light into your adjoining rooms or it might even be a matter of having peace of mind and always being able to keep an eye on your children or grandchildren; if you identify with any of these factors then glazed door options are obviously for you.
The range of glazed options out there, and certainly within JB Kind, is quite staggering, as well as stylish. From the combinations of wooden door designs to the types of glaze you can choose. If you want light combined with privacy try an obscure glass or a clear glaze if you need to see what's going on at all times. And if you want to impress your guests even more then why not choose an etched glaze? And don't forget that you can order your own unique glazed door pairs via JB Kind's bespoke door service .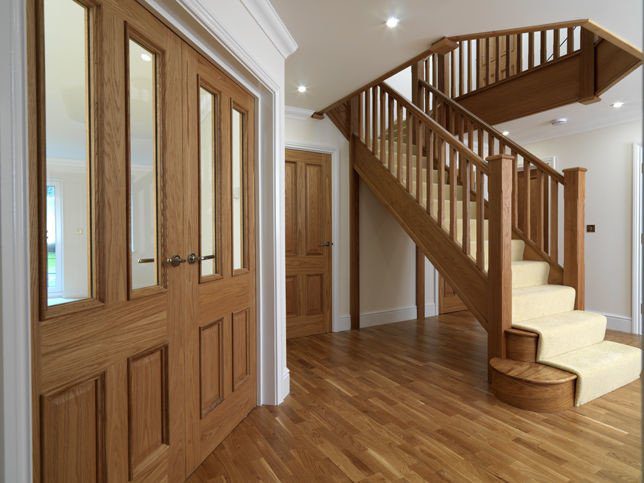 Pocket sliding door pairs versus open out double doors
Once you've chosen your preferred double door design, you then need to decide how you would like to fit the doors.  Pocket sliding doors are a convenient space saving option, as the doors slide neatly into the wall cavity.  Double pocket door solutions are available and JB Kind's pre-assembled pocket frame system is very easy to install.
Alternatively, you may prefer your door pair to open out into a room.  In this instance, the two doors are fitted side by side but even with this choice there are different fitting options.  Our helpful How to create a door pair guide, explains the differences between rebated door pairs, square meeting stiles and pair makers.