Pairs, finishes and frames – your guide to door jargon, part two!
You've probably read the term 'primed' in a door catalogue, but do you know what it means? What are 'jambs'? 'Architrave', anyone?

We want to make it as easy as possible for our customers to make the right choices when it comes to their doors. With that in mind, we've racked our brains to come up with some more definitions of the various door terms you're likely to come across when browsing our catalogues.
Door Pairs
Pairs of doors are a great choice in lots of different interior settings. They work particularly well in large reception rooms which can be divided in the middle with a beautiful pair of doors, to create a flexible living and entertaining space.
Here are some terms you might come across when trying to opt for the best door pair designs for your home:
Square meeting stiles – This is when the doors are fitted side by side with their vertical edges, or 'stiles', coming together squarely down the middle.

Rebated meeting stiles – This is when a section along the vertical edge of each door is removed, allowing them to fit snugly together.

Pair maker – This is a timber moulding that is fixed to the edge of one door, eliminating the gap that is present with square meeting stiles.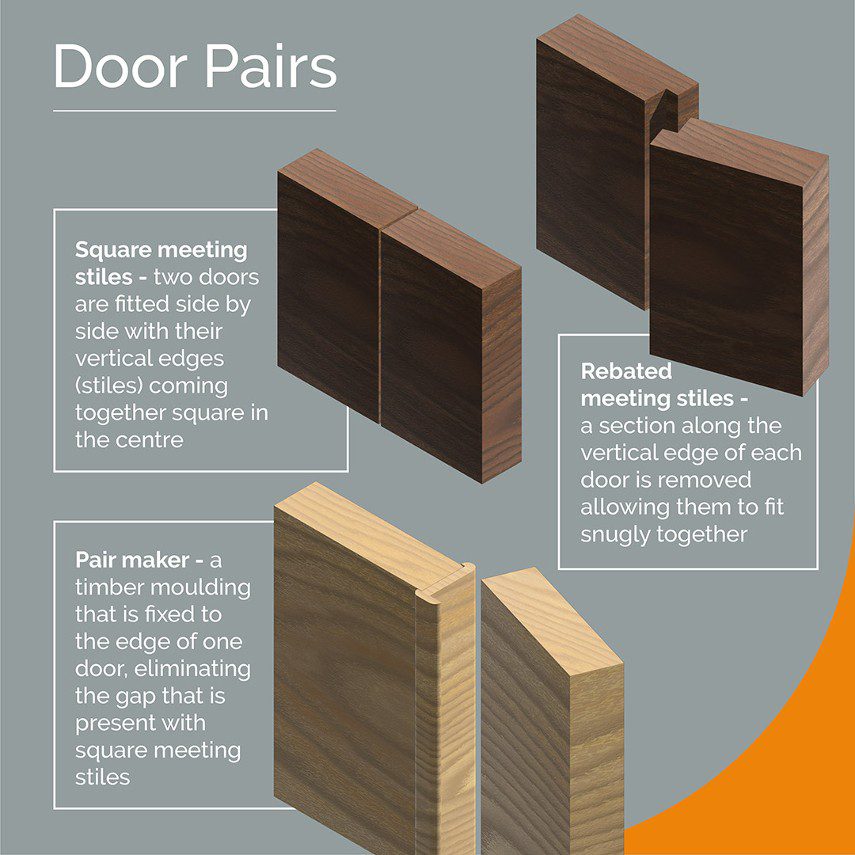 Door Finishes
Doors come in a range of different finishes, some of which allow you to put a personal stamp on the finished look, so it's well worth knowing what terms you're looking for if that's the avenue you want to go down.

Unfinished – This is how a door is described if you buy it prepared and ready for a top-coat finish of either varnish or stain.

Primed – These doors are prepared with a white primer undercoat, ready for a top-coat paint finish.

Pre-finished – Your pre-finished door has already been painted or varnished and is ready to fit.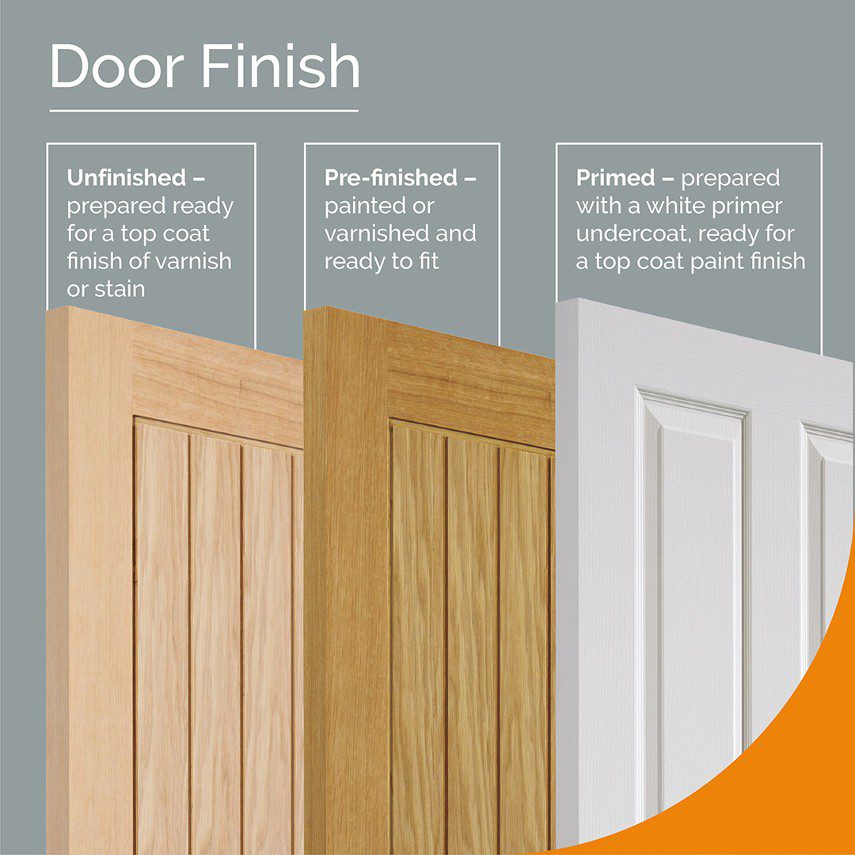 Door Frames
It's easy to forget that a door also comes with the frame in which it sits. Internal door frames are normally made from either wood or MDF, and have the following component parts:

Internal door frames are normally made of wood / MDF and the following component parts:

Head – This is the horizontal section at the top of the frame.

Jambs – These are the vertical sides of the frame.

Stops – This is the strip of timber on the jambs and head, against which the door rests when closed.

Architrave – This is the term given to the decorative moulding that bridges the gap between the edge of the frame liners and the wall.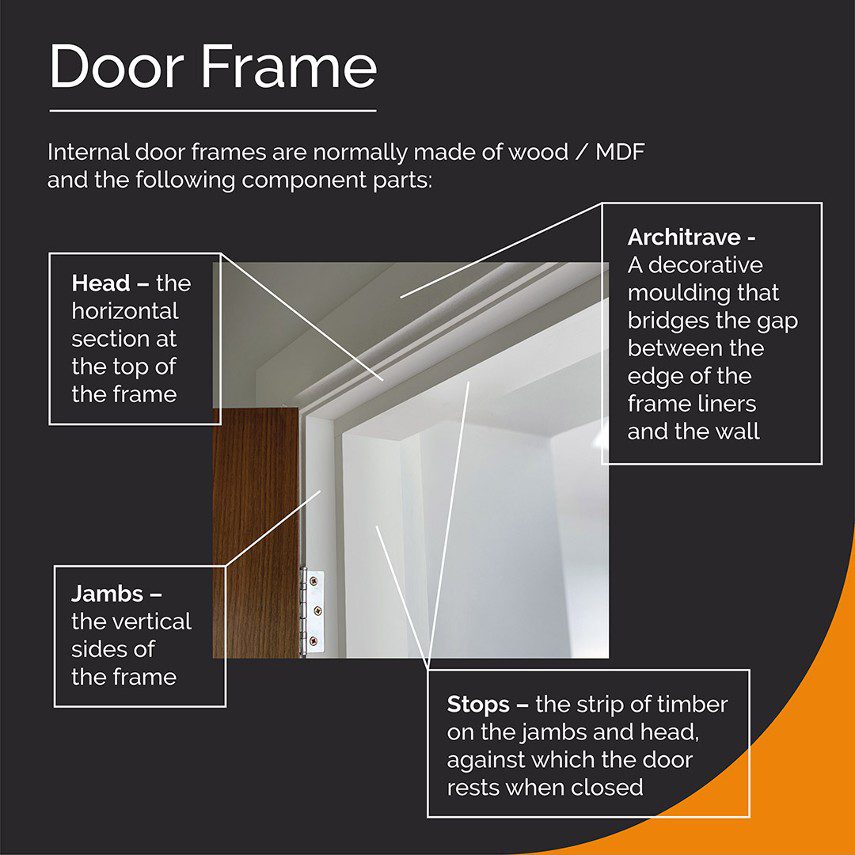 Timber Veneer Doors
Many customers opt for this type of door. The two terms to be aware of are these:

Veneer – This is a thin slice of timber (e.g. oak, walnut) which is used as a decorative material on the face of the door.

Graining – This is the natural pattern of fibres that you can see on the veneer. It varies from door to door.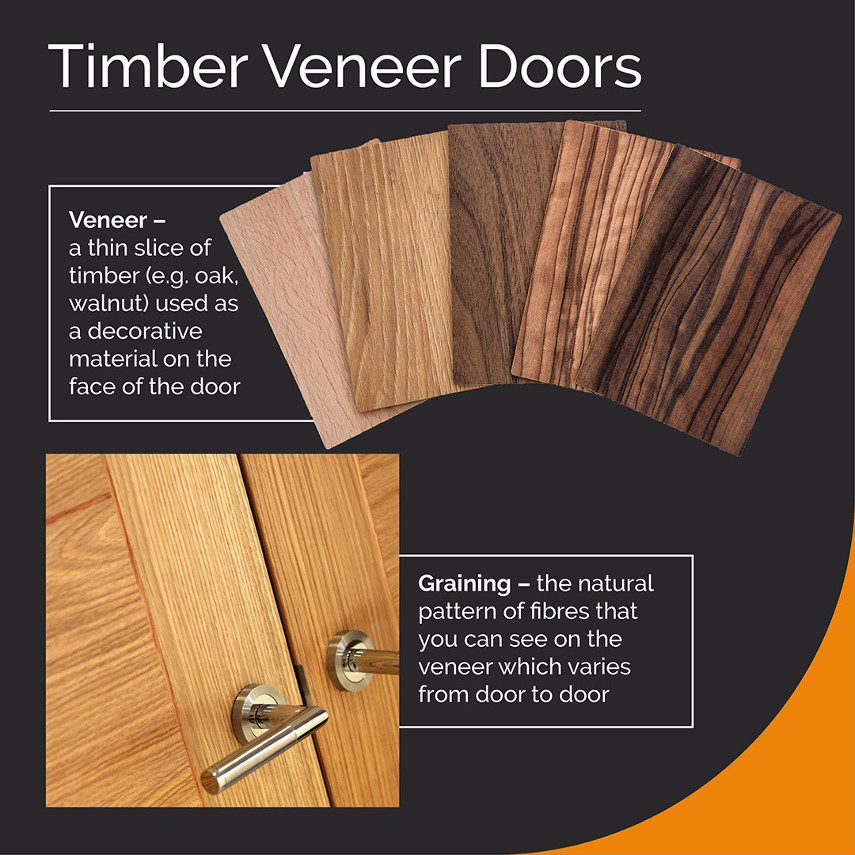 Door Styles
Last but not least, it's extremely useful to know some descriptive terms for different types of door styles to get the look you want.
Flush – These door styles are flat. They can either have a completely plain finish or be enhanced with grooves or inlays.
Panelled – There are many different types of panelled doors. They can be shaped, or simply raised in a classic style. Recessed shaker style panels are always popular, and there is the more contemporary industrial style panel too.
Cottage – Cottage doors have a boarded style look. They are sought after for both modern and traditional interiors.
So there we have it! We hope you have found our second guide to some of the more common door terms helpful. For more useful info on door jargon and what it all means, see Your Guide to Understanding Door Terminology – Part One.