10 things to think about when buying internal doors for your home
Anyone involved in creating a home, whether it's a self-build or a renovation project, knows the importance of choosing the right doors to complement their indoor space. The doors you pick can make a big difference to the look and feel of your property. But choosing the right design is only part of the challenge. There are other considerations too, so we've come up with this handy top ten list:
1. It's a question of style
The type of door you choose for your home really depends on the overall style of your property. It's useful to know that doors also fall into distinct styles themselves, so you can focus on the type of "look" that's going to work best for you. Here at JB Kind, our catalogue is divided into four types: contemporary, classic, shaker and cottage. It's probably clear that contemporary doors will best suit a modern décor, however, we find that our cottage and classic doors, are equally as popular in traditional and modern urban settings.  Interior design trends are currently very eclectic and it's about everything working in harmony to create the space that you want.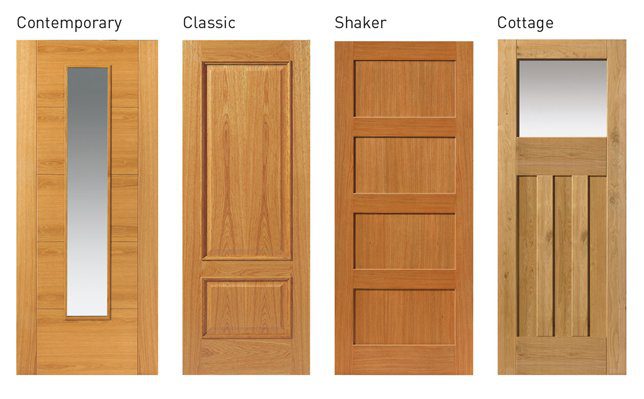 2. Finishing things off
Once you've decided on your door design, give some thought to the finish: will you prefer a real wood veneer or the smooth appeal of laminate? Would painted doors best suit your décor, or would you prefer refreshing white primed doors? The likelihood is that you'll go for the same door design in most of your property. However, one of our top design tips is to consider different finishes to reflect different parts of the home. You might opt for our beautiful contemporary Mistral door, for example, in a walnut finish in your living areas, but in white for your upstairs.

3. How will your doors be fitted?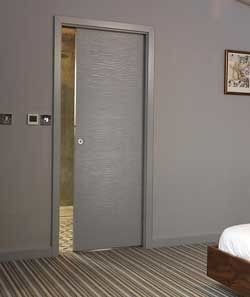 This is probably one of the most important considerations before opting for your internal doors. How will they be fitted?
If you're using standard hinges, think carefully about which way the door will open. Usually, an internal door opens into a room but there may be reasons for doing otherwise. If room, a pair of doors makes a lovely feature if you have space. If you don't, what about pocket door systems? These are a great space-saving idea as the doors are contained within the cavity of the wall when they're open. Another great idea is bifold doors ideal for cupboards and ensuite bathrooms where space is limited.
4. What size doors do you need?
If your door frames are of a UK standard size – and they probably are – that's great news as your doors will be more readily available and cost effective too. But do measure up first, as if you're in an older property, it may be that you require a bespoke, tailor made door if the frames are not standard sized. Many of our designs at JB Kind have bespoke options too so if your heart is set on a particular design but you've discovered the standard size won't fit your frame, don't despair, we may be able to help.  Click here for information on standard door sizes.
5. Let there be light! Consider glazed options
It's always worth considering that many doors will also have a matching glazed option, which is a great thing to know if you want to let more light into a room or have the option to see through.
You could have, for example, our laminate Colorado door through out your house and its glazed partner flooding more light into your kitchen and living spaces.
6. How sturdy will your doors be?
There are variations in the quality of construction in many doors. These are important things to consider when it comes to the performance, longevity and, of course, cost of the door. When picking your preferred designs, look out for details on core construction and edge lipping. Some doors, for example, have a hollow core, and others will have solid, engineered cores – which will be more costly, but more durable.
7. Do you need any fire doors?
This may well be the most important factor to consider. There are very clear guidelines as to where in your property you MUST have a fire door, for the safety of everyone living in the home.  For example, the door leading into an integral garage must be a fire door.
To find out what the rules are and what you need to do, read our blog on the topic: Do I need fire doors in my home.  If you're hiring an architect to work for you, they will advise on what is required.
8. The bits and bobs: door handles and ironmongery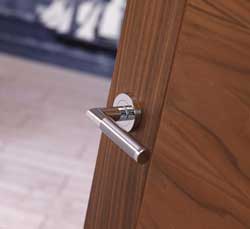 When you order a door, it generally doesn't actually come with hinges, handles and any locks you might need – the reason being that it offers the customer a lot more choice in being able to choose their own stylish handles to fit in with the look of their home.
Also, in renovation properties, people often want to keep older handles that have been salvaged from the original doors. At JB Kind we offer door handle packs with everything you need to hang a door.
9. Who's going to fit your doors?
You will find that an experienced door fitter or carpenter is the best person to fit your door. They will also be able to provide you with valuable advice before you purchase, on how the finished product may look and the sizes required.
If you do want to fit a door yourself, our Info Centre has a guide that should help:
How to fit an internal door.
10. Budget
How much is it all going to cost? It's very important to make sure you set a realistic budget before buying your doors. You should factor in the cost of door furniture on top of the door; whether you might need a bespoke option; the cost of hiring someone to fit the doors and where to buy the doors – from a builder's merchant, a specialist door retailer or via an online trader. It's always best to be prepared!
Hopefully, the above will cover all you need to know before deciding on your doors. Always remember that our experts at JB Kind are here to help.