Top ten on-trend doors for 2019
Every home is different, and the way you choose to lay out your living space – from the colours you use to the furniture that works for you – reflects the personality of those who live there. That's why choosing the right doors to suit your home is so important, but the good news is that at JB Kind we certainly have plenty to pick from! Sometimes it's helpful to know which doors are popular, so here are our top-ten door predictions for 2019. 
1. Tigris Oak – a modern classic
With its contemporary flush ladder style panels in a classic oak veneer, you really get the best of all worlds with the Tigris Oak. The look and feel of the oak gives any room a lovely natural feel, and it's no surprise that this is one of our top selling internal doors.
Complementing on-trend furnishings and flooring to perfection, the Tigris Oak really is a staple for the modern home. 
2. Colorado – the perfect blend of traditional and contemporary
This popular cottage style mixed with an on-trend grey wood effect is proving to be one of our most popular styles.
We are increasingly seeing the Colorado at the top of the list for many home renovators and self-builders, and it's not hard to see why: the cottage panelled style gives a traditional feel, while the light grey colour gives it a style update. 
3. Mistral Walnut – modern luxury
The dark-coloured Mistral Walnut door gives a great contemporary look to a home, complementing neutral colour tones perfectly.
With its three bold-looking ladder-style panels, it's a sleek, on-trend door that will give your living space a style upgrade and a touch of luxury.  Plus, a clear glazed partner is also available for when extra light is required.
4. Lava – grey for gracious living
With its panel-style grooved design, we're certain this cool, mid-grey door is set to be a classic for 2019.
The great contemporary colour is perfect for the grey-inspired interiors market and the grooves are a subtle but effective detail. The Laminate finish ensures a consistent appearance, so each door looks exactly the same.  Also available in a glazed version. 
5. Axis Oak – shaker style
Shaker styles show no sign of going out of fashion and with its sleek solid panels, the Axis Oak internal door provides a modern twist on the classic shaker look.
The Axis Oak is exclusive to JB Kind and remains very popular in all three available finishes: oak, white and walnut. Here shown in its glazed style, you can also opt for it's matching solid partner. 
6. Alabama Fumo – smoky grey perfection
We predict this new door style, Alabama, is going to fly off the shelves this year thanks to its uber-modern smoky grey finish and slightly recessed central panel.
Grey continues to be a hot trend in interiors, with many people favouring the cool, relaxing vibe it gives to a home, and this door will go perfectly with a wide range of furnishings and paint colours. Also available as a glazed style, it's set to be a firm modern classic. 
7. Tigris White – letting in the light
At the top of this list we had the Tigris Oak, but no less popular is its sister door, the sleek-looking contemporary Tigris White.
Many people opt for this door with its beautiful white pre-finish when a light and refreshing look is required.  
Another popular move is to choose the Tigris White for upstairs doors and its oak or walnut equivalent downstairs.  A matching glazed partner and bi-fold option is also available.
8. Cherwell Oak – for the contemporary cottage look
The Cherwell Oak was inspired by the popular cottage-style Thames door, and features full length grooves with a flush appearance to give it a more contemporary, sleek update.
Supplied complete with a varnish finish, there is also a matching clear glazed version.  It's a great choice if the modern cottage look is what you're after. 
9. Alabama Cinza – making a style statement
The Alabama is all about the colour, a lovely dark grey walnut door that is just perfect for spacious, light modern interiors.
Like the Alabama Fumo, it features a stylish central recessed panel and the durable Laminate finish ensures each door is identical.  It is also available in a glazed version.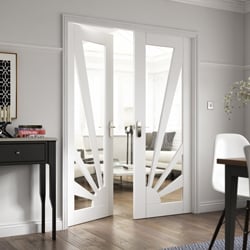 10. Aurora Glazed – sheer sunshine perfection
Last, but by no means least, we come to a JB Kind classic. Who could fail to be uplifted by the sunshine design of our Aurora Glazed door, which is consistently one of our top online sellers.
People absolutely love it as a feature door because of its quirky, bright and positive outlook. After all, we all need a bit more light in our lives!
So there you have it, our top ten door trends for 2019. But whether you go for one our best-selling doors or not, you're certain to find unrivalled variety and quality craftsmanship in whatever JB Kind door you choose.