The Top Interior Door Trends for 2022
Let there be light – through glazed doors
The big interiors vibe for 2022 is all about calmness, and connection with nature. Whether it's because during lockdowns so many of us re-connected with our outdoors environment, or that interiors which allow the maximum light to flood through a property have always been in vogue, but the trend for glazed doors is likely to continue unabated during 2022. And when you see sunlight pouring through a stunning glazed door like this Civic Black from our Urban Industrial range, it's easy to see why. Interiors experts have a great word for this type of design that connects us to our natural environment, which is 'biophilic'. Whatever it's called, it's clear that glazed doors can be extremely effective when you want to create a calm, light-filled environment, whether you're using your doors singly or as a pair.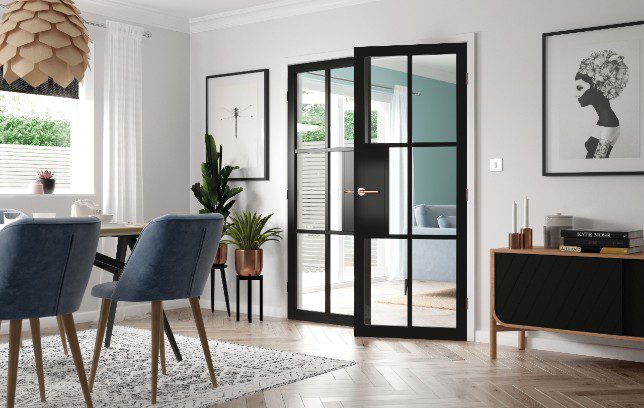 Classic, yet modern
Like a chic little black dress, some styles simply never date. So it is with the timeless panelled door, as exemplified by the understated elegance of this lovely Osborne design, from our White Classic range. Made from natural materials, doors that celebrate classic, antique-style panelling will continue to fly out of the door in 2022. That's because despite their Downton-esque dignity, doors such as these are actually very adaptable and look fantastic in a wide range of interiors, looking as stunning in many different contemporary settings as they do in a character property. They also look fabulous whether they swing out over a richly luxurious carpet, tiled floor, parquet … in fact, wherever you hang them, they'll do what they were designed to do: ooze sophistication.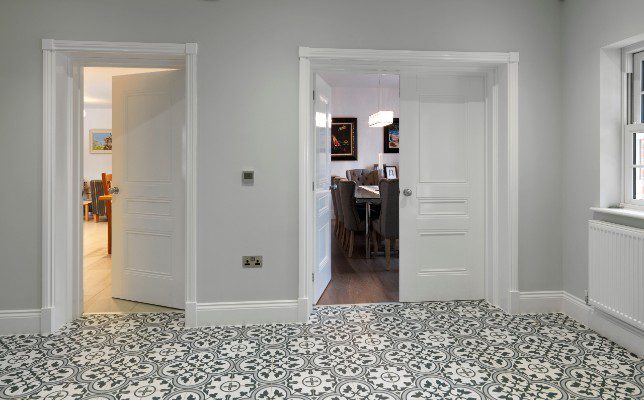 Inky black for a bold statement
Gone are the days when black was seen as only fit for Gothic castles. We are seeing a raging demand for black interior doors this year. It's not for every interior space but used in the right way, a gorgeous noir door like this Plaza Black from our Urban Industrial range looks absolutely spectacular. The bold geometric shapes of our Urban Industrial range are ideal for those who want to get their hands on the uber-hip industrial style interior vibe in their own homes. And contrary to what you might think, a black door can really add a sense of calm to an interior space, whether it's contrasted with muted hues or clean, bright white.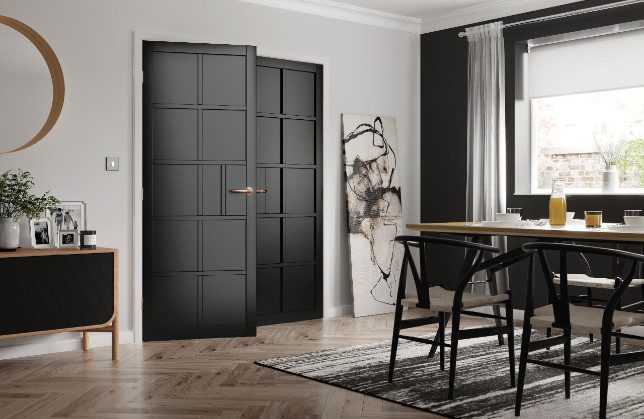 Practical, stylish laminates
The trend for laminate doors shows no sign of slowing down and with their major benefits when it comes to practical maintenance, it makes perfect sense. These Tigris Ivory doors are a fantastic example of the benefits of laminate doors. With their easy style, with subtle design details to add interest, they look superb in many different types of interior spaces, from kitchens to bathrooms and more besides.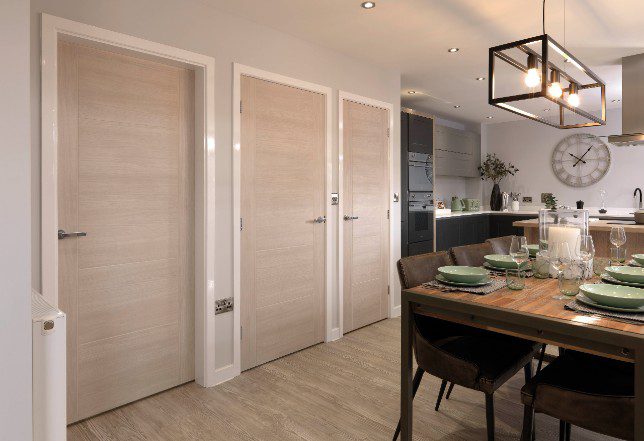 Cottagecore
Nothing says The Good Life like a lovely cottage-style door. With their natural wood look, the organic appeal of this style makes you want to put the kettle on and snuggle up by the fire with a good book. With its simple vertical panels, this Thames design is a great example of all that's best in cottage style doors, which look the part in all interiors, whether modern or rustic.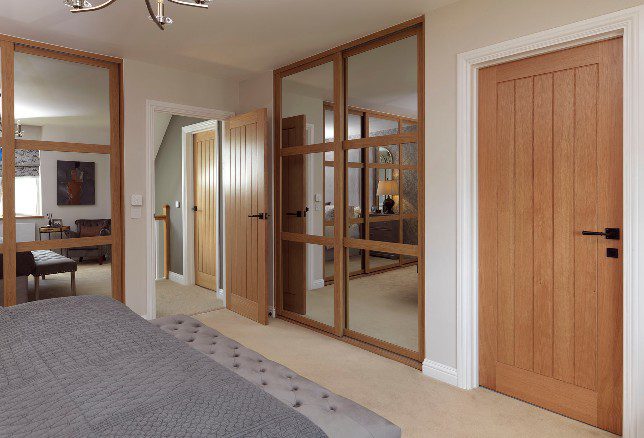 So, 2022, with its combination of connecting with nature and stylish design, is set to be a sustainable success for simple but sophisticated interior doors – all of our doors are procured from sustainable wood by the way! Whatever your interior design theme, you'll be able to find door designs, which are both on trend, and in keeping with your home.