The benefits of glazed internal doors for your home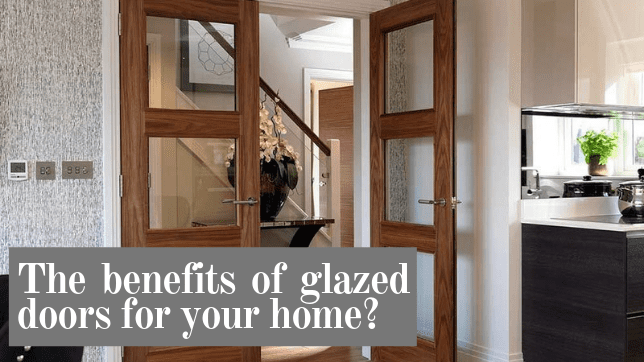 Are you planning a home makeover and looking to replace your interior doors? The style and type of the door you choose can have a big impact on the overall look of your interior decoration. If you want to change up the look and feel of your home, it might be time to think about replacing your solid wood internal doors with glazed internal doors.
There are many door ranges that have glazed door options so no matter what style you are aiming for, there should be an option to suit you. Here are just some of the benefits of having glazed internal doors:
Allow natural light to flow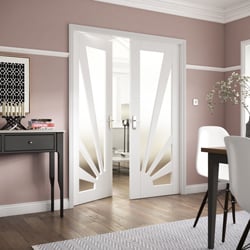 One of the main benefits of installing internal glazed doors is that they increase the amount of natural light that floods into the room. A lack of natural light can often make spaces feel enclosed and dark, so glazed doors are often recommended for smaller rooms. The flow of light instantly makes a space feel more open and can often make the space feel larger whilst also maintaining privacy, heat and draught insulation. Making the most of this daylight will also help to reduce electricity bills as you won't have to rely as much on lighting.
Excellent acoustic insulation
You may not think it but glass doors can be great for sound proofing. They are good at reflecting sound and instead of echoing around the house the sound is contained within the room so that there's less disturbance. This makes them ideal for noisy rooms such as playrooms and music rooms. It very much depends on the thickness of the doors but glazed doors can reduce noise by up to 45dB (Rw).
Create a modern interior
If you want to create a more modern and sophisticated look in your home, you should definitely consider glazed doors. The clean lines and contemporary fixtures and fittings create an ultra-modern and sleek look. It fits in with today's open plan living trend creating clean, light and simple spaces without having to knock down walls.
Glazed doors can look very professional and are often used in offices to create a slick, commercial environment.
Allow you to see from one room to the next
Glazed doors are practical if you want to be able to see from one room to the next room. If you have children, you may want to keep an eye on them and installing glass doors means that you'll be able to cook in the kitchen whilst watching them in their playroom. It can put your mind at ease to know that they are playing safely.
What to consider when installing glazed internal doors?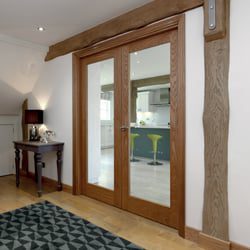 If you've chosen to have glass doors in your home the primary consideration when having them installed should be safety. All JB Kind internal glazed doors are fitted with safety glass ensuring increased strength and durability.
Another thing to consider is privacy. If you require optimal privacy in a room, for example the bathroom, you won't want to install a completely clear glass door so you may want to contemplate frosted or painted glass doors in this case. You will still enjoy all the benefits of a clear glazed door, but you'll have the added privacy.
Whatever the space and whatever the style our glazed internal doors are available in various patterns. Whether you want to create a contemporary or traditional look, glass can be positioned in many different ways within a door to create a range of different styles. If you want more information about our range of glazed internal doors give us a call on 01283 554197 or complete our contact form.