Add some personality to your home with a retro white door
When you think of this year's trend for retro styles and interesting living spaces, often the use of doors to make an impact with retro shapes and unique character is overlooked. However, at JB Kind Doors we think differently. We know that your home is a reflection of who you are and, for those of you that are in touch with the latest trends, it's also an opportunity for you to showcase your interpretation of this year's in vogue retro styles.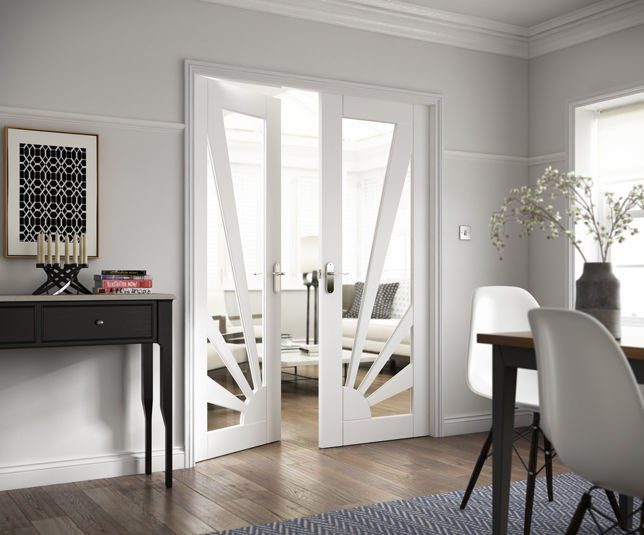 But don't just take our word that a retro style is what's hot. Interior design experts across the country are talking about the return of retro and how to combine it with modern home interior trends – and the UK's love of a neutral spaces!
Take interiors specialists Amara, for example, they explain how retro is one of three key trends this year, illustrating that retro designs are being rejuvenated with a fresh and contemporary look.  Lush Home magazine says that not only is retro back, but that this year celebrates your home's personality, something that we very much believe at JB Kind too. Even the Guardian writers are in on the action and discuss how a perfect neutral palate with a retro feel can transform a room.
With neutral colours continuing to win in the interior design stakes, it's important for all of us to find a way to differentiate our home design and illustrate our own style flair, by making our neutrals stand apart from common run of the mill concepts. This can mean adding bold colours and big patterns, but what if all of these options are just too loud for you and your home? We have the answer. With JB Kind doors you have the ability to enjoy contemporary white internal doors, with a design difference.
Retro white glazed internal doors
Take our Aurora glazed door, for example. Known as the 'sunshine' door, this white glazed internal door is a contemporary interpretation of a retro style and adds an amazingly individual and innovative personality to any room. You can keep your neutral colours, but be brave and integrate this striking sunshine twist to brighten up any neutral normality. Available in a solid option as well as the glazed, this retro design combines natural materials and enables home owners to find a fresh combination of mixing the old and the new.
Designed and developed by JB Kind, this door is unlike any door we have found on the market. As with all of our doors, it's made from sustainable timber and, this new for 2015 design, is also FSC Certified – which means the range holds the highest environmental standard available.
The Calypso Aurora brings light into a room and refreshes any last season look and enables you to enjoy the retro sunshine style of the 1950s and 60s in a door that's been revived and reworked for a modern and sophisticated home. The Calypso range is inspired by a shaker panel style, white primed and ready for a top coat finish and includes daring doors like the Aurora and Tobago Check as well as several more conservative contemporary doors for those who don't want to be too dramatic in their design choices.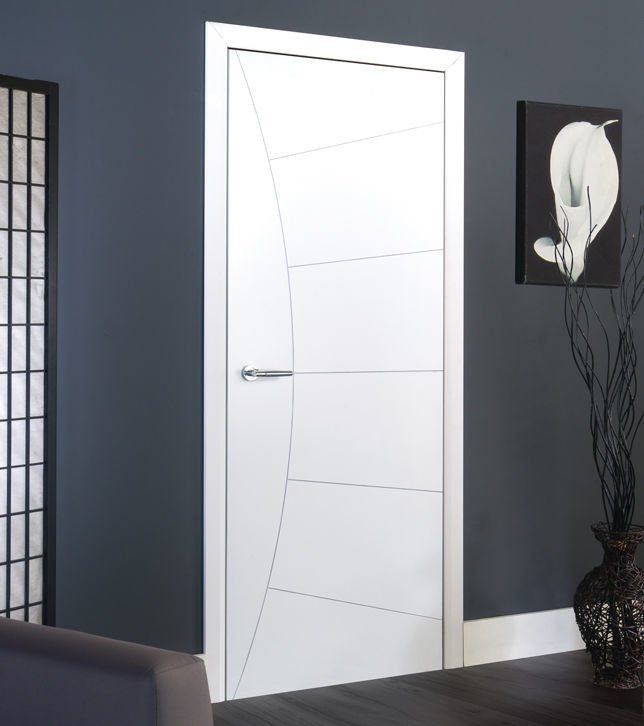 Contemporary white internal doors
If the Calypso range isn't music to your ears and doesn't strike a chord with your design theme, then why not consider more of our White Contemporary range.  Sticking with the sunshine theme, this range gives a subtle nod to the retro theme with innovative feature grooves. The stylish smooth curves of the Elektra and Eclipse offer you solid white internal doors that will add a sparkle to any neutral room, with the Oriole door offering an understated white glazed internal door option, with a swirl!
If you're less keen on curves and more taken with cleverly laid lines, then the Limelight range's feature grooves of the Mistral, Imperial, Fortune, Apollo and Lyric could be for you. Giving you a graciously retro style, these solid white internal doors give you a rewarding contemporary design.  For more inspiration browse through a selection of our most popular white internal doors.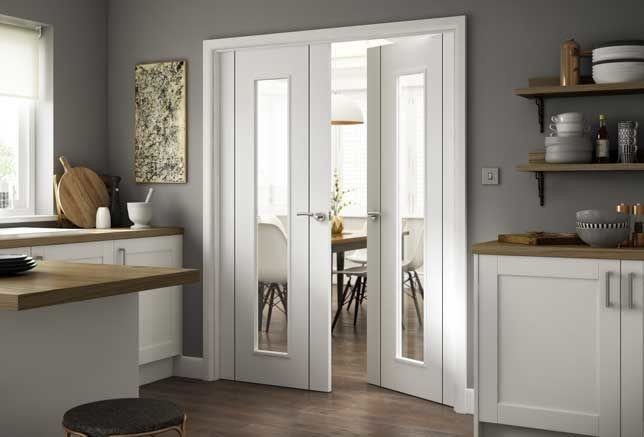 Complement your style with a matching glazed door
If there is still room for a glimpse of light in your life, then perhaps these doors glazed counterparts may offer you an opportunity to mix and match the solid and glazed white internal doors. The Mistral white glazed internal door design is a popular choice, as is the Barbican. And if you can't make up your mind about straight lines or curves, then the Limelight's Regent door offers a perfect combination of the two with clear safety glass in a rounded rectangle glazed design.
If your priority is saving space and retro design, then you'll also find our Limelight's Mistral White and Adelphi door designs come as matching bi-fold doors too – just one of 18 different types of bi-fold doors that we stock.
If your colour's not white…
But what if you're not in wonder at white? Well, that's simple. All of the doors in our Limelight and Calypso ranges come white primed and ready for a top coat finish – so this means, you can paint them any colour you wish. You could take the retro style to a new level and include some of this year's coolest colours, like shades of gorgeous grey.
Why not take some tips from Stylist Magazine on which coats are a must have this season, from House Beautiful Magazine which shares the coolest colours to have this year or even the elegant Elle Décor which can tell you what your perfect pantone will be.
If you're still not sure about what works for your home's internal doors, then don't forget that at JB Kind, we have been wooden door specialists for more than 30 years, have a range of more than 200 door designs and sell more than ¼ million doors a year – so why not ask us? We have lots of useful articles in our comprehensive website Information Centre as well as our Blog and, of course, you're welcome to give us a call on 01283 554197 too.
If you'd like to check out our doors in person, then find your nearest stockist by putting your postcode into the Stockist Locator on our website's Where to Buy section and find out which one has a JB Kind door display so that you take a good look before you decide on your doors.