Design Ideas for Your Dream Green Kitchen
Over the past few years, green kitchens have risen in popularity, and for good reason. Green shades bring a sense of tranquillity and peace and represent growth and renewal, thanks to the colour's connection with nature.

So, what better shade to bring to our kitchens? And fortunately, there's plenty of ways we can incorporate this gorgeous colour into the hub of our homes. From green cabinets, green coloured internal doors, and green accents, below we look into some of our favourite design ideas for green kitchens.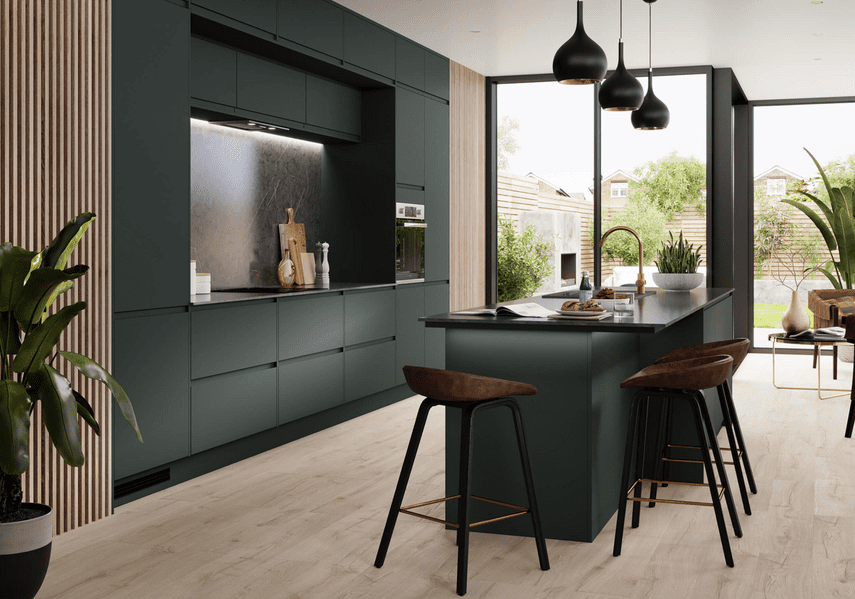 Combined green with a rich wood
Green kitchen cabinets alongside a wooden work surface, wooden doors, and a wooden floor always looks gorgeous. Bringing the feel of nature into your kitchen, green shades alongside wooden accents gives a sense of calm and peace.

The shade of green and the type of wood you choose will affect the overall feel – for a clean, sophisticated look, choose a forest green alongside a mid-brown herringbone floor. Or for a more rustic, cottage-core vibe, choose a lighter shade of green and a lighter, brighter wood.
Contrast white marble against a dark green kitchen
For a dramatic effect in your green kitchen, use a white marble countertop and backsplash. Marble countertops bring a classic and sophisticated feel to any kitchen and can help to bring light and brightness to even a dark shade of green.

The darker the shade of green you choose for your cabinets, the more striking it will look against the marble. Painting the walls the same colour as the cabinets will add to the effect – just make sure you have plenty of natural light or light fixtures to prevent the room from becoming too dark.
Create a rustic green kitchen with olive green
Olive green is perfect if you're aiming to create a rustic kitchen. Whether you're a fan of the cottagecore trend or you love a classic French chateau interior, olive green is the shade you need. Olive green is a subtle shade of green, so can be perfect if you want to add some colour without making it overwhelming.

You can use olive green on your kitchen cabinets or keep it to the background. Pair with warm wood and open shelving, along with a farmhouse kitchen sink to really bring it all together.
Accent a rich grey-green kitchen with brushed gold
A rich sea-green kitchen with period features makes for a magnificent and unique room. Look for a deep, sea-green for the cabinets and the walls. Pair with brushed gold accents – think of the kitchen tap, the light fixtures, and the cabinet handles. The bright gold will contract beautifully against the rich green colour.

Contrasting green with more industrial accents, such as brushed gold metal work, can help to bring depth and dimension to your kitchen. This is especially important if you'll be painting the walls and the internal door the same colour as the cabinets.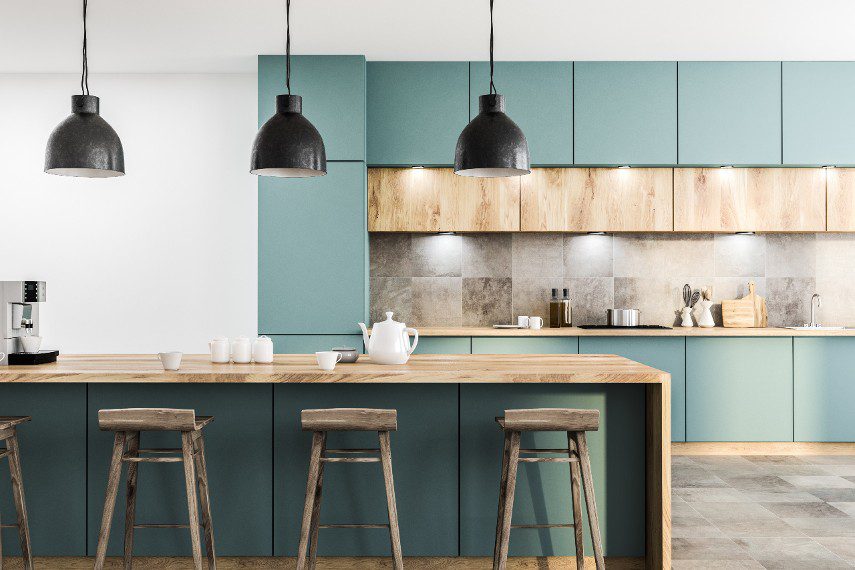 Combine a pink and green kitchen
For a fun and youthful kitchen, combine a green kitchen with blush pink. You can choose with colour you make the star here. You could opt for green kitchen cabinets on a blush pink wall, or you could add some blush pink through soft furnishings, such as cushions.

When you're using pink and green as the main colours in your kitchen, you'll have plenty of choice for your accessories. You could move towards a more industrial feel with black metalwork, or keep it rich and rustic with a dark wood. You could also incorporate brushed gold of brass accents, to add some brightness.
Go for a clean, Scandi mint green kitchen
If you want a fresh feel in your kitchen but still want to add some green, opt for a mint green shade. This is a subtle colour that adds some vibrancy to a kitchen without being overwhelming.
For a light and bright feel, combine mint green cabinets with a white floor, white marble countertops, and light wood accents. If this feels too clinical, make sure to add some texture – think about your soft furnishing or just adding some leafy house plants.

JB Kind has a huge collection of internal doors for your dream kitchen, including green coloured doors and wooden doors. Take a look at our range today.