Unique ideas on how to upcycle your doors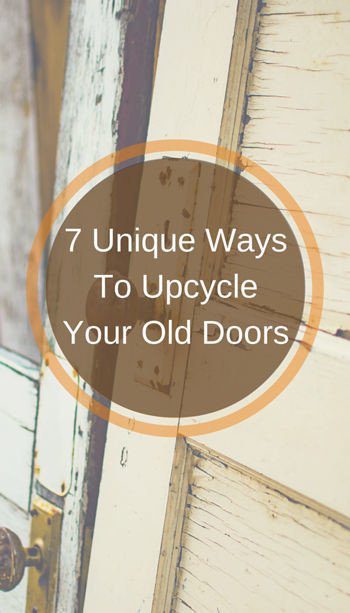 To most of us, the humble door is simply a practical device. For all its merits, such as protecting us from undesirables and the elements, the door is often taken for granted. However, if we cast our eye back over the decades, pop culture has championed the door and the multitude of feelings they can evoke in us.
In The Secret Garden, the door was a portal to an enchanting world. In Love Actually, Mark professed his unrequited for Juliette on her doorstep. Unfortunately, things took a turn for the worst in The Shining when Jack Nicholson axed the bathroom door to mere splinters. Whatever cathartic sentiment is derived from these scenes, it has to be argued that the humble door has a stronger place in our hearts than we give it credit for.
These gateways have witnessed our highs and lows, they have been slammed and kicked. Therefore, isn't it time to give your doors some much deserved TLC? Every door has its day, but don't turn your back on such a faithful piece of your home. By all means, replace your door with a new one but, keep the old one. It doesn't matter if paint is chipping off, the handle is wobbly, or there are scuff marks; what may appear drab in your eyes can be turned into a work of art with a touch of rejuvenation.
Doors can be reincarnated with a dab of upcycling know how and can take your interior décor over the threshold. Save money and repurpose your door in one of the ways below.
Shabby Chic Pot Rack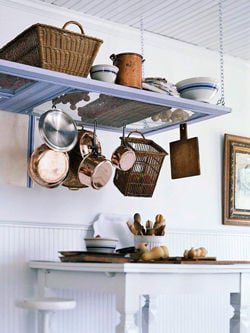 source: Better Homes and Gardens
Pots and pans can be hefty items, taking up a lot of valuable space in our kitchen cupboards.
Depending on your door, with a lick of paint and some metal chain you could have yourself a new pot rack. We would not suggest hanging a solid oak door from your kitchen ceiling, but anything light, such as a screen door, can be adapted with some thick gauze wire to create a unique statement in your kitchen.
Lightweight items can be suspended from your rack using s-hooks.
Time For A Brew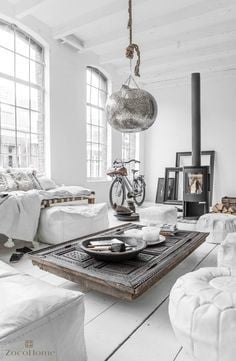 source: Zoco Home
Turning your old door into a coffee or dining table can be as simple or complicated as you wish it to be. Many simply seal or paint their doors, pop them on a substantial block of wood for stability, and call it a day. Others, however, get the power tools out to create something bespoke.
Sanding down your door will give it a new lease of life, and there are a multitude of paints and stains on the market to give it any finish you desire. Table legs can be purchased from most DIY stores and there are variety of YouTube tutorials showing you how to attach them to the door for maximum strength which is very important, especially if using your old door as a dining table.
A Spot Of Fresh Air
source: Flea Market Gardening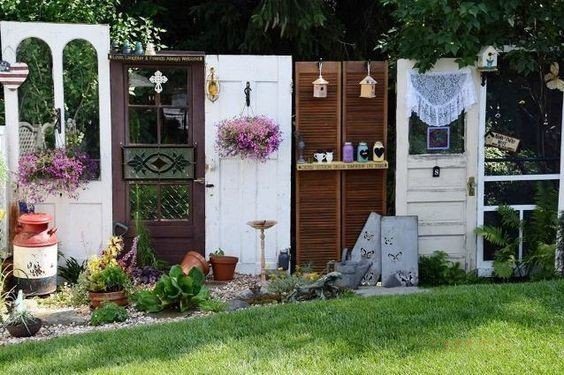 Gardens should not be left out of the upcycling action! Granted, not many have a multitude of doors hanging around but Gumtree, Ebay and Freecycle can all be great portals to get your hands on cheap or free doors. Instead of a traditional fence, connect old doors together to create a unique look – just remember to ask your neighbours first if needs be.
To stop the earth degrading or rotting the bottoms of your door, simply make a foundation for them out of treated lumber set in to the ground. Place your doors in the desired pattern, making sure they are deep enough in to the ground, and then subtly secure them together with brackets or hinging.
Take The Weight Off
source: A Guy, A Girl, and a Really Old House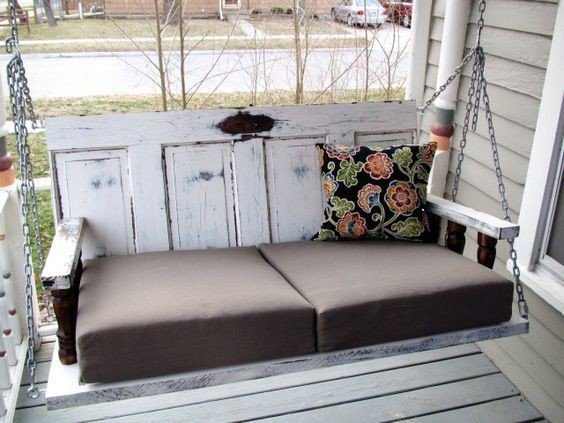 With the correct tools and a bit of DIY know how, a neglected door can be made into a swing, ideal for porches and gardens. It's best to cut and remove the hinge side of the door, but don't worry, this piece of wood can be utilised for arm rests. Cutting the swing back at a straight 90° angle and the seat at a 10° angle is perfect for a slight recline on a snooze-driven Sunday afternoon. 
This is not a quick project, but with patience and a lot of brackets, nails, and screws, it would be a great way to upcycle your old door into something really useful.
Time To Reflect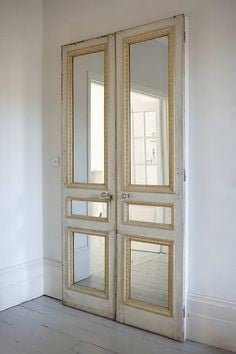 source: Rydeng's Blog
One of the simple and most effective ways to completely transform old doors and an entire space, is to insert mirrors. Mirrored surfaces bring light to a room and they create an illusion of more space and depth. Whether the door to a closet or another room, there are no rules on where your mirrors can go, but doors which once contained glass or have portions engraved into the wood are the easiest to upcycle.
For cut to size mirrors, it is best to surf the web for the best prices. However, you could always replace or cover panels with mosaic tiles, wallpaper or coloured glass.
Save Space and Slide
source: Home Bunch
If you want to put in minimum effort for maximum impact you can take an old door you already have, or purchase one cheaply. Depending on the look you are going for, the door can be painted, treated or upcycled in any way your desire and trimmed to fit the door frame. However, leave the hinges behind.
Putting your door on sliding rails, or getting a professional to fit it for you, can rejuvenate tired spaces and add an extra dynamic to interiors. Internal sliding doors or also known as pocket doors, are becoming increasingly trendy and many harness the industrial looking rail track instead of trying to hide it. They are also a great option for smaller spaces, saving the traditional door struggle when you have to relinquish furniture to allow you to access a smaller room.
Rest Aching Hinges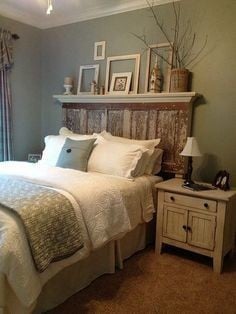 source: Decorating Your Small Space
A subtle way to sneak your old door into your interior design is by converting it into a headboard. The bed is the focal point of any bedroom and a unique headboard can be a defining feature. Doors can be shaped and trimmed in any way you want, and adorned with plinths and shelves to give the headboard added functionality.
There are a vast variety of waxes, varnishes, oils, stains and paints you can apply to your old door and you can give them a little TLC, or a complete facelift. Whatever route you choose, ensure your headboard is appropriately attached to either your bed or the wall to prevent late night disasters.
However, involved you want to get with your door, upcycling can be a fantastic way to save money and revamp gardens and homes. Refurbing furniture doesn't have to be expensive or time consuming and, you can fit your task to your personal DIY prowess.
Starting on small projects and building up to grand designs is a great way to start your upcycling journey and one step on a crusade to saving doors from scrap heaps.