Progressive Potton Passivhaus complete – a UK first, with JB Kind's help!
Self-build specialists Potton teamed up with JB Kind and other selected key partners to deliver an exciting self-build project that ran live throughout a six month period allowing consumers, self-builders and suppliers to observe, understand and visit each element of the project through a series of events, tailor-made to each stage of the build process.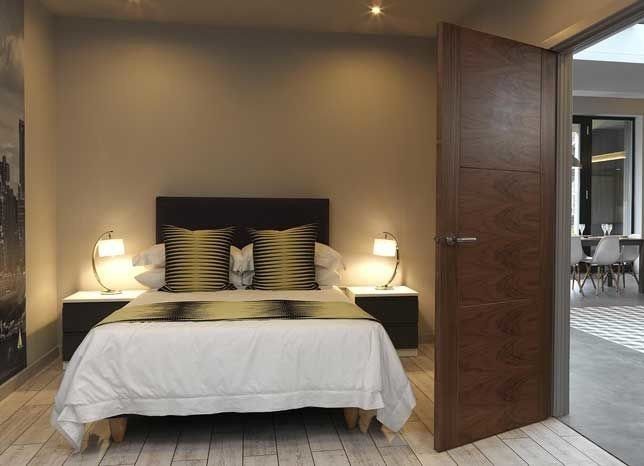 This innovative type of new build – known as a Passivhaus – adheres to stringent design and construction guidelines from the Passivhaus Institute in Germany that ensures the finished home has a winning combination of both environmental sustainability and luxury. As the UK's first Passivhaus show home, the project has been able to illustrate that with the right knowledge, specification and suppliers, all self-builds can have these exceptional credentials.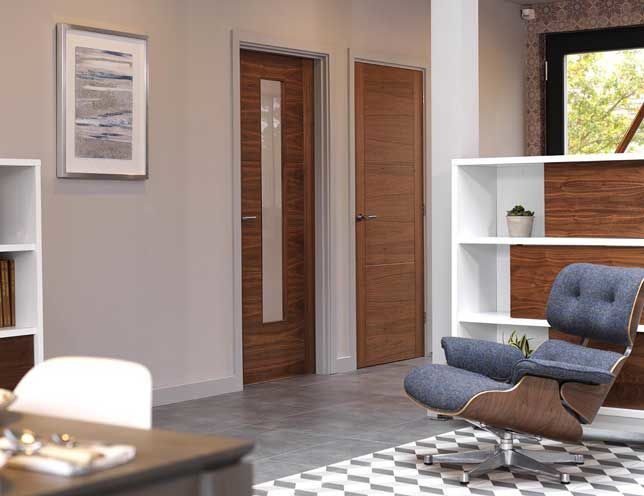 When the project launched earlier in the year, JB Kind was pleased that Potton recognised our excellent track record and, not only did Potton choose a range of JB Kind doors, including our Walnut Mistral and Ripple doors, we were also invited as key speakers at the Final Finishes event, giving us an opportunity to share our 30 plus years of expertise with everyone that came along.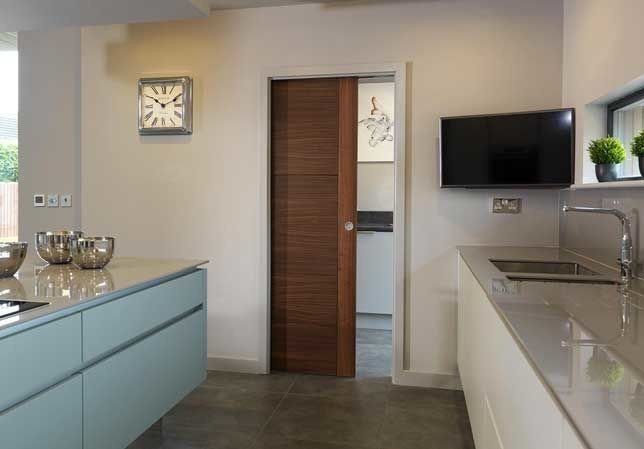 Potton chose a contemporary take on retro design for the interior, creating a stylish and sophisticated space. It's impossible not to resist the little touches, like the Eames chair, retro wallpaper and ceiling lights that make Potton's Passivhaus truly distinctive.
Happily our doors fit perfectly with this innovative interiors approach and add an extra dimension to the design. Our textured Ripple doors work wonderfully upstairs and have been painted an attractive grey – Dulux, Chic Shadow. Downstairs, our Walnut Mistral doors complement the walnut staircase and furnishings perfectly. Several of the doors have been fitted in pocket door systems, demonstrating the space saving advantages that can be achieved. We also supplied the Handle Packs to complement the door designs and add a little extra sparkle.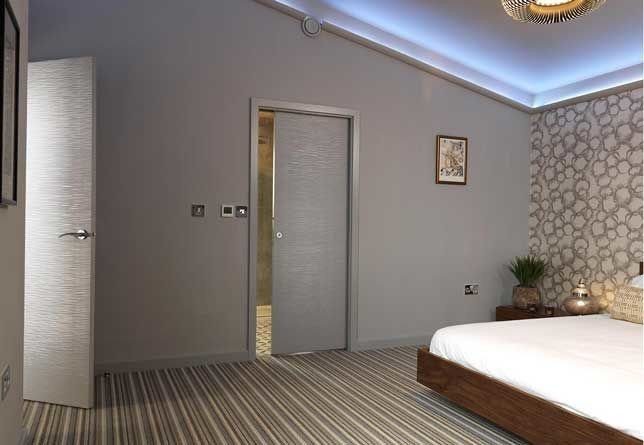 If you'd like to see the JB Kind doors contained within the Passivhaus home itself, you will be pleased to hear that the show house is available to visit and it joins four other self-build designs at the Potton show centre in St Neots, Cambridgeshire.  You will also be able to view even more JB Kind doors too, as our doors are also on display in Potton's Product Centre, as well as the Caxton Show Home.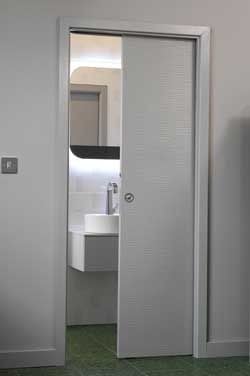 JB Kind Sales Director, Simon Johnson, says:
"Potton has been supporting self-builders since 1964 so when they approached us about this innovative project, it seemed a natural step for them in the work that they do. First-hand experience of any trade is useful, however, in the self-build trade this live project was a perfect first step for interested parties to really delve deep into a live build and ask the questions that, eventually, make sure that their own self-build is a success.
"We are thrilled to have been able to showcase our doors throughout the Passivhaus and we hope that as many people as possible will take the opportunity to see this stunning show home and take all of the tips and advice on offer from the Potton team."
Potton's Marketing Manager, Fae Perkins comments:
"We're delighted that JB Kind have been involved with bringing this innovative design to life. The new show house, named the 'Elsworth', opened its doors to the public in September and seen a steady flow of aspiring self build visitors since then. Walnut was a brave choice for us but we felt it complemented the interiors perfectly. The Ripple doors JB Kind supplied added extra depth to the otherwise clean and unembellished interior design of the property. We're truly grateful for their involvement in helping finish the most recent and most contemporary design in Potton's show home offering."
For more information on selecting the right internal doors for your self build project, here's a guide to Choosing internal doors for your self build.