Ultimate Guide to Home Safety: How Secure is Yours?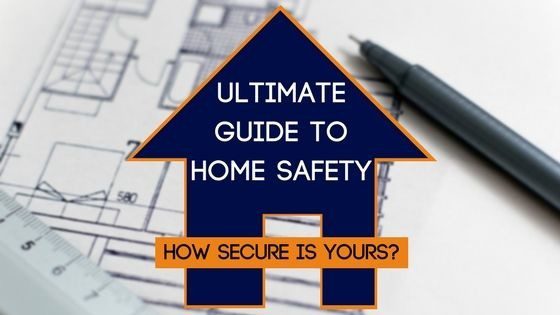 Every 37 seconds a home in the UK is burgled.
61% of fire doors need smoke seals replacing.
1,500 children per year require surgery after trapping their fingers in doors.
30% of burglars enter a home through unlocked doors and windows.
We all associate our homes with safety. As safe as houses, they say. But, as the sobering statistics above show, some of us are falling foul of common household misdemeanours that affect our security and protection. More often than not, there are small things we can do to ensure ourselves and our families are as safe as possible at home. From theft prevention to the wellbeing of little ones, this ultimate guide to home safety will help you make sure your property is protected.
Security and Protection Measures for Exterior Doors
Exterior doors provide you with the first level of protection between your home and the outside world. They are the primary line of defence against criminals, such as burglars, entering your home. You may assume that a locked door is a safe door. However, different types of external doors can be fitted with various different locks and tools to ensure they are as secure as possible.
Front Doors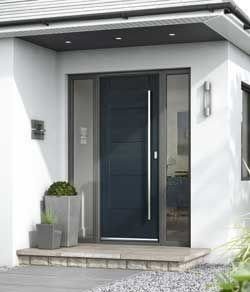 Whether your front door is wooden, UPVC or PVCU, there are certain aspects you should consider to up its protection levels. After all, many front doors openly face the street.
A strong door frame is essential. Most are moulded or tacked to the wall and can be broken through using a crow bar. Fortifying the frame using screws engaging with the wall stud will prevent weakness. A peep hole is also a useful front door addition as these allow you to see who is at your front door, but they cannot see you.
In terms of physical locking mechanisms, a rim latch and mortice deadlock is a strong choice. The deadlock is a thick metal bar that travels from your door into a section cut out of the door frame. Lastly, a door chain or door limiter can be fitted and be used at all times unless it is family or friends on the other side of your front door.
Strong door frame
Peep hole
Rim latch with handle and mortice deadlock
Door chain or door limiter
Back Doors
If access to the rear of your home is simply a case of opening a latched gate your back door needs to have ample protection. Back doors are an intruders second favourite point of entry as they are often easy to break into after any obvious open doors or windows.
Back doors should ideally be fitted with a handle incorporated mortice sashlock (which incorporates a deadbolt and latchbolt in the case). Two mortice rack bolts should be fitted six inches front the top and bottom of your back door. Hinge bolts can also help stop doors being forced off their hinges.
Mortice sashlock with handle
Mortice rack bolts
Hinge bolts (optional)
Sliding Patio Doors
Luckily, most sliding patio doors are fitted with multi-locking systems. You will be able to find this out in the paperwork accompanying your sliding door. It is best to fit extra locks to sliding patio doors that do not have multi-locking functionality as they are vulnerable to being lifted off their runners.
Extra locks can be fitted to the fixed frame at the bottom of the sliding doors. They push through to the sliding frame in the centre and side frame. These locks are very easy to use as they are push to lock and key to open. If you are unsure as to whether these can be fitted, consult the installer or manufacturer.
Many people's sliding patio doors have a dual screw which is a lock between the two central panes. However, it can be awkward so many people leave it unlocked. Inserting one long-throw bolt at the top and one at the bottom of the opening pane of your sliding patio doors would be a sufficient alternative.
Have you noticed that your patio doors can be easily listed off their tracks? If this is over ¼" get your hands on an anti-lift device from your local locksmiths.
Extra patio door locks
Long-throw bolts
Anti-lift device (optional)
French Doors
Despite being less secure than single leaf doors, French doors are a popular aesthetic choice for many home owners. However, just because you have opted for French doors doesn't mean you don't deserve to be safe. You just need to be willing to spend a few extra pounds on locks and bolts if your French doors are not fitted with deadlock shoot bolts or multi-point locking systems.
If not, fit your French doors with mortice rack bolts or surface-mounted locking bolts, both at the top and the bottom as these provide rigidity. If your door style allows, installing a mortice sashlock is a great accompaniment.
The vast majority of French doors are outward opening so the addition of hinge bolts is recommended. They should be fitted 10 centimetres below the top hinge and bottom hinge.
Mortice rack bolts or surface-mounted locking bolts
Mortice sashlock (if appropriate)
Hinge bolts
Other Exterior Considerations
Burglar alarms: external active burglar alarm bell boxes (the ones which emit a light and sound) should be installed at the front and back of your home. The police will always recommend NSI or SSAIB to install your alarm system as they are inspectorate affiliates.
Hinged windows: key operated handles of hinged windows should be multi-locking. You can add security clips, security tape or sealant on first floor windows for extra protection.
Sash windows: fit sash windows with key operated sash stoppers for added security.
Glazing: exterior doors with single glazing are vulnerable to criminals. Fitting plastic glazing film will prevent glass from shattering and act as a deterrent to an intruder trying to reach, for instance, keys in a lock. Alternatively, replace single glazing with laminated glass.
Cat flaps: never leave keys in door locks or close to your cat flap. You can replace existing cat flap with one that can be locked. Some even allow your cat to just exiting during the night or when you are not at home. This means the cat flap will never move inwards unless you change the setting.
Letter boxes: burglars look through letter boxes and use tools to retrieve any keys they can see. Keep keys out of sight and definitely out of the lock. Other options include: fitting a brush seal, fitting a mail catcher, or installing a locked letterbox on a wall.
Lighting: passive infra-red lights are activated when someone comes into the system's field of vision and can be a deterrent against burglars. They can also be useful when returning home in the dark to not only see where you are going but to reveal anybody lurking around your property. Low pressure sodium lights are also an alternative.
How to Lock Up Your Home Sufficiently
Lock all outside doors and windows even if you are just popping out for a few minutes
Keep garden tools and ladders locked away
Do not leave keys in locks and ensure all keys are out of sight
Do not leave keys under flower pots or front door matts
Keep valuables out of sight
If dark, leave a front room light on with the curtains drawn
Leave a radio on, day or night, to give the illusion you are home
Exterior Doors and Flooding
The UK Environment agency states that one in six homes in England and Wales are at risk of flooding. Before purchasing a property, it is always worth checking. The Land Registry's Flood Risk Indicator service can report on any individual property.
However, if you are already living in a home that you know is prone to flooding there are some precautions you can take with your exterior doors:
Flood barriers and guards: come in all shapes and sizes and can be used on front doors, back doors, patio doors and French doors. They can be removed when not needed.
Sandbags: create a barrier around your exterior doors using sandbags.
Drainage system: have small gutters dug in front of your front and back doors. These are covered with a grill and allow water to flow away before meeting your home. This is most effective on properties which sit awkwardly at the bottom of hills and suffer mostly with rain water flooding.
Safety Measures for Internal Doors
Whereas exterior doors protect you from outside elements trying to get in, interior doors add a level of safety for things that can happen in the home, such as fires. However, they can also cause problems of their own, usually when a door-related object is introduced.
Fire Doors at Home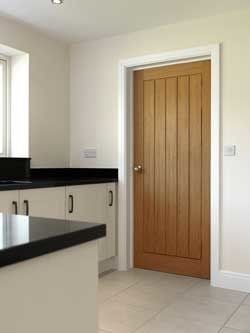 Every year fire doors save countless lives in homes throughout the UK. For those building a property from scratch, or renovating an older home, it is best to check legal regulations. Chances are, you will need to install some fire doors.
Some people choose to replace their old doors with fire doors as an extra safety measure in the home. Having a fire door fitted will mean a new special doorframe too.  Fire doors can protect those trapped in house fires from the smoke, heat and flames before the fire brigade arrives.
Some households install fire doors in kitchens or lounges with fireplaces, rooms of the house with flammable items or a lot of electrical equipment too.
How Do Fire Doors Work?
Fire doors are a barrier against smoke and stop the passage of fire in the home. To ensure they are effective they must be fitted correctly and kept closed when not in use. It is important to remember to shut your fire doors.
Fire doors should be fitted by an accredited fire door installer. These experts will ensure that the frame, ironmongery and intumescent seals are all compatible. If one thing isn't fitted correctly your fire door will not perform.
Intumescent strips are a vital component of any fire door as they protect occupants from lethal gases such as carbon monoxide and hydrogen cyanide. They are usually combined to include a smoke seal and are fitted within the door edge or in the door frame.
You will likely see the term FD30 fire doors. This means the door has been tested and can stop fire spreading for up to 30 minutes. Everything that goes into a full fire door set is specially constructed and the door, as well as the component parts (door frame and ironmongery) all must have fire test certification.
Glazed Internal Doors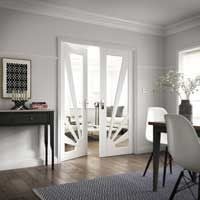 Having internal doors with panels of glass adds light to rooms and looks attractive. Today, all glazed doors must be fitted with tempered safety glass as an EU standard. However, some period properties may have original doors which will inevitably not have regulation safety glass fitted. It is best to have a new interior door fitted or to have a specialist replace the original glass sections of your period door with tempered safety glass to prevent any accidents.
Bi-Fold Doors
If you are short on space, opting for bifolding doors is great idea. They are fantastic for wardrobes and cupboards but can also be used for en suites, or any small rooms where a traditional swing door would take up too much room. However, the extra hinge can be a perfect place trap little fingers. Luckily, hinge guards can easily be installed to protect the smaller members of the household.
Pocket Doors
Available as both single and double doors, pocket doors are installed so that they slide into a wall's cavity. They are a great space saver and a unique feature of any home. However, like bi-fold doors, they can be a finger trap. Subtle buffers can be purchased which stop the sliding door closing by around one centimetre which is ideal for homes with children.
Other Interior Considerations
Baby gates: throughout the UK baby gates are used to keep pets and toddlers contained in one specific room. The metal baby gates are the most study and offer the best levels of protection. Never install a baby gate off the floor as they become a trip hazard. Also, you may have hurdled the baby gate before, but we don't suggest you try it again.
Fixed door stops: the heart stopping moment when you open the door with too much vigour and it slams into the wall, leaving a dent and chipping the paint. Fixed door stops protect walls and come in a vast array or styles, materials and finishes.
Finger guards: a great addition for homes with toddlers or young children who could trap or slam their fingers in doors.
Door bouncers: popular with parents worldwide and installed into an existing door frame. A swing-style seat attached to bungee like cords that allow babies to jump around and strengthen their legs. Parents should always purchase a brand-new door jumper and inspect straps and clamps are in sound condition. Instructions should be absorbed and jumper fitted correctly. Ensure the door frame is jumper appropriate and the door bouncer secured correctly.
Lighting: when your home is unoccupied it can be helpful to leave a downstairs light on in the lounge or kitchen (with the curtains drawn) to give the illusion that somebody is at home. Don't make the mistake of leaving just the hall light on, burglars are aware people don't spend all their time in the hall! However, lighting cannot work miracles and your exterior door protection will resist attack.