Small Kitchen DIY Hacks
Having a small kitchen can be frustrating when it comes to storage and counter space. You might feel like your kitchen is always too crowded and disorganised. But with these DIY hacks, you can maximise every millimetre of space, so your kitchen is functional, comfortable and stylish.
Make use of vertical storage space
Any open wall space in your kitchen can be used for storage. This will free up cupboard space and also mean you don't have to use valuable counter space for storing items. Adding a peg board to your wall will provide extra storage for your pots, pans and other utensils. You can store flat items like cutting boards and baking trays by constructing a rack onto the side of a cabinet.
You can also use your kitchen door for storage, by installing a rack or repurposing a shoe organiser. And you don't have to sacrifice style for practicality! With our door painting service you can choose the colour of your kitchen door to compliment the space. Plus, we have a range of stylish door handle packs so you can pick the right handle to match your kitchen that can be easily installed.
Utilise the inside of your cupboard doors
Don't let the inside of your cupboard doors go to waste. Install hooks into the inside of the cupboard doors under the sink to store your cloths and washing up gloves. Attach wire baskets to the doors with command hooks to store sponges.
Installing wire racks onto the inside of cupboard doors is an effective way of storing cutting boards. Stick a corkboard or magnetic board on the inside of cupboard doors to store those bits and bobs that don't fit anywhere else.
Build open shelving
Not enough cupboards? Install shelving on to the walls for open shelf storage. Pick the right type of shelves to match the rest of your kitchen to make sure they seamlessly blend in with your décor. For maximum efficiency group your items together – mugs, dishes, pots and pans – it will help to keep the room coordinated and you'll always be able to find what you're looking for. If you have lots of odd items, get some chic storage baskets to hide them away whilst also keeping them accessible.
Use storage containers for your food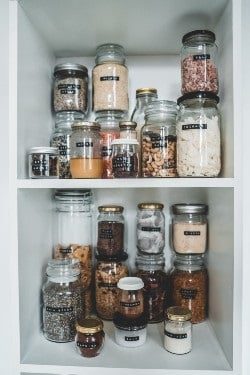 Your everyday products like pasta, cereal and flour will come in packets that are all shapes and sizes. This can make storage a nightmare, with cupboard space going to waste. Store these foods more efficiently by decanting them into storage containers, preferably ones that are the same or similar in size. Mason jars are perfect to use in open shelving and look attractive whilst also maximising the space available.
Construct a pull-out cutting board
You can build a cutting board into an existing drawer, so it can be pulled out for extra counter space when it's needed and put it away when it's not. This is ideal for when you're really strapped for counter space and can be a much better use of the usual kitchen 'junk' drawer.
Build a simple breakfast bar
If you don't have room for a dining table, a breakfast bar can be a great, stylish alternative. It creates relaxed café vibes and can also double up as counter space when you need it. You can easily build one into any free wall space or across a window with the right piece of worktop and supports. The stools can slot neatly underneath it so they're out the way when it's not being used.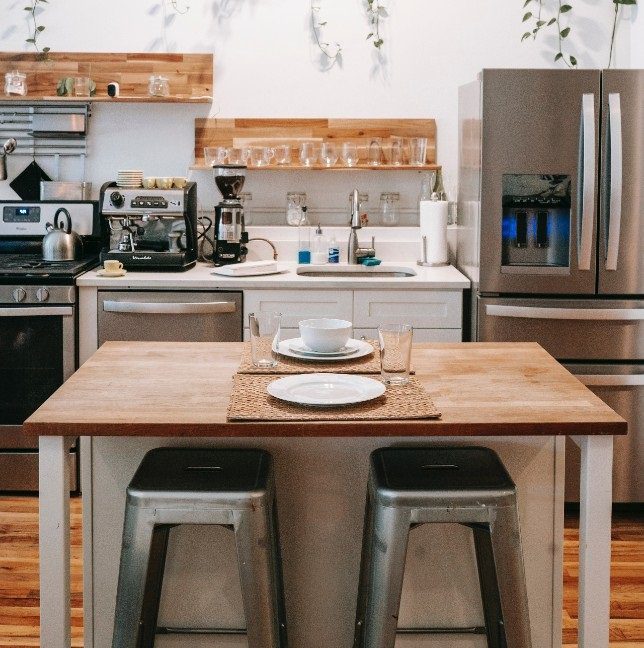 Make a sliding pantry
If you have a small, awkward space next to your fridge, you can make use of it by installing a roll-out pantry – perfect for storing canned items. This project can be a bit complicated, but there are plenty of DIY tutorials online. You can even make a smaller version as a spice rack to utilise any space between cupboards under the work surface.
Use backsplash storage
Make use of the backsplash above your work surfaces by installing storage, just by using a rail, hooks and baskets. You can use them to store the items you use all the time when you're cooking, like spices and oils. They'll always be in reach without taking up precious counter space. If you're also using open shelves for storage, coordinate your baskets so they match.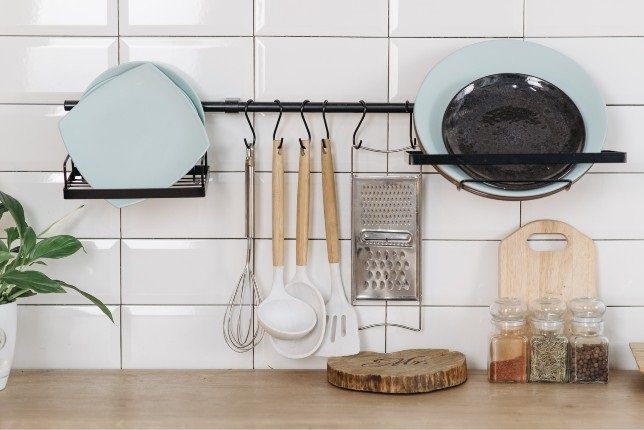 Make use of your unopenable drawers
If you have false fronts on the cupboards under your sink, a great hack is to turn these into a tip out tray to store your washing up items, like cloths and sponges. This looks tricky but is actually quite simple and can be done fairly cheaply. There are plenty of tutorials online to help you do this. Not only will it free up space around your sink but it will keep your kitchen looking chic and tidy.