How to Make Your Front Door Spooky This Halloween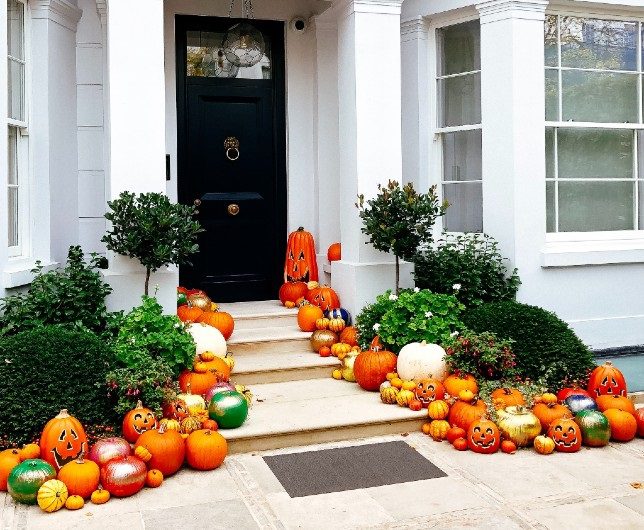 Spooky front door decorations are the perfect way to get into the festive spirit this Halloween and welcome trick-or-treaters to your home. With just a small amount of effort, and even with very little crafting experience, you can really make an impression in your neighbourhood. Below are some ideas to inspire your Halloween décor this year.
Pumpkin Jack-o-Lanterns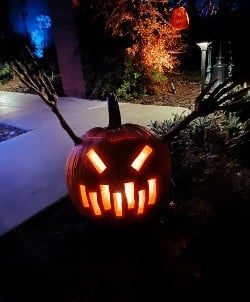 Pumpkins are a Halloween classic for a reason, so get some pumpkins and get carving. You can opt for a scary-faced pumpkin, an intricate creepy design, or something more light hearted. Whatever you go for, your pumpkin jack-o-lanterns will look fantastic by your front door, especially if you pair them with some other Halloween decorations. Autumnal flowers make for a very chic entryway and or add some bats cut out from black card to keep to the scary theme.
And make sure you don't waste the inside of the pumpkins when you're carving! Put it all to one side and bake a delicious pumpkin pie.
Halloween Wreath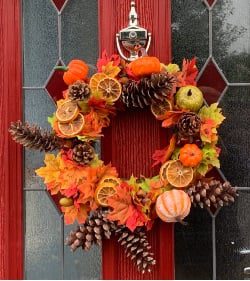 Not just for Christmas, a simple and effective way of decorating your front door for Halloween is with a wreath. You can make one with autumn leaves or dripping moss for a stylish addition to your front door. Add some black ribbon and a skeleton hand to make it spookier.
Alternatively, you could make a wreath out of rubber snakes. Just attach the fake snakes to a grapevine wreath with hot glue. Weave them in and out of each other to give the effect that they're wriggling on your front door, to really creep out visitors.
Monster Door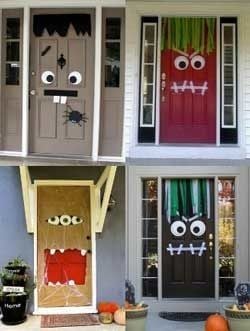 Perhaps more silly than scary, transforming your door into a giant monster is great for Halloween. There are a few ways you can do this.
You could get some coloured fake fur (bright purple is a good option) and frame it round your door using command hooks. Use foam balls for the eyes, foam cones for the teeth and fix them above your door for the face. Add pupils and eyebrows using black foam for the finishing touches.
If you have an outside porch, you can turn it into a scary monster mouth. There's a fantastic guide here for how to do this just using some wood, paint and command hooks. It looks amazing and there's no damage to your house!
Spider Webs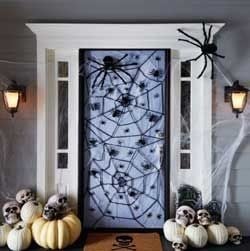 Cover your front door and entryway in fake spider webs for a really spooky feel. You can either buy spider web decoration or make your own web out of white wool.
You can also add some fake spiders to pull it together, either made from black balloons or black Styrofoam balls. Just add some pipe cleaners for the legs. This is a nice crafting activity to keep the kids busy!
Googly Eyes
Putting googly eyes on your front door is sure to give your neighbours a fright! Make them using felt for the pupils and Styrofoam balls or half-spheres for the eyes. Just adding two huge eyes on your front door can be quite effective. If you have potted plants, pop some googly eyes in these too, to keep an eye on your entryway…
Alternatively, you can get pre-made googly eyes and reusable sticky pads to fully cover your front door in eyes! The reusable pads will be easy to remove after Halloween, so you won't have to worry about the googly eyes sticking around too long.
Mummify Your Door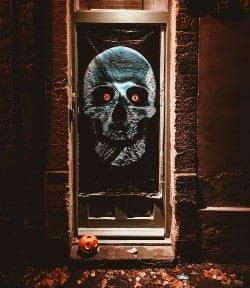 You can easily turn your front door into a creepy-cute mummy. Just wrap your door in strips of white fabric and add some eyes made from foam or card – that's it! This works great when combined with some other Halloween decorations, like pumpkins or spiders.
Skeleton Door
Another easy way of getting your house in the Halloween spirit is to turn your front door into a skeleton face. This is super simple if you have a white door – just add some eyes, a nose and mouth made with black card or foam. If you don't have a white front door already, use white fabric or paper to wrap it first.
Witches' Broomsticks
If you have a witch costume that you won't be using this year, you can stuff it scarecrow-style and fix it to the door. Add a broomstick in their gloved hand and it will look like they've just crash-landed into your front door!
You can also add extra broomsticks and even some cauldrons around your entryway to bring it all together. Bonus points awarded if you have a resident black cat who can sit outside to complete the look!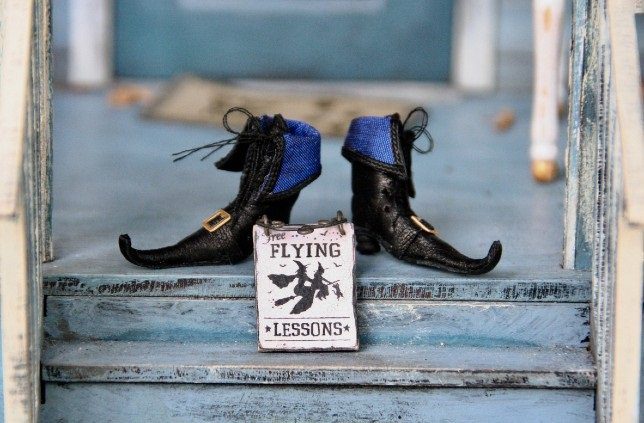 Make sure your front door looks the part his Halloween with our range of external doors. Whether you're looking for traditional wooden front doors or something more contemporary, our collection will have the right door for your home.