How to Choose the Best Colour for Your Internal Doors
Your home is unique to you, and your door decisions should be too. No-one knows your interior design theme, or your home's colour palette, better than you, so taking some time to consider your door colours is very worthwhile. But, where do you start? Use the ideas below to guide your thoughts, and if you're still not sure, that's what we're here for!
Co-ordinate your colours
Decide on a door colour that matches your overall interior design theme and colour palette, and use it throughout your home. Of course individual rooms may have different styles, and as a consequence, may then need a different colour but ensuring that there is a flow throughout your home is essential.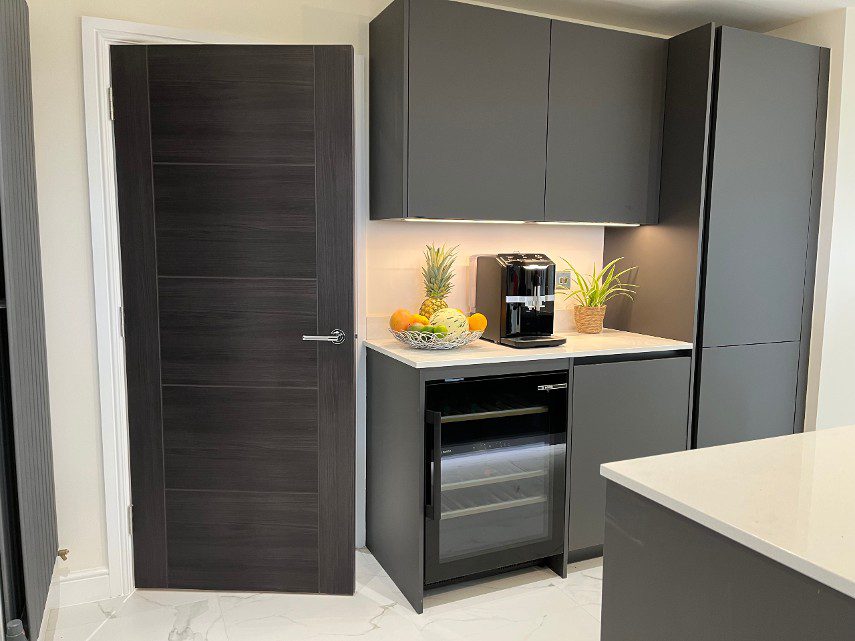 Work with the current colour trends
Take a look at interior design websites and social platforms like Instagram and Pinterest for inspiration on the latest home interior colour trends. Neutrals and naturals, grey undertones, greens and dark blues are all on trend. When it comes to interior doors, classic colours continue to be popular – white and oak but black and grey doors are the hot favourites. One trend that picked up pace during the pandemic, saw more people buying unfinished doors so that they can paint them their preferred colour and we've seen some great results.
Get creative with colour
Making your door a feature, and a focal point for a room, could also work for your home, particularly if you are a fan of more neutral colour schemes within your rooms. At JB Kind we are able to offer plenty of door designs that can be delivered primed and ready for you to paint. Many people have decided to paint their doors themselves, to create a bright, bold statement door. These doors' colours will often co-ordinate with key pieces of furniture or art.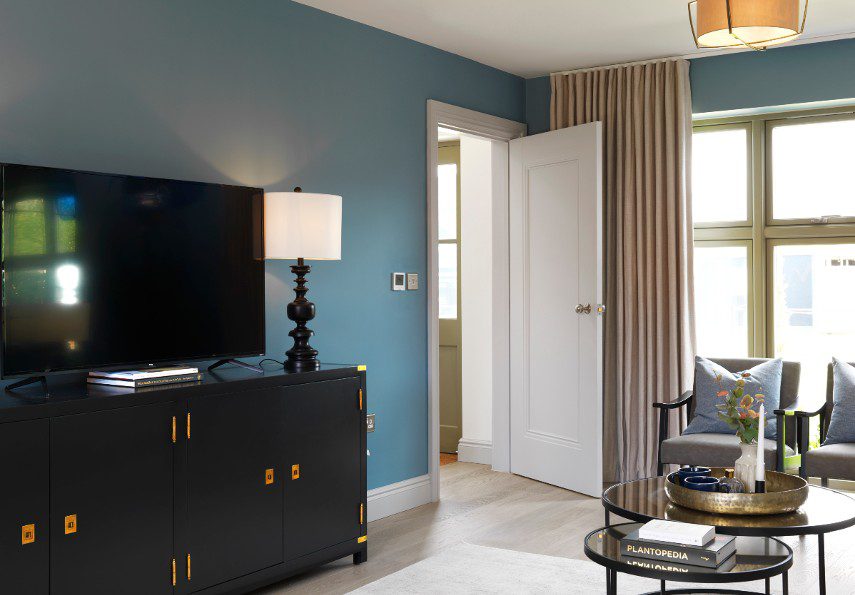 Style your storeys
It's been popular for some time to use different doors in the upstairs and downstairs storeys, and if you've got more than two storeys, you either can continue that theme and style your storeys individually. Don't forget though, that you can keep an interiors theme throughout your home by using the same door design, just with different finishes, depending on the storey. For example, you'll find our stunning Tigris door design is available in many finishes – oak, white, walnut, ivory, plus light and dark grey.
Working with your woodwork
To create an ongoing interiors theme in your home, you could also co-ordinate your door colours with your woodwork. Most people will paint their woodwork white, which matches perfectly with all door colours. However, we are seeing trends move towards coloured architrave, frames and skirting to complement the door colour. So, greys and blacks are currently the go to for many interior design lover.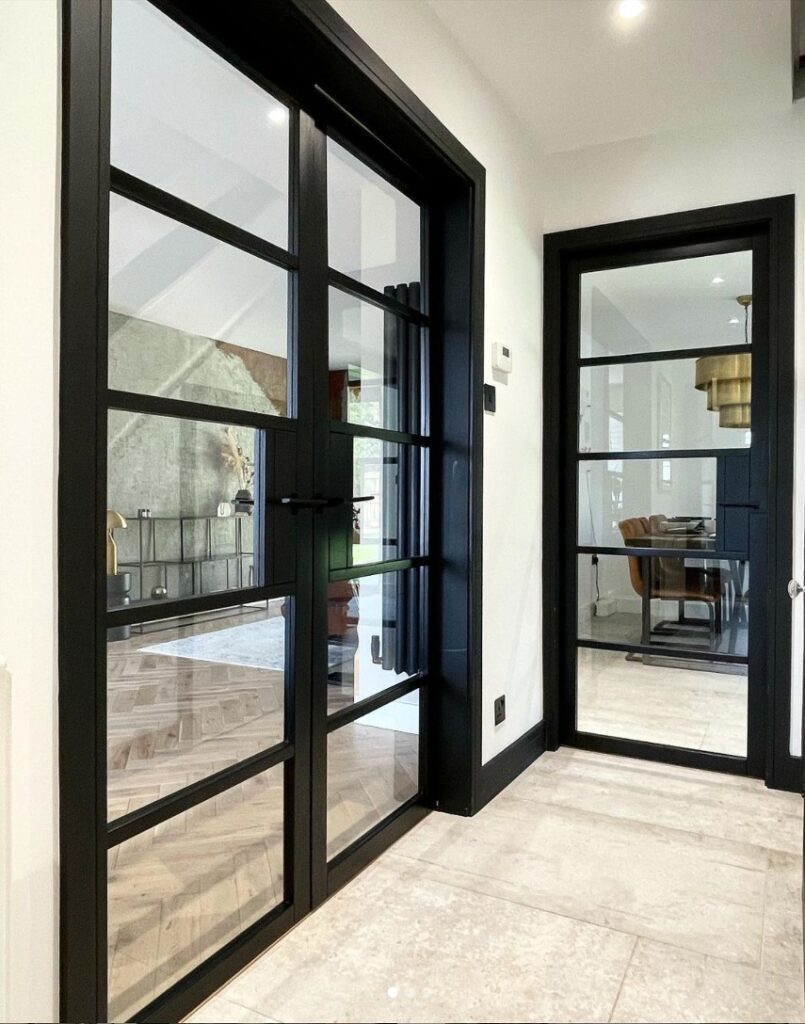 Get floored by your choices
When you're considering buying interior doors, there's one rule that you really should adhere to – making sure your floors and doors complement each other! We'd always recommend bringing a sample of your flooring, or the samples you are considering, so that you can put it up against the door to really see what work – don't forget our Door Visualiser can help you achieve this online.
Working with your room's features
When deciding on your doors, as well as your interior colour scheme, you may also want to consider the individual features of each room. These will vary by home of course, but it's worth paying attention to features like window shutters, fitted wardrobes (you can buy the same doors for your wardrobes as your room), key pieces of furniture and even feature wallpaper. Co-ordinating your door colour and design with these features may offer a striking effect, and a consistency that will make your home stand out.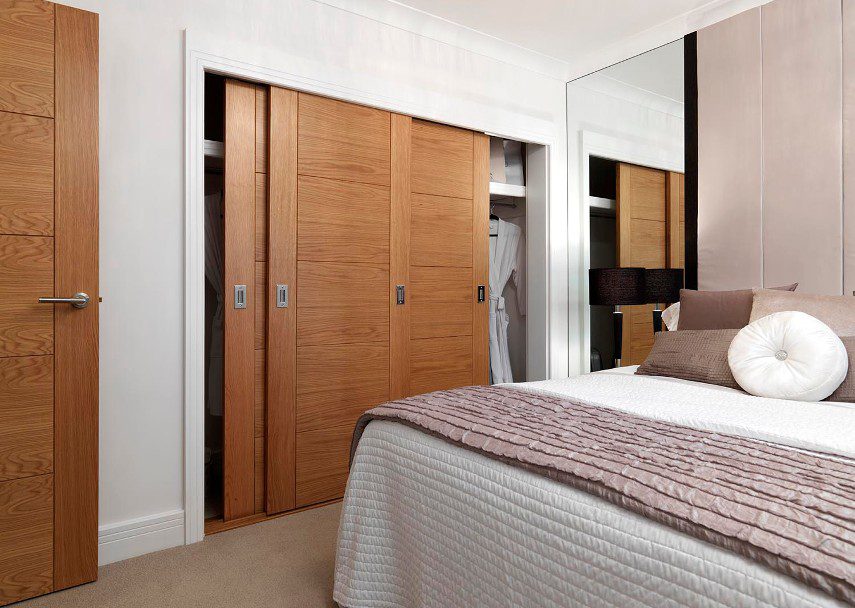 Letting the light decide
Throughout your home, your rooms will have different amount of natural light, and it's worth considering how a door colour will help or hinder how bright the room would be. White is of course a clear choice when you want to keep a smaller room as light as possible, but so is Oak, keeping the light, but also adding a warmth to the room too. Larger rooms can cope better with colour, whatever natural light there is, leaving you with lots of options.
Is it time to bare all?
Some people live in homes where they can strip down their doors and have beautiful bare, often historic, doors. However, if you want to, or need to, buy your doors but are still keen on the natural look, then timeless oak doors are the perfect option. Oak is our best-selling wood veneer, and there are many outstanding oak door designs in our door brochure. Just one word of caution, always ensure that you seal any unfinished doors with varnish/oil/paint, to guarantee their longevity – fluctuations in a home's temperature and humidity can be detrimental to a door's performance.