Handy online tools to help you choose your interior doors
During our 40 years in the door industry, we've seen a real change in how people purchase their internal doors. With the rise in internet shopping, many shoppers are now making their door decisions online. If you are going to make an investment in your interior doors, without the benefit of seeing them in person, you want to make sure that you are armed with all the facts about your door options so you can avoid any door-related dilemmas – or disasters!

There are a range of online tools that will help you choose your interior doors, from review sites to social media, and our very own industry-first, online Door Visualiser. We hope the summary of online sources below, will help you choose the right interior doors for your home, and make this decision an informed, fun and easy one.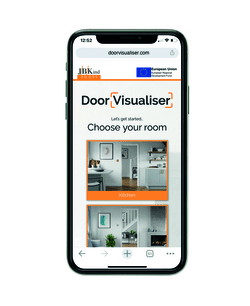 JB Kind's Door Visualiser
In 2022, we launched the UK's first ever online Door Visualiser, and the feedback has been extremely positive. An excellent online alternative to visiting a physical door display, this tool will enable you to find out what more than 70 of our most popular doors could look like in your home.
With the option to slot your chosen door design into several different room choices, as well as the ability to choose from a variety of wall colours and a range of floor options, the experience can be effectively personalised so that you can get a real idea of what your doors would look like once fitted in your home. This online tool enables you to be able to try before you buy – but from the comfort of your sofa!
Social media platforms
If you have an interest in interior design, then certain social media platforms are a hotbed of ideas and products.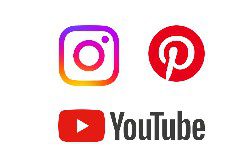 Most popular for interiors-led content are Instagram, Pinterest and YouTube. At JB Kind we have a presence on these platforms, and can offer you some content that you may find helpful. For example, on Instagram, why not take a look at our Black Door compilation, on our YouTube channel, you can watch short informative videos about many of our door ranges, including our Urban Industrial Civic and Metro doors ; and on Pinterest, you can take a look at lots of content, including JB Kind's 300 contemporary door ideas.

But obviously, it's not just JB Kind on these platforms, there are a plethora of other sources too – companies, specialists and individual enthusiasts. For example, Instagram offers a plethora of home interior experts and real home renovators that you can follow for inspiration.

As with all social media posts – and the multitude of blogs available online to read – you just need to consider who has written them, how qualified they are to talk about the topic and what their stake is in the topic, so that you can decide how much value their advice can offer you.
Review-based sites

Looking for reviews of products or companies is a very useful tool when you are trying to decide what to buy, but where do you look for reviews of internal doors?

The most obvious and well-recognised source of reviews is Trust Pilot. You can look up the companies from which you plan to source your doors and check how customers have rated them. JB Kind, for example, can be found here, with over 70% of our customers rating us with five stars. Google Reviews have also been growing in popularity and are also worth checking out. You can find reviews on plenty of other sites, this recent blog has listed many of the UK's most popular.

There are lots of non-independent review sites, as well as the UK having its fair share of those businesses that claim to be review sites but whose primary objective is to make a 'quick buck'! So, when you visit any review site, be sure to assess the site's legitimacy before you rely on it.
Specialist publications
Independent articles online can be really helpful to support your decision-making. For example, if you are a self-builder or renovator, then get tops tips from publications such as Homebuilding & Renovating Magazine and its How to Choose Internal Doors feature.

If you're more interested in integrating your doors into your interior design, then find a publication that has a penchant for the topic, for example, Living Etc Magazine, which has lots of articles to support your internal door choices.
Don't forget though, when looking for the right articles to read, check that what you are reading has been written independently. For example, check that an article within a magazine isn't sponsored – it should say clearly if it is sponsored, promotional or advertising content. If it's paid for content, then this will likely the article's sponsor will come out on top! It's also worth making sure you check the date any article was written, you don't want to base your decisions on out of date information or interiors trends!