7 Tips for Creating a Grey Themed Living Room
Grey living rooms have been hugely popular in recent years, and it doesn't look like that trend will be disappearing any time soon. Grey living rooms can work with any interior style, thanks to the neutral tones and versatility of the shade. If you're thinking about designing your own grey living room, read these tips for inspiration and advice.
Decide the mood
When creating your grey living room, you'll need to first decide what mood you want to go for. Dark shades of grey will create a dramatic, moody living room, whereas lighter shades of grey will result in an open and airy space.

There are many different shades of grey, so you'll have lots of choice for what kind of environment you want to create in your grey living room. You could lean towards a brown-grey or greige (that's grey and beige) if you don't want to stick with true grey tones.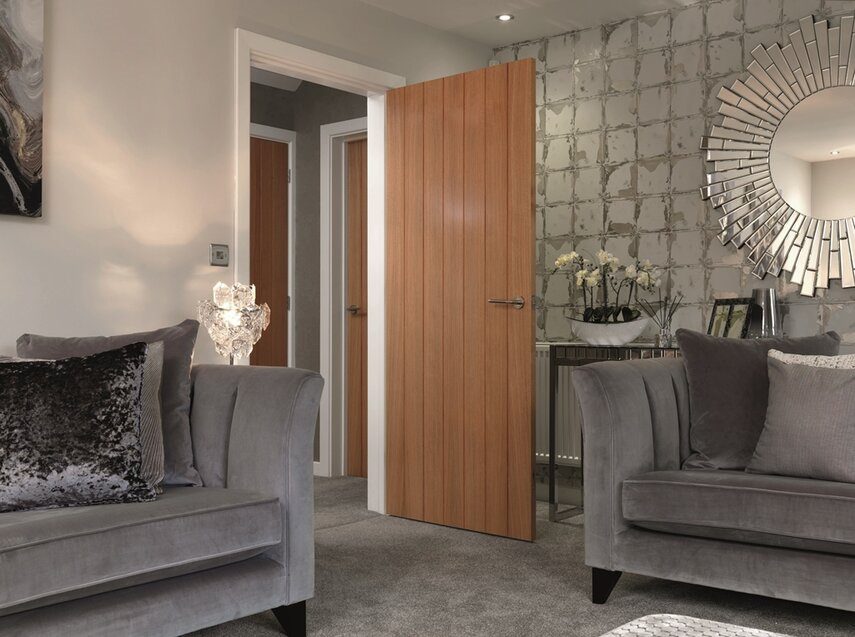 Layer shades of grey
When you're designing a grey living room, it's best to not just stick with one shade for the whole area. This can make the space look flat and lacklustre. Instead, you can layer shades of grey to add depth and dimension.

For example, you can paint the walls a lighter shade of grey and add a dark grey sofa with medium-toned grey cushions. There are plenty of ways you can incorporate grey layering into your living room, with internal grey doors, grey shelving, and grey rugs and flooring. As long as you switch up the shades, you'll create a cohesive, inviting room.
Add warmth with textures
There are both cool tones and warm tones of grey, but it's still important to add warmth to the room by other means. If you're creating a fully grey living room and concerned with it looking too one-dimensional, you can add more warmth with textures.

Textures and materials are an easy way to make a grey living room more interesting to look at. You could opt for a velvet sofa, thick woollen throws, or faux fur rugs to make the room feel more welcoming and tactile. You could even go one step further and opt for a textured wall, whether with a concrete effect or with textured wallpaper.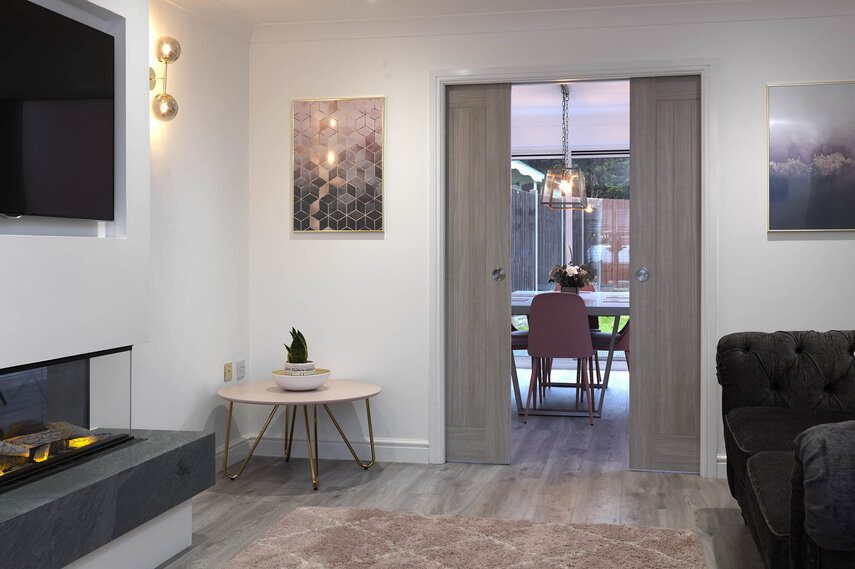 Use warm lighting
Using warm lighting in a grey themed living room is an easy way to keep the room cosy. Ideally, your room will have plenty of natural light, but if this isn't the case, plenty of ambient lighting can do the trick. Make sure to use warm light bulbs and avoid any harsh lighting.

Having adjustable options will create the best living room light, so it can be beneficial to have table lamps or floor lamps as well as overhead lighting.
Add pops of colour
Having a grey-themed living room doesn't mean you have to be restricted to just one colour. One of the advantages of grey is that it works with lots of other colours, providing a neutral base. Again, you'll have to consider the mood you want to create in your living room to best decide which colour to pair with grey.
One colour that works beautifully with light greys is soft, blush pink. You can still let grey be the dominating colour and just add touches of pink through soft furnishing and artwork. It can be a lovely way of adding just a little pop of colour to a grey living room.

If you want to create a grey living room with a little more vibrancy, you could pair grey with bright, bold colours. Darker grey walls can let vibrant jewel tones really stand out, and with the neutral background the brighter colours will never look overdone.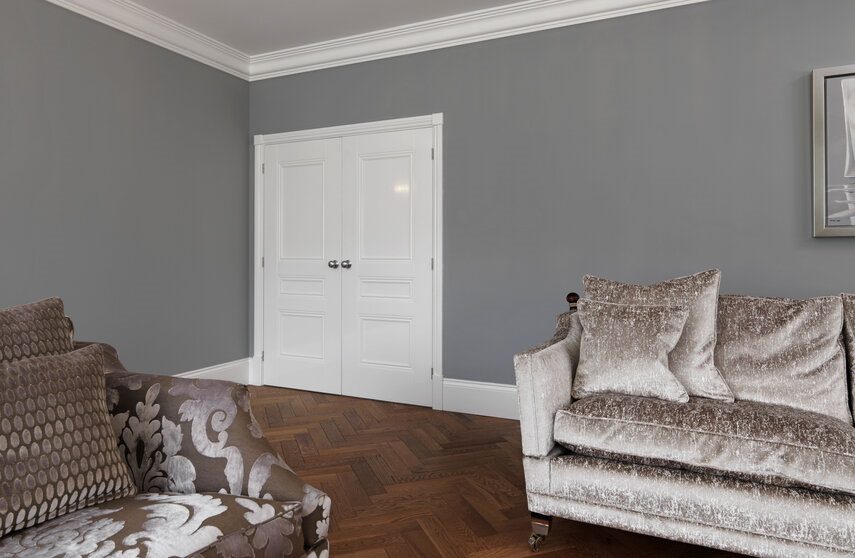 Add metallics for luxury
If you're creating a glamourous grey living room, metallic accents will really help to finish the look. This can be through lighting fixtures or other hardware, such as a chrome and glass coffee table, or even frames for your artwork.

The obvious choice for a grey living room is to stick with silver and chrome, but there are other options too. You could opt for rose gold accents, which will work especially well if you've paired your grey living room with blush pink. You could also opt for warm brass accents, which will look gorgeous with darker grey shades.
Amplify your gallery wall
A grey living room will act as the perfect backdrop for your gallery wall. You can stick with artwork that reflects your chosen colour palette, opting for monochrome pieces or art that also includes your chosen accent colour.

Alternatively, you can use a grey living room as the neutral base for a vibrant, colourful gallery wall. This can work best with darker, charcoal walls that will let the art really pop. To really make the most of your gallery wall, look for artwork that keeps within a cohesive theme or mood, and make sure to add different frames for an interesting finish.
JB Kind has a huge range of doors for your grey living room, in a variety of colours and finishes to find the perfect match for you. Take a look at our internal doors today.