5 Christmas Movie Doors That Will Give You Decoration Inspiration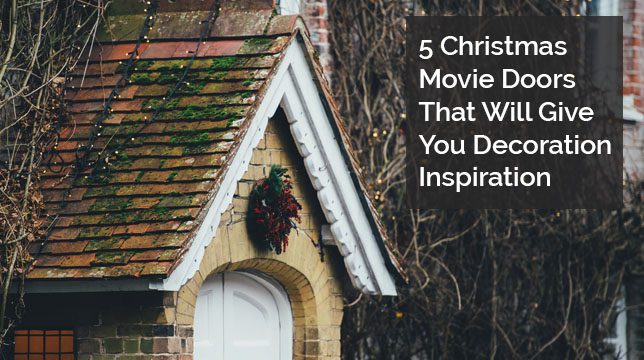 When the family comes home for Christmas, there's nothing that will set the festive mood better than a beautifully decorated front door to welcome them. Festive external doors are a key feature in our favourite Christmas films, decorated with twinkling lights and beautiful Christmas wreaths.

A wonderful Christmas exterior will instantly bring the feelings of cosiness and warmth that we associate with classic Christmas films. Below are some of our favourite Christmas movie doors to give you inspiration this festive season.
Miracle On 34th Street – The Dream House
In this 1994 Christmas classic, young Susan Walker, played by Mara Wilson, asks Santa Claus for a house, a dad and a baby brother. On Christmas Day, she gets everything she asked for, as she visits the amazing house in a picture-perfect location with her mother and her mother's new husband.

The exterior of Susan's dream house is decorated with snow-dusted pine trees, and the front door is beautifully framed with a green and gold Christmas garland and two mini Christmas trees. The house looks so magical, it's almost enough for Susan's mother and new stepfather to believe in Santa Claus.
The Holiday – Iris' Cottage
In this Christmas romantic comedy from 2006, Iris, played by Kate Winslet, swaps homes with Amanda, played by Cameron Diaz. Whilst Iris spends Christmas in LA, Amanda goes to the Cotswolds to spend the holiday in a quaint English cottage. Amanda was initially put off by the cosy home, but it's difficult to see exactly why!

The front door and window frames are painted a beautiful minty green and feature a simple but large Christmas wreath topped with a big red ribbon. A perfect dusting of snow just adds to the Christmas card aesthetic. It's no surprise that Amanda eventually comes round to spending Christmas in this gorgeous home.
Home Alone – The McCallister's House
When young Kevin McCallister is left home alone over Christmas in this 1990 film, he finds he has to protect his beautiful family home from 'the wet bandits' who want to rob it.

Whilst the heavily red and green interiors might be a bit much for our tastes today, the classic Georgian-style exterior will always be sought after. The front door features a wreath with warm yellow lights, matching the twinkling lights that frame the windows and adorn the surrounding foliage. We also shouldn't forget the reindeer statues by the front steps – although if you follow suit with these, make sure to keep them out the way of taxis and pizza vans!
National Lampoon's Christmas Vacation – The 'Lit' Home
In this 1989 comedy written by John Hughes, Clark Griswold is determined to have a "fun, old-fashioned family Christmas". As part of his festive plans, he covers his entire house exterior with 25,000 Christmas lights.

It makes for quite an impressive sight, topped off by a Christmas wreath on the subtle beige front door, that reflects the lights beautifully. If you're inspired by Clark's light show, just be careful how you wire it up – in the film, turning on the lights caused a temporary power blackout across the city!
Meet Me in St Louis – The Smith's House
In this 1944 Christmas musical starring Judy Garland, the Smiths live in a spectacular Victorian home in St Louis, Missouri. Although the film spans seasons, the house is undeniably most impressive during the Christmas period when it's surrounded by snow.

The gorgeous white double front doors have matching Christmas wreaths, making for a welcome and comforting site from the snowy weather. The Smith's Christmas decorations show that sometimes less is more, especially if you have such fantastic architecture to shine through.
If you've been inspired by these classic Christmas front door decorations, you'll need a top-quality external door to complete the look. At JB Kind, we have a selection of both modern and traditional external doors within weather-resistant External Extreme range. Take a look at our external doors to find your new front door today.