When JB Kind's Pintado doors perfectly fitted the build …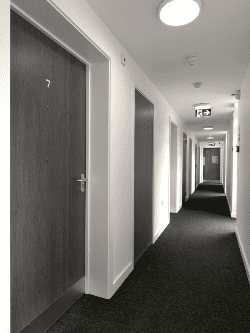 JB Kind rose to the challenge when it supplied a large quantity of Pintado grey doors to a high-quality building development in 2020, turning the job around within a matter of weeks.
Developers of a three-floor student accommodation in Coventry were looking for a top-quality, cost-effective contemporary grey finish door that fitted in with the style of their build. With 48 studios, a communal area and laundry facilities, it was important to find a door with a uniform finish.
The client also needed a mix of bespoke and standard sizes, as well as FD30 glazed fire doors, all of which needed to be supplied within an extremely tight timeframe.
The construction company, RBC Construction (Coventry) Ltd, chose the Pintado door from our Painted Finish range. JB Kind supplied 186 Pintado Grey doors, including FD30 glazed versions prepared in our own joinery workshop, turning the whole order around within seven weeks. The order was placed in mid-May 2020 and we were able to deliver it in early July … sooner than asked for and in the midst of the COVID-19 lockdown!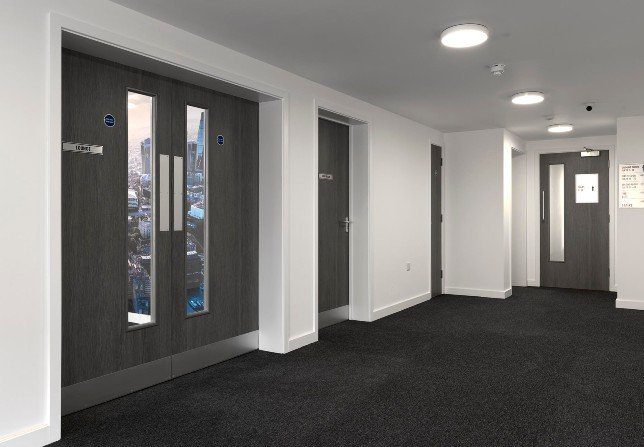 Managing Director of RBC Construction, Rob Callaway, said: "I could not be more impressed with the outstanding service that JB Kind has provided to us. To deliver 186 Pintado doors, including bespoke sizes and FD30 glazed doors, in under two months, is nothing short of remarkable, especially during 2020. In fact, they even managed to beat the timescale in which we needed the doors to be supplied. Working with JB Kind ensured we had high quality doors delivered sooner than expected and we now have a reliable partner for future works.
"The Pintado doors that JB Kind has supplied are the perfect fit for our contemporary build, both in terms of design and price point, and the uniform wood effect finish is ideal for this project."
Our Painted Finish range is an excellent choice for customers who need a large quantity of cost effective, hard-wearing doors with a consistent wood effect finish.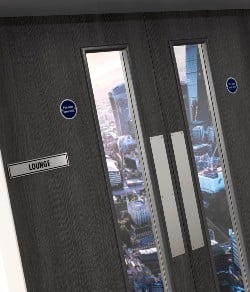 On this project, one of the advantages of using JB Kind was that we were able to prepare the glazed fire doors in our own joinery workshop and as we are able to ensure fire door certification and skilled joiners to undertake the work, as well as a speedy turn around, we offer a one stop shop for our building and developer customers.
Simon Johnson, JB Kind Sales Director, said: "I am delighted that our Pintado doors have proven such an ideal fit for this development project. We were able to showcase our ability to deliver the customer's requirements to a very tight deadline, as well as our in-house joinery skills, and still provide RBC Construction with the quality products that we are known for.
"Our Pintado door is a hard-working classic from our Painted Finish range. Its hard-wearing, uniform appearance and contemporary look makes it a great door for a large-scale building project such as this. This is just one of many projects of this nature that we have delivered this year, and in spite of the challenges presented by COVID-19."