JB Kind's Osborne door design chosen for beautiful bespoke home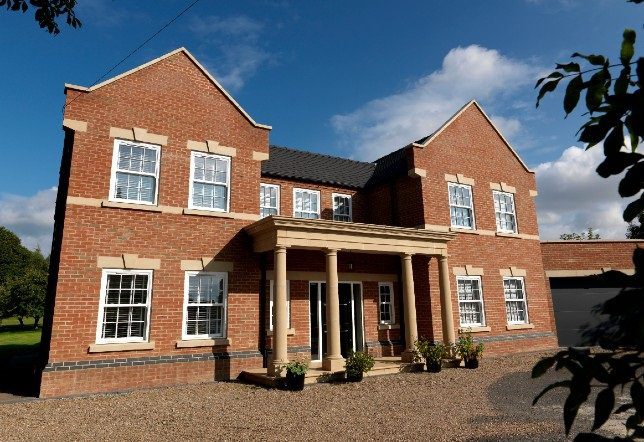 Professional developer and bespoke building specialist, James Hardwick, chooses JB Kind's Osborne door design for his own bespoke home renovation.
The renovation of a tired 1970s house into a stunning new family home has seen the property transform, benefitting from James' track record in creating beautiful bespoke environments. Doubling its size to 5,000 sq. ft, the property which is set in 1.5 acres and at the end of a 50m long drive, now includes fantastic finishing touches, like his and hers dressing rooms, a five-car garage and a playroom for their young daughter.
The home's metamorphose required, (amongst many changes), a new roof, reskinning of all the external brickwork and even the removal of a large yellow archway to ensure there was no trace of the original 1970s 'masterpiece' that it initially was! The home's interior is now a gorgeous grey and is, unsurprisingly, stylish throughout. An integral aspect of the overall internal design, James was contemplative when deciding on exactly the right doors to complement and enhance his family home.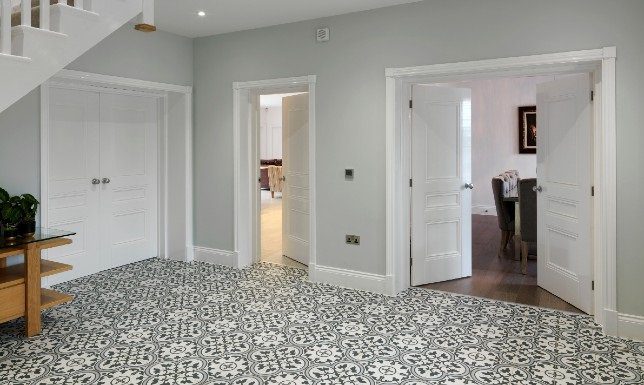 James explains:
"My home is not just where my family live, but it's where I will spend a significant amount of my time, so the renovations have involved meticulous planning to ensure that the end result is perfect, and continues to be perfect, for a long time to come. We have made a significant investment in this property with luxury features and high-end products throughout, and our choice of internal door design has gone through the same rigorous decision-making process applied to every other element.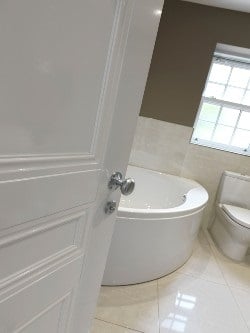 "It was very important to me that we made the right door decisions, given that we needed more than 30 doors throughout the property, with eight doors off the hallway alone! We have designed our home with a traditional layout, for example we have a separate living and dining area as opposed to an open plan option. Of course, this means doors are in high demand, and an important part of our interior design process.
"Having worked with JB Kind professionally for years, and enjoyed its Mistral Oak door design in our previous home, JB Kind was our preferred supplier thanks to its consistent high quality doors which reflected our ethos and approach to high standards across all the products that we use in our own property developments. I certainly considered using the Mistral door range again – I really did love having these doors in our previous home! However, for this property, we needed a different type of design, as well as doors in white, and not Oak; which would particularly complement one of our home's more striking features, our white, soft wood staircase.
"We narrowed down our choice to JB Kind's Osborne and Hardwick door designs, from the White Classic range. The Hardwick is only coincidentally the same name as my company, they've not started naming doors after me, yet!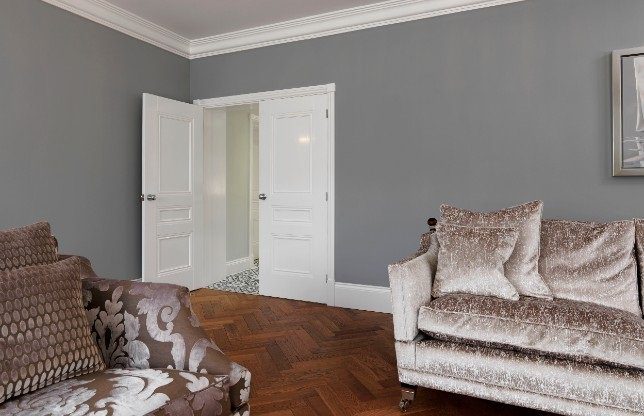 "Both design options offer a classic panelled door with flat recessed panels and decorative flush mouldings, with a solid core construction. They are both FSC Certified, have fire door options and are available as rebated door pairs. I felt it was important to have doors with strong mouldings to reflect the Georgian-style house, and I wanted to have a more distinctive design too, for the same reason.
"It was helpful to be able to go and visit JB Kind's Door Showroom at its Head Office in Derbyshire – you don't need to guess or imagine when you can see the doors for yourself, and feel the quality of the products before you then make a decision on purchasing. And, for us, this experience made the choice easy.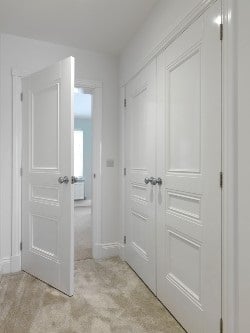 "We decided on having the same door design throughout our home, choosing the three panelled, Osborne door design, with the distinct, letter box style feature. I've not seen this design anywhere else and they look brilliant as door pairs, of which we now have two to admire! We chose 35mm and 44mm options, depending on the location, as in some rooms – like the playroom – a bit more soundproofing is sometimes welcome!
"Our experience with JB Kind was, in this instance, as it has always been; superb service, high quality products and an excellent result. We are very happy with our home's renovation and with 30+ doors that are an integral part of it."
James Hardwick, is a Director of two long-standing, Derbyshire family businesses, Hardwick Construction (Midlands) Ltd and Premier Property (Central) Ltd, known for their exceptional workmanship and delivering premium residential, commercial and industrial properties across the Midlands.