Business Update: COVID-19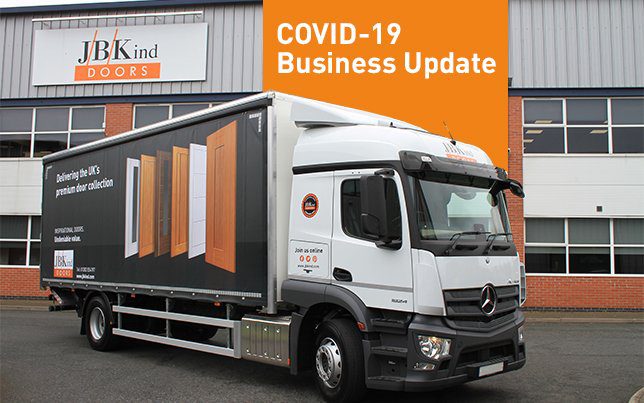 OPERATIONS UPDATE – JULY2021
In light of the Government lifting of Covid restrictions, we have decided as a business that we would like to keep some safety measures in place for the time being.

Our staff and any visitors to our showroom, offices and warehouse will be requested to continue wearing masks in public areas, to socially distance where possible, to take daily temperature checks and to regularly sanitise hands.
We will regularly review this policy and adjust if required.
Our priority is to minimise the risk of transmitting the virus with the safety of our staff, customers and suppliers being paramount.
Door Showroom
Our Door Showroom is open and visitors can book appointments on weekdays, Monday to Friday. Please note that appointments are staggered and we have put in place a number of procedures to ensure the safety of both our visitors and staff. Please download our Showroom Visitor pdf for more information. To make an appointment, please call 01283 554197 or complete our appointment request form.
Operations & Deliveries
Our staffing levels have returned to normal and, where possible, those who can work remotely will continue to do so. However, the dynamic and changing situation may impact on our staffing levels if and when individuals are requested to self isolate. Please be assured that we will endeavour to respond to enquiries and orders as quickly as possible but that on occasion slight delays may occur.

Team members who work within our office and warehouse are doing so under strict guidelines. In addition, all our delivery drivers have been issued with a Responsible Delivery Procedure setting out our revised methods for safe delivery and receipt of goods.
The JB Kind sales team will be pleased to assist with any enquiry or query you may have and can be contacted via the details below.
TEL: 01283 554197
EMAIL: orders@jbkind.com
FAX: 01283 554182
Our online trade portal is also open, allowing our partners and trade customers to check stock, pricing and place orders.

Please be assured we are doing our very best to manage our operations as effectively and efficiently as possible with minimum disruption to the usual level of service provided.

Many thanks for your continued support and co-operation in these challenging times. Finally, please continue to look after each other, yourselves and your families and stay safe.
---
Certifications & Memberships